This website may contain affiliate links and advertising so that we can provide recipes to you. Read my privacy policy.
This homemade chicken broth recipe is a keeper and you will love all the many uses you can get out of it! Chicken broth is a staple cooking ingredient used in soups, casseroles, sauces, and many more everyday recipes.
Making chicken broth at home allows you to make a lot to store for later. Whenever I make this recipe, I have plenty of broth to last me a couple of weeks. I simply store it in the fridge to use throughout the week for recipes like our favorite soup, this yummy pasta, or this easy stir fry recipe.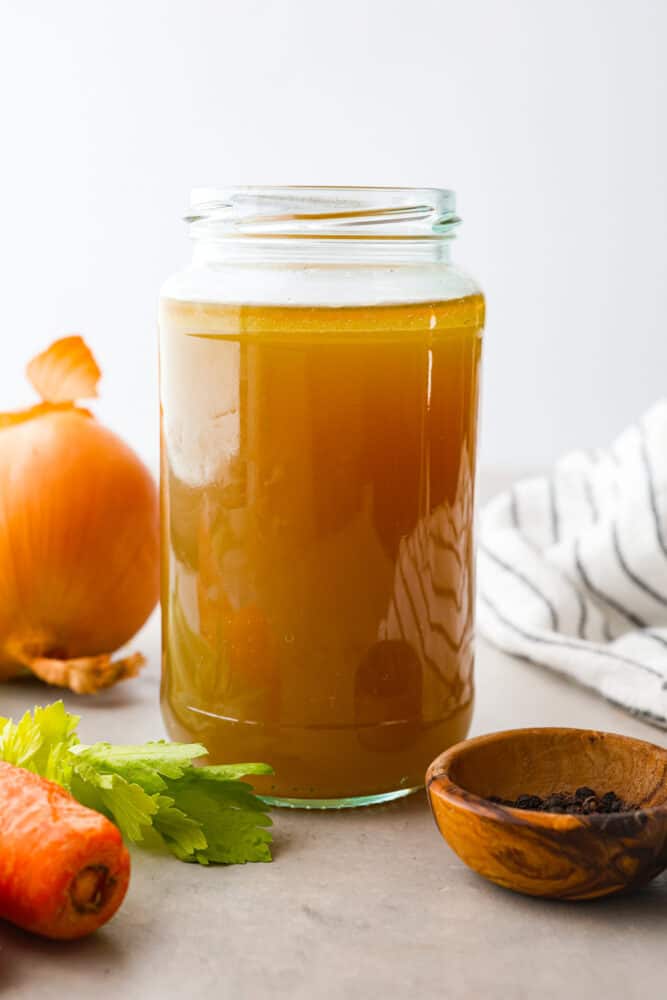 What is Chicken Broth?
Chicken broth is the liquid created from simmering chicken and vegetables. You can also add herbs and spices for additional flavor. My recipe uses lots of veggies and herbs, but feel free to get creative and use the veggies and herbs that sound good to you! Sometimes I switch out the herbs depending on what I have on hand.
I love making homemade versions of store-bought ingredients because I am able to control the flavors and what goes in them. I also love that I can play with the seasonings and spices to make it the way that I want it. Try my homemade version of the best alfredo sauce, this cheese sauce that can be used in so many ways, or this easy teriyaki sauce that I always have on hand.
Chicken Broth Recipe Ingredients
Homemade chicken broth is so easy and can be prepped in 10 minutes! You will love using this broth in your recipes because it adds so much flavor. The exact measurements for these ingredients are below in the recipe card.
Whole Chicken: One whole chicken that is about 6 pounds.
Yellow Onions: Onion adds so much flavor! Feel free to use shallots or any other kind of onion you desire.
Whole Carrots: Cut the carrots into 2-inch pieces. No need to peel them!
Celery Stalks:  I use the whole stalk including leaves.
Garlic Cloves: Garlic is a must!
Parsley: Fresh is best.
Thyme: For added flavor.
Rosemary: For added flavor.
Salt: I love that I can control the sodium in this recipe.
Whole Black Peppercorns: For added flavor.
Water: Essential! The flavors from the chicken, veggies, and herbs absorb into the water creating the chicken broth.
How to Make Chicken Broth
Chicken broth is such an essential cooking ingredient and you will love being able to make your own right at home. There are so many uses for chicken broth. Follow my instructions below because I walk you through how easy it is. I can't wait for you to learn. It's easier than you think, and homemade tastes incredible.
Add Chicken, Veggies, and Herbs to a Pot: Place the chicken in the bottom of a large stock pot. Add the rest of the ingredients on top and around the chicken. 
Cover With Water and Bring to a Boil: Cover everything completely with water and bring to a boil over high heat.
Reduce Heat and Simmer: Once your water has come to a rolling boil, reduce heat to medium-low and simmer, uncovered, for about 4 hours. The cooking time will depend on the size of the chicken. The internal temperature of the chicken should be 165 degrees Fahrenheit. 
Remove the Chicken: Carefully remove the whole chicken from the pot. Shred and debone the chicken then discard the carcass and use it as desired for recipes. 
Strain the Broth: To strain the broth, remove all of the ingredients from the pot using a slotted spoon. Carefully strain the chicken broth into a large container. Continue to strain if needed to remove any remaining ingredients.
Use For Recipes: Use the broth as needed for recipes or store it in the refrigerator for later use.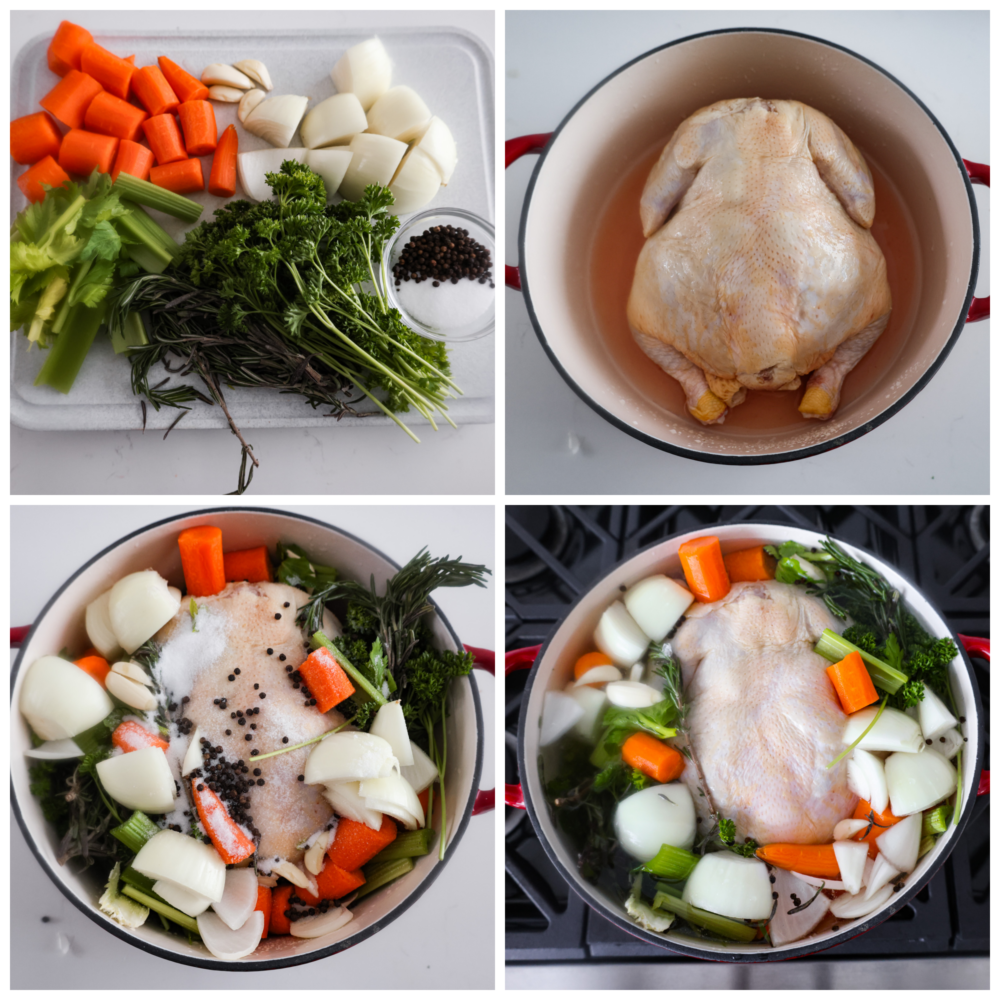 What's the Difference between Broth and Stock?
Most people think broth and stock are the same, but they are made differently. They can have the same uses, but it's interesting to learn the difference in how they are made. Stock is made from bones, while broth is made mostly from meat and vegetables. Using bones in stock creates a thicker liquid and it takes much longer to make. Broth is a thinner liquid and the outcome is much lighter in color and more flavorful.
Storing Leftovers
Storing homemade chicken broth is different than storebought pantry broth. Be sure to keep it in the refrigerator or freezer to preserve its freshness because it doesn't have any added preservatives that store-bought chicken broth requires. Follow my instructions below for storing and freezing your homemade broth.
In the Refrigerator: Store homemade broth in an air-tight container or jars `in the refrigerator for 3-4 days.
In the Freezer: To extend the freshness, store the broth in the freezer in an airtight container or ziplock bag for up to 6 months.
To Reuse: Allow the chicken broth to sit on the counter and come to room temperature before using because fat can sometimes settle on top as it cools.