This website may contain affiliate links and advertising so that we can provide recipes to you. Read my privacy policy.
Ultra crispy-and so delicious, cornflake chicken is just the easy you dinner you need this week! Each chicken breast is coated in cornflakes and savory seasonings for both the best texture and flavor! Even your pickiest of eaters will be singing its praises.
Looking for more easy chicken dinners that the whole family will love? Try this crispy parmesan chicken, Greek lemon chicken, or Crock Pot Tuscan Chicken!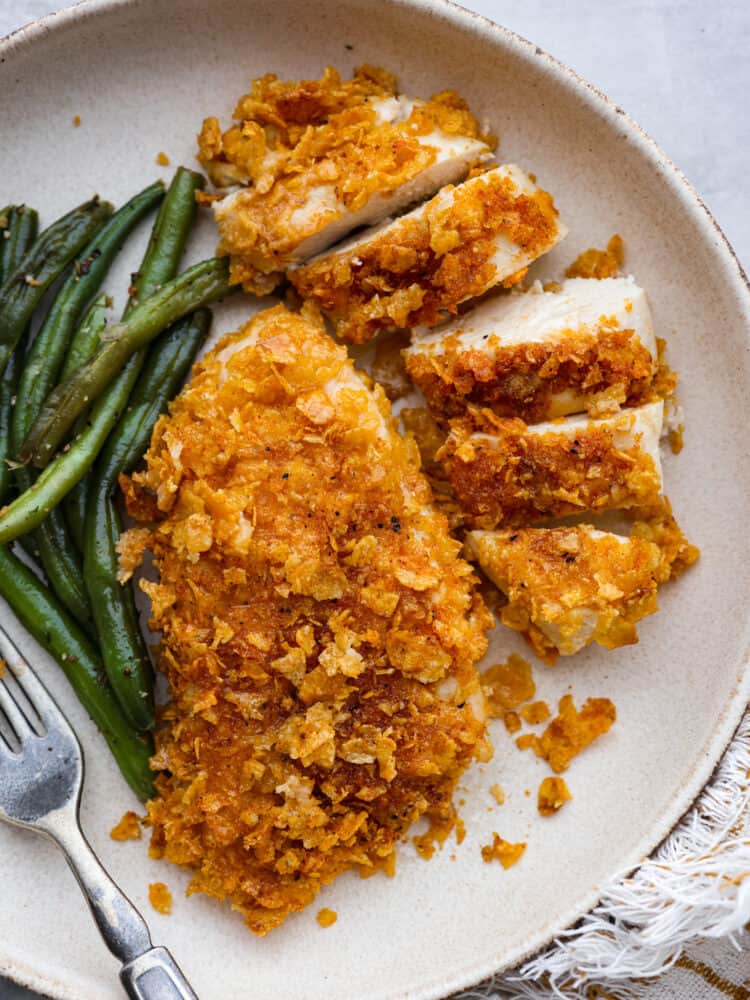 Crispy Cornflake Chicken
Cornflake chicken is a crispy, delicious dish that the whole family will love. It's made by coating boneless, skinless chicken breasts in a mixture of crushed cornflakes, paprika, garlic powder, onion powder, oregano, salt, and pepper. The cornflake crumbs stick to the chicken, creating a golden, crunchy coating when baked in the oven. The result? Juicy, tender chicken wrapped in a satisfyingly crispy shell.
Why is cornflake chicken so irresistible? Well, it's all in the flavor! The spices and herbs give the chicken a mouthwatering taste that will make your taste buds do a happy dance. Paprika adds smoky goodness, garlic and onion powders bring savory flavor, oregano adds a fresh kick, and salt and pepper tie everything together. Each bite is the perfect contrast of a crispy exterior and juicy chicken goodness inside.
Ingredients Needed
Get ready for a taste sensation that will make your mouth water! The ingredients in cornflake chicken are a power-packed team, working together to create an irresistibly crispy and flavorful dish.
Boneless Skinless Chicken Breasts: Tender and lean cuts of chicken that form the base of this dish. Boneless chicken thighs can also be used.
Eggs and Whole Milk: Whisked together to create an egg wash, providing a binding agent to help the cornflake coating stick to the chicken.
Cornflakes: These crunchy and lightly sweetened cereal flakes that serve as the breading for the chicken.
Paprika: Adds a smoky and slightly spicy flavor to the chicken.
Garlic Powder: Brings a savory and aromatic kick to the coating. For a stronger garlic flavor, you can also substitute it with minced fresh garlic.
Onion Powder: Enhances the savory taste and adds depth to the overall seasoning.
Oregano: Adds a touch of freshness and extra flavor to the chicken.
Salt and Pepper: Essential seasonings that balance the flavors and bring out the best in the chicken. Feel free to adjust the amounts to suit your taste preferences.
How to Make Crispy Cornflake Chicken
With a simple preparation process that takes just over 30 minutes from start to finish, you can enjoy a crispy, flavorful delight without breaking a sweat in the kitchen. You get the perfect breaded chicken without the mess of deep frying!
Preheat Oven, Prepare Pan: Preheat your oven to 400 degrees Fahrenheit and prepare a baking sheet by lining it with parchment paper and placing an oven-safe wire rack over it.
Cut Chicken: Prepare your chicken by cutting each breast in half so you have 6 equal pieces, set aside.
Egg Mixture: Whisk the eggs and milk in a medium shallow bowl, and set aside.
Cornflake Mixture: In a large plastic bag, add your cornflakes, paprika, garlic, onion, oregano, salt, and pepper.
Crush: Use a rolling pin to crush the cornflakes and shake until everything has come together into a coarse crumb mixture. Then pour the cornflake crumbs out into a large plate.
Coat: Dip your chicken into the egg mixture to coat, then remove and coat generously in the cornflake crumbs, completely covering the chicken.
Add to Pan: Place the breaded chicken onto the prepared wire rack and pan, repeat with all your chicken cuts.
Bake: Once all the chicken is breaded, spray them each with cooking oil and place in the oven, and bake for 20-25 minutes, flipping halfway through baking.
Serve: Remove from the oven and allow the chicken to cool for a few minutes before enjoying.
Cooking Tips
Want to take your cornflake chicken to the next level? Here are some tips to help you achieve crispy, golden perfection every time.
Breading Consistency: Give your cornflakes a pass with a rolling pin or blitz them quickly in a food processor, but don't go overboard! You want a coarse crumb texture that'll give you that satisfying crunch without turning into a powdery mess.
Coat Thoroughly: When dunking your chicken in the egg and cornflake mix, be generous! Get those pieces fully coated, making sure every nook and cranny gets some love. Don't be shy to press those crumbs onto the chicken so they stick.
Add Some Oil: Give your breaded beauties a quick spritz of cooking oil or spray before they hit the oven. This extra touch helps them turn perfectly golden brown.
Use a Wire Rack: Place your breaded chicken on a wire rack set over a baking sheet. This nifty setup allows hot air to circulate all around, making sure your chicken cooks evenly.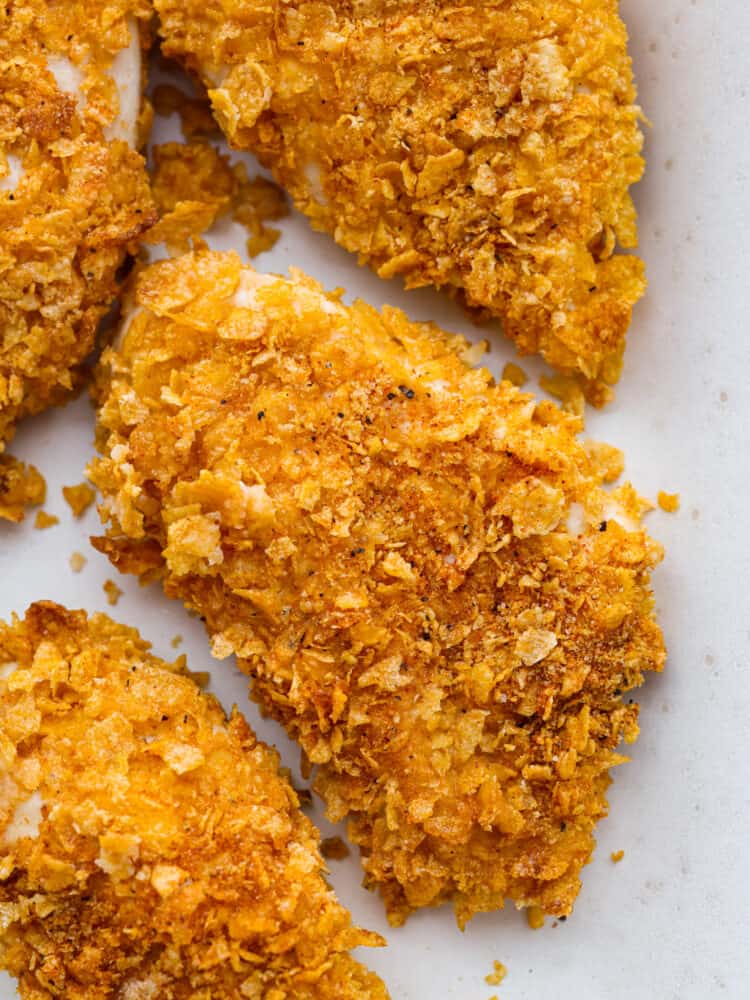 Storing Leftovers
If you have leftovers of your cornflake chicken, keep them! They heat up well for a quick and easy lunch.
In the Refrigerator: To store leftover cornflake chicken, let it cool down and then place it in an airtight container or resealable bag. Keep it in the refrigerator, where it will stay good for about 3-4 days. When you're ready to eat the leftovers, simply reheat the chicken in the oven or toaster oven to maintain its crispy goodness.