This website may contain affiliate links and advertising so that we can provide recipes to you. Read my privacy policy.
If you want to add a burst of flavor to weeknight dinners, this Chinese-inspired black pepper chicken is the perfect recipe to try! With its amazing homemade sauce, each bite is packed with savory, peppery, and slightly tangy flavors that will leave your mouth watering.
I love trying to recreate my favorite Chinese dishes at home. After you make this amazing black pepper chicken, try this homemade sweet and sour chicken, Szechuan chicken, or kung pao chicken!
Black Pepper Chicken Recipe
If you love Chinese cuisine, prepare to meet your new favorite dinner – black pepper chicken! With its crispy exterior, vibrant bell peppers, and a homemade sauce bursting with the boldness of black pepper, garlic, and ginger, this dish will have you doing a happy dance in your kitchen. It's super easy to make and only takes 30 minutes to cook. Just as long as it would take someone to deliver Chinese takeout to your door!
Black pepper chicken is so tender and juicy, you won't be able to get enough! Plus, when you make it at home, you can customize it to your heart's content. Want it extra spicy? Go ahead and add a pinch of chili flakes. Craving more veggies? Load it up with your favorites! This stir fry recipe is better than takeout and one that you'll want to make again and again.
Ingredients for the Stir Fry and Sauce
From the juicy chicken coated in a crispy mix of cornstarch and flour to the zesty homemade sauce featuring garlic, ginger, and tangy soy sauce, each ingredient in this dish adds a delicious element. This combination of flavors is so amazing! See the recipe card below for exact measurements.
Chicken Breasts: Cut into small, uniform pieces so they cook at the same rate. You can also use pork if you prefer!
Cornstarch: Gives a crispy coating to the chicken.
All-Purpose Flour: Combined with cornstarch to give the black pepper chicken an extra crunch.
Salt: Enhances overall flavor.
Black Pepper: Adds a spicy and aromatic kick.
Vegetable Oil: Used for frying the chicken in.
Yellow Onion: Adds texture and a savory but slightly sweet taste. You can also use red onion, white onion, or shallot instead.
Red and Green Bell Peppers: Provides freshness, crunch, and vibrant color.
Black Pepper Sauce
Black Pepper: This warm and flavorful spice brings a peppery taste to the black pepper sauce, giving it a bold kick.
Garlic Powder: Because you can never go wrong with garlic!
Ground Ginger: This fragrant spice adds a gentle zing and earthy flavor.
Brown Sugar: Acting as a natural sweetener, the brown sugar balances the sauce by mellowing out the spiciness and tanginess.
Soy Sauce: As the base of the sauce, soy sauce brings a savory umami taste. It adds depth and richness to the overall flavor profile.
Shaoxing Wine: This traditional Chinese cooking wine contributes a subtle sweetness and complexity, elevating the sauce with its unique flavor.
Chinkiang Vinegar: Chinkiang vinegar provides a tangy and slightly sweet flavor that adds depth and contrast to the black pepper sauce.
Cornstarch: Used as a thickening agent, cornstarch ensures the sauce has a smooth and velvety consistency, allowing it to coat the black pepper chicken perfectly.
How to Make Black Pepper Chicken
To make black pepper chicken, all you have to do is whisk up your sauce and then toss everything in a skillet! It's an easy and delicious meal that will leave everyone wanting more.
Sauté Chicken: In a large bowl, toss your cubed chicken in the cornstarch, flour, salt and pepper. Heat your oil in a large skillet over medium high heat and sauté your chicken until it is just cooked through. Remove your chicken from the pan and set aside.
Cook Veggies: Add your onion and bell peppers to the skillet, sauté in the remaining oil and juices from the chicken until they begin to tenderize.
Whisk Sauce Ingredients: In a small bowl, whisk together all the ingredients for sauce, taking care not to let the cornstarch clump together.
Simmer: Reduce the heat to medium low and add in your sauce mixture. Simmer until the sauce begins to thicken.
Combine: Add your chicken back to the skillet and toss to coat in the sauce. Saute everything together for a few minutes more until your sauce has reduced to the desired thickness.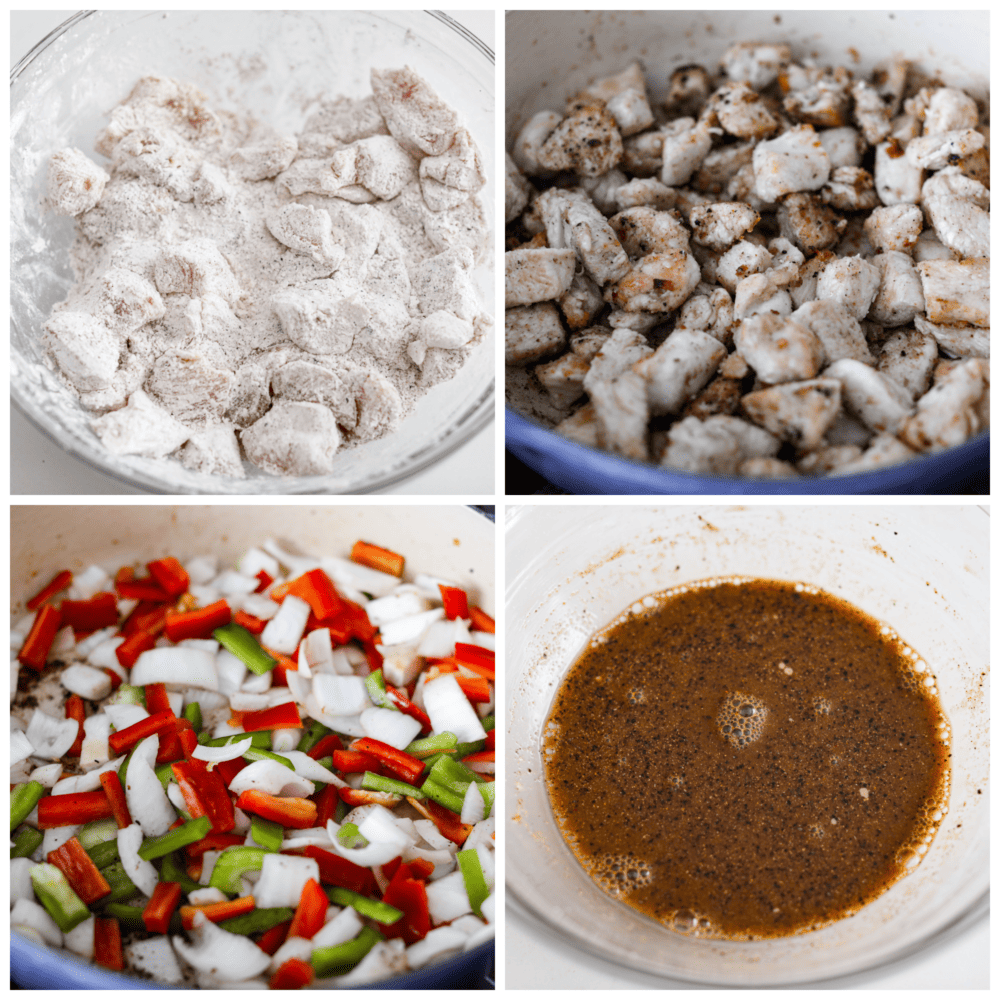 Tips and Tricks
Take your black pepper chicken to the next level with these simple tips and variations!
Adjust Spice Level: Increase or decrease the amount of black pepper to suit your taste preferences. If you prefer a spicier kick, add a pinch of red pepper flakes or finely chopped fresh chili peppers.
Add Extra Veggies: Experiment with different vegetables to add color and texture. Try adding broccoli florets, sliced carrots, or snap peas for a vibrant and nutritious twist.
Make it Gluten-Free: Omit the flour and substitute the soy sauce with tamari or a gluten-free soy sauce alternative to ensure the dish is gluten-free.
Garnish: Just before serving, top your black pepper chicken with freshly chopped green onions or cilantro for a burst of freshness and picture perfect presentation.
Serve With: Accompany your black pepper chicken with steamed jasmine rice or stir-fried noodles for a satisfying and complete meal.
Storing Leftover Black Pepper Chicken
Don't let those tasty leftovers go to waste! Store your leftover black pepper chicken in an airtight container in the fridge (it will stay good for about 4 days), and you'll have a flavorful meal ready for another round of deliciousness. When you're ready to enjoy it again, simply reheat it in a pan or microwave until warmed through, and get ready to relish the flavors all over again.