In this ultimate guide to a poke bowl, I cover what it is, key ingredients, sauces, nutrition, how to order one and how to make your own at home with some inspiring poke bowl recipes.
---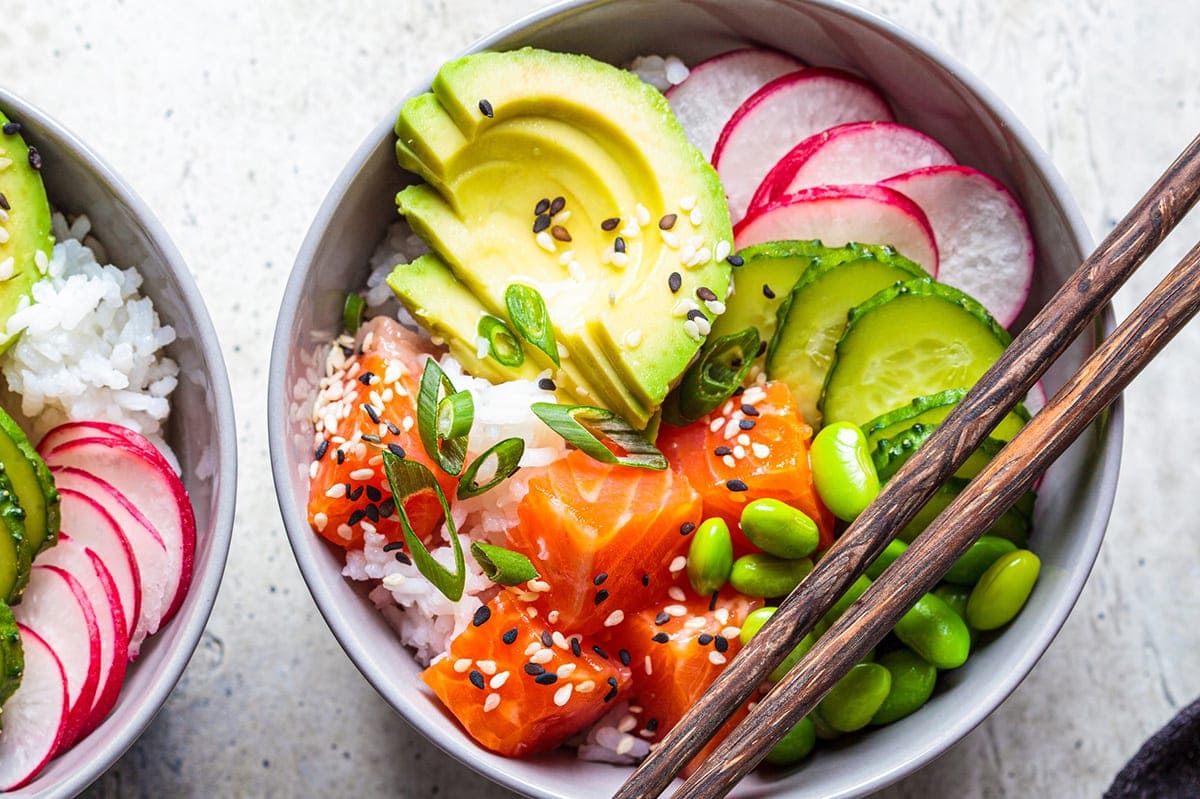 PS. This article was put together with the help of my friend Alex in Hawaii, the home of poke!
---
What Is A Poke Bowl?
If you've ever been lucky enough to have an incredible poke bowl in your life, you already know the magic. The vibrant pink colour, all of those tasty toppings, and melt-in-your-mouth flavour!
A poke bowl is a classic Hawaiian dish that can be served up in several delicious ways. It is most notably defined by its inclusion of cubed, raw ahi tuna. Poke may also feature salmon, hamachi, octopus, or even tofu. The fish is marinated in salt with other traditional and varied add-ins. It's typically served with rice and furikake.
Poke Bowl Pronunciation
Before you go to your local poke shop, let's clear up any hesitation about how to order what you want! Poke is pronounced po-keh. This is a Hawaiian word that means chunk, or "cut into chunks." Pretty straightforward, right?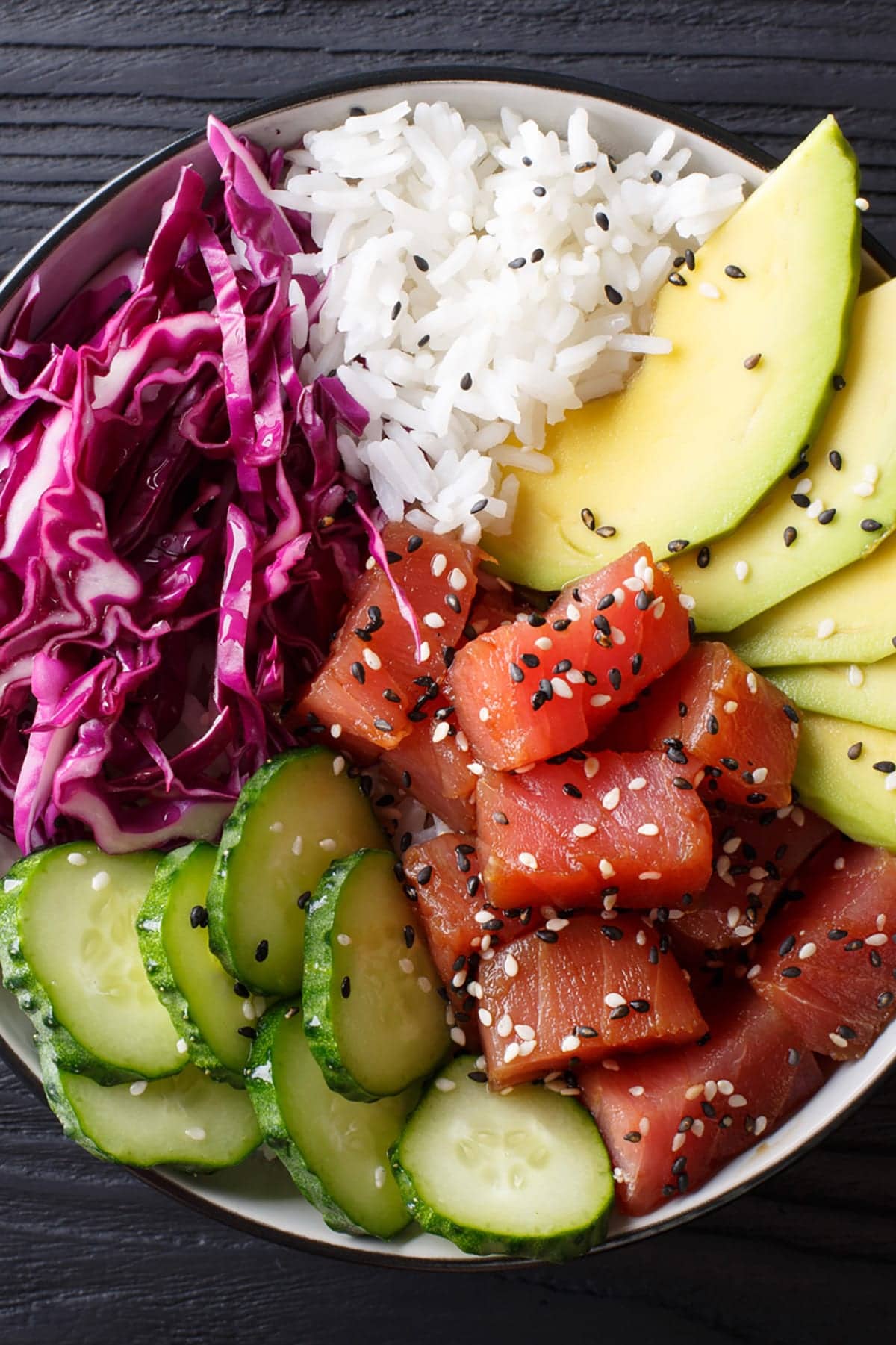 ---
Poke Bowl Ingredients
Poke bowls have picked up a lot of steam in recent years globally, far from the shores of the Hawaiian islands. As ahi's fame grew around the world, so did the ever-evolving variety of poke bowls and ingredients being used to create new versions of the island classic all over the world. Let's start with the basics of a poke bowl recipe.
Protein – the cubed fish is often sold by the pound on its own with your chosen marinade. Ahi tuna and octopus are considered to be "authentic" with the default being the former. However, salmon is relatively common too.
In Hawaii, you can find countless options for your poke – even at the local grocery store chains – from mussels to pipikaula which is a semi-dried beef. It can be SO versatile. 
Marinade – raw fish is tossed through with a light, umami-rich marinade of salt and/or Japanese soy sauce, oftentimes sesame oil, garlic and ginger. You will often see sesame seeds, green onions or sweet white onion, or chilli flakes.
Rice – poke bowls are usually made atop a bed of white sushi rice. You can also use regular short-grain or medium-grain rice if you can't get sushi rice. Some people use brown rice, too. At restaurants and poke stations, you can often substitute for steamed greens or cauliflower rice. As poke picks up popularity, these bowls are getting more interesting and customisable.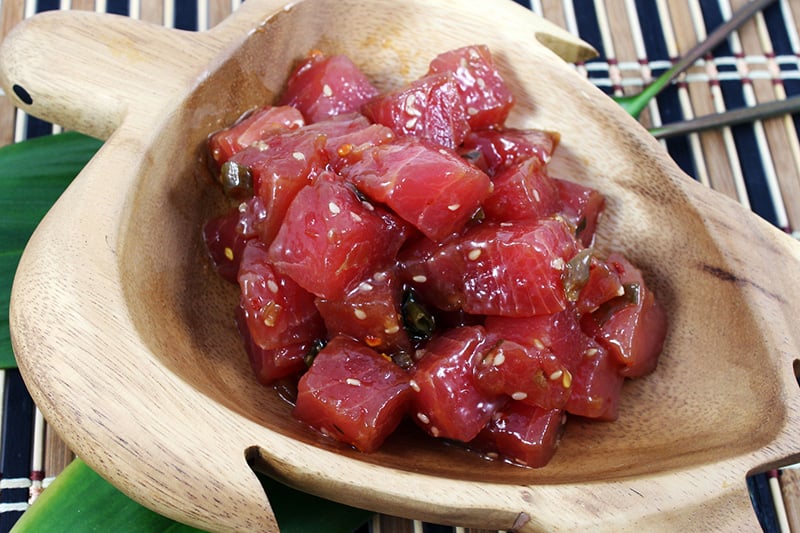 Poke Bowl Toppings
Other popular toppings, although not always authentic to the original recipe, include:
various types of seaweed: furikake, nori, ogo, wakame
sliced or diced avocado
edamame beans
crab meat or shrimp/prawns
fish roe
fermented vegetables
raw vegetables like radish, cucumber, carrots
sesame seeds and fried shallots
mango 
jalapenos
cilantro
mushrooms
tofu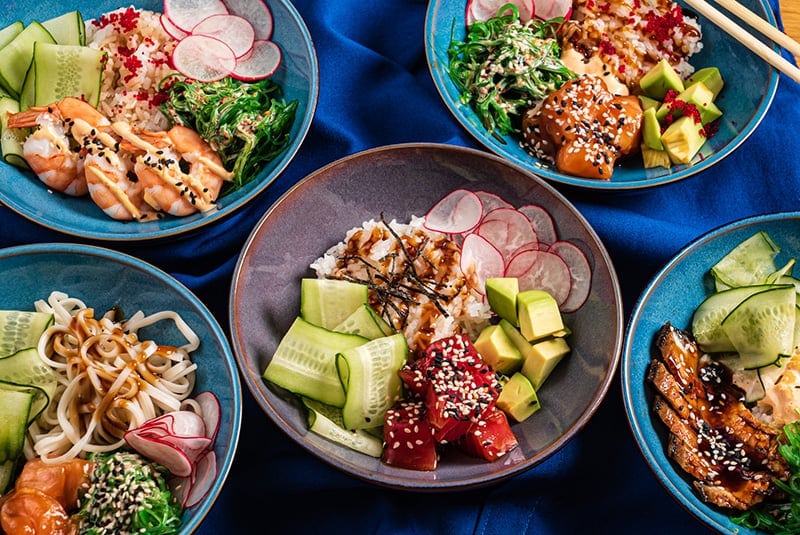 ---
Poke Bowl Sauce Ideas
In terms of poke bowl sauces, the Japanese influence is at the front and centre of the ingredients list. You'll find ponzu, yuzu, teriyaki, and shoyu which is a Japanese-style soy sauce. Sriracha mayonnaise or a more tropical spiced coconut sauce also often makes an appearance.
It can be tough to choose your ingredients when they're all so tempting. The trick is to try them all. It's very common to serve a poke bowl with two sauces: sauce for marinating the fish and a drizzle over the lot.
You can make a variety of sauces at home using pantry staples.
Try spicy mayonnaise by mixing regular mayo with hot sauce or chilli flakes and a little ketchup
Grated ginger, garlic and honey can be mixed in with soy sauce for a sweetened glaze.
Yuzu is a citrus ingredient that you can replace with some grated lemon zest and lemon juice added to soy sauce, honey and sesame oil.
Ponzu sauce is another citrusy soy-sauce based drizzle.
Japanese sesame dressing (goma) is also fabulous.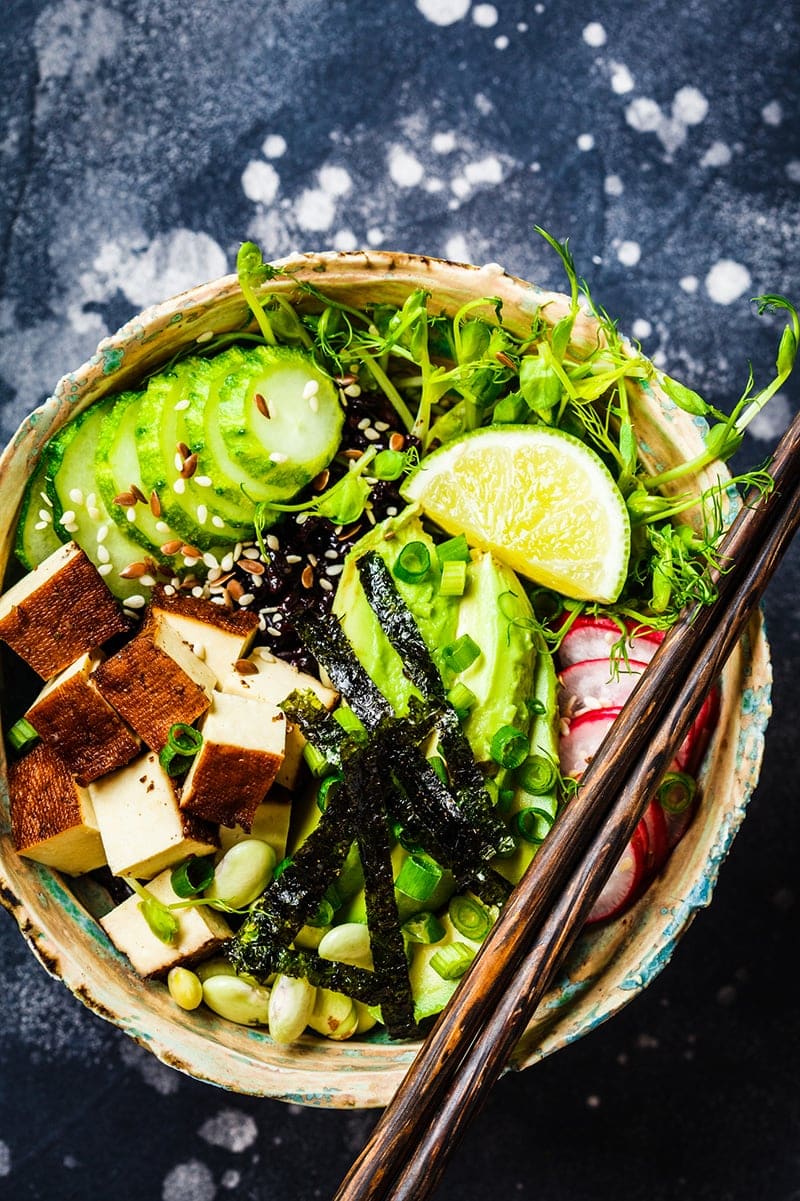 ---
Poke Bowl Nutrition
It turns out poke bowls can stack up to be a pretty nutritious meal. With grab-and-go poke shops and the convenience of the "build-a-bowl" restaurant-style, it is the perfect healthy meal to order while you're out.
Poke bowls are high in protein, healthy fats (omega-3s, anyone?), and flavour which are the perfect ingredients for feeling energetic and staying full. A bowl with fish, rice and vegetables is balanced in nutrients, and high in B vitamins, antioxidants and minerals.
How Many Calories Are In A Poke Bowl?
The calories range, but you're looking at around 300-600 calories per bowl. The biggest indicators of a higher-calorie bowl will be mayo-based sauces, extra rice, and fried toppings which are increasingly common at casual poke spots. Hint: if the word 'spicy' is in the title, it may be a richer dish.
A simpler, traditional version with rice, fish, vegetable toppings, and a shoyu and oil-based sauce will be on the lower-calorie end of the spectrum with a more balanced ratio of protein, fat, and carbs.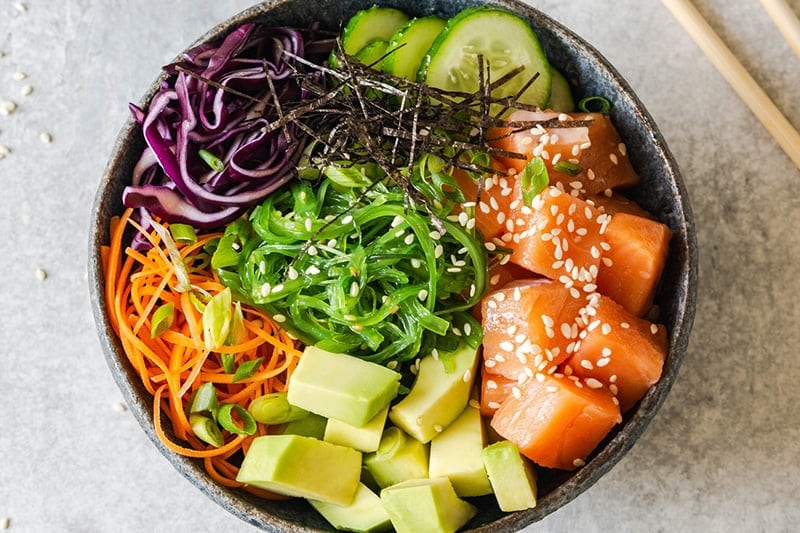 How To Make A Poke Bowl
During the early days in the Kingdom of Hawaii, Polynesians developed poke from a few simple, staple ingredients: fresh fish, alaea or Hawaiian salt, and limu which describes an edible underwater plant – usually a type of seaweed or algae.
This base might be embellished with roasted candlenut meat or inamona. This nut is related to the macadamia nut with a similarly buttery taste and texture. Macadamia nuts will likely be easier to find if you want to try your hand at this dish at home.
The traditional recipe can be found all over Hawaii today. Most grocery store chains and speciality Asian markets on the islands sell many varieties of poke and a la carte ingredients like ogo – a stringy, reddish seaweed – to make your homemade creations.
The contemporary Hawaiian poke bowl variety you'll commonly see also includes super sweet maui onions (white onions), soy sauce (shoyu), sesame oil, and a garnish of green onions, chilli flakes, and furikake.
Full Recipe For Poke Bowl
Find the full list of ingredients, instructions and extra cooking notes below. If you have questions or cook this recipe, please let me know in the comments and make sure to rate this recipe so it's easy for others to find.
Print
---
Description
This is a basic Hawaiian poke bowl recipe with ahi tuna, simple soy marinade and warm sushi rice with a few extra toppings of your choice. The recipe is for 1 lb / 450-500 grams of fish, which you can divide between 2-4 bowls, depending on other toppings. Feel free to make a smaller or larger batch of poke fish.
---
For the fish
For the bowl:
---
Prepare sushi rice to be served warm with your poke bowl. You can also use short-grain or medium-grain rice if you can't get sushi rice. Substitute for cauliflower rice, steamed greens, etc. as desired. Sushi rice is the most authentic way to prepare a base for your fish.

Prepare 1 lb. 450-500 g of sushi-grade raw ahi tuna. 

Mix all fresh ingredients in a bowl and toss fish. You can eat right away, no need to marinate for a long time.

Serve cold over warm sushi rice and garnish with your favourite furikake or seaweed seasonings, and any other toppings you desire.
---
Notes
Good quality, fresh fish is essential, so do buy mindfully! You can use tuna, salmon, and kingfish here. Source your fish from a reputable seafood retailer – especially if you don't live by the seaside. Wild fish is always best and saltwater fish are safer to eat raw than freshwater fish. Previously frozen seafood sold at your grocer is generally safe as well. Ahi tuna might not be available where you are, so you can opt for yellowfin tuna or more sustainable salmon instead. 
Nutrition
Serving Size:

1/2 cup rice + 1/4 of the fish + 1/4 avocado + 1/4 cup cucumber + 1/4 cup cabbage

Calories:

457

Sugar:

3.3 g

Sodium:

862.4 mg

Fat:

19.1 g

Carbohydrates:

39 g

Fiber:

5.2 g

Protein:

32.6 g

Cholesterol:

44.2 mg
Keywords: Tuna, Salmon, Poke, Hawaiian, Poke Bowl Recipe, Poke Bowls
How To Eat A Poke Bowl?
Now you've built the poke bowl of your dreams and you're sitting down to dig in. Most poke restaurants will provide chopsticks to use as a default. I like to scoop up some fish and rice in each bite and get a little bit of each topping with every bite. The contrast of cold fish and warm rice together is one of the best parts of eating fresh poke! Some people choose to mix everything up but I think it gets a bit muddled.
---
Best Poke Bowl Recipes
---
Traditional Hawaiian Poke Bowl With Ahi Tuna
While some of these ingredients may be tough to source off-island, this is the Hawaiian poke recipe with just the basics. If you're looking for authentic flavour, this recipe is a sure bet. From Keeping It Relle.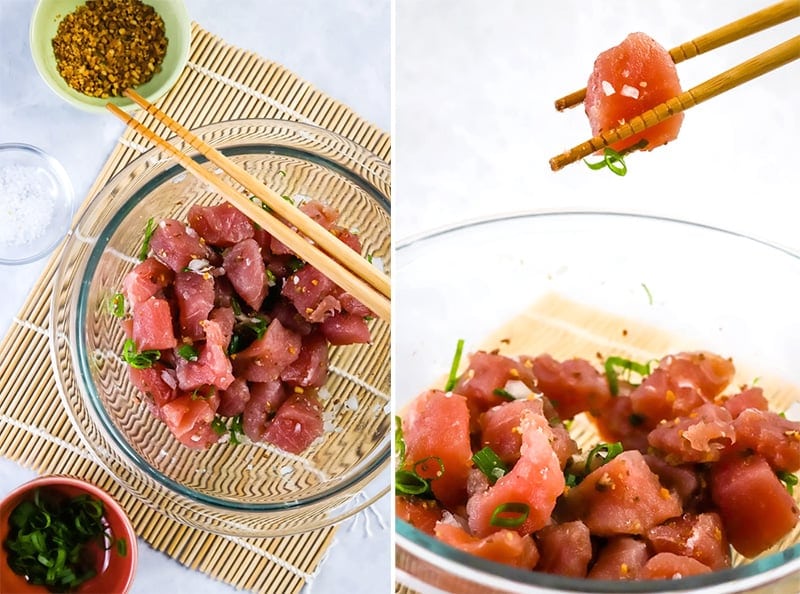 ---
Tuna Poke Bowls With Mango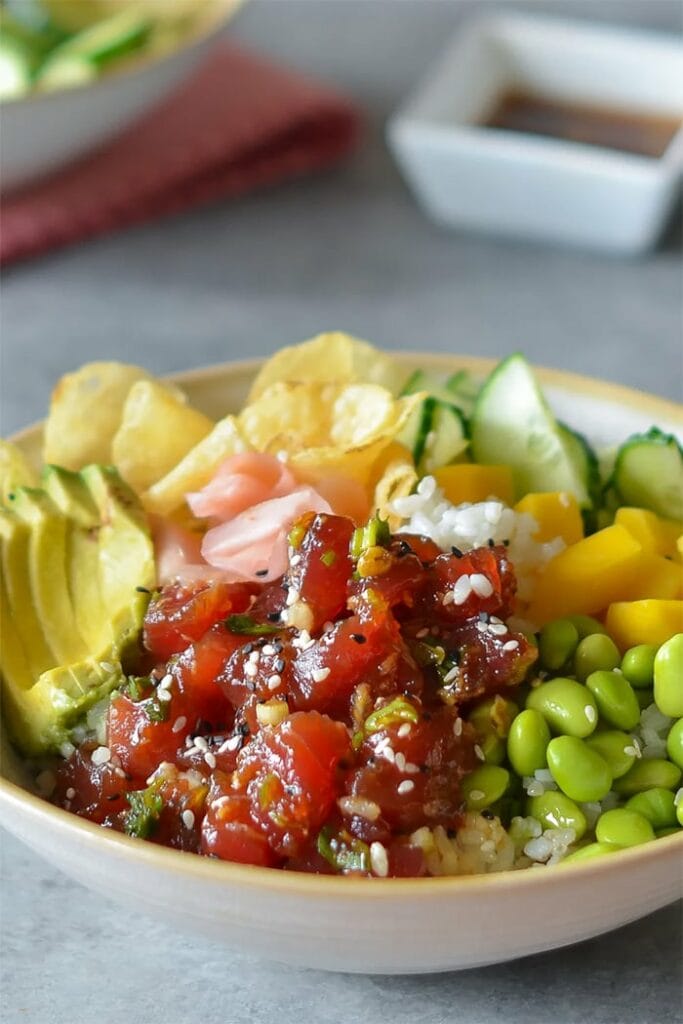 This variation on the classic uses similar ingredients to the traditional Hawaiian poke bowl with some easier-to-find substitutes. The toppings are inspiring, suggesting some edamame and mango for some sweet and salty contrast. From Once Upon A Chef.
Spicy Tuna Poke Bowl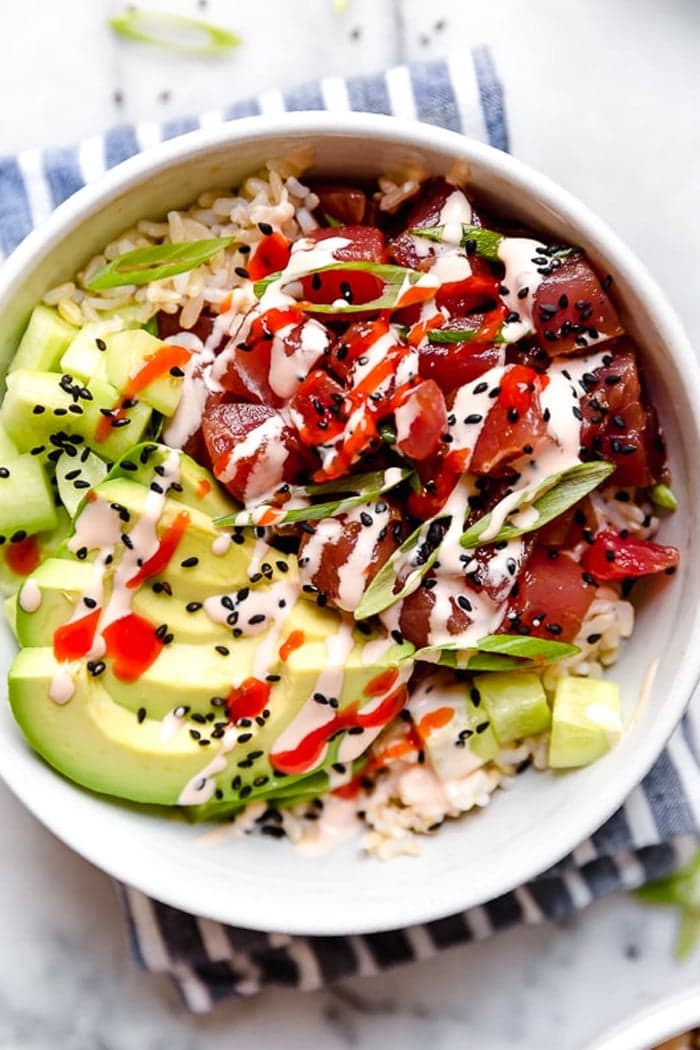 Spicy tuna is one of the most popular poke bowl flavours and will be sold nearly everywhere you buy it! You can also easily make it at home, and it's a total crowd-pleaser. This recipe is perfect to get you started. From Skinny Taste.
---
Ahi Poke Bowls With Ponzu Sauce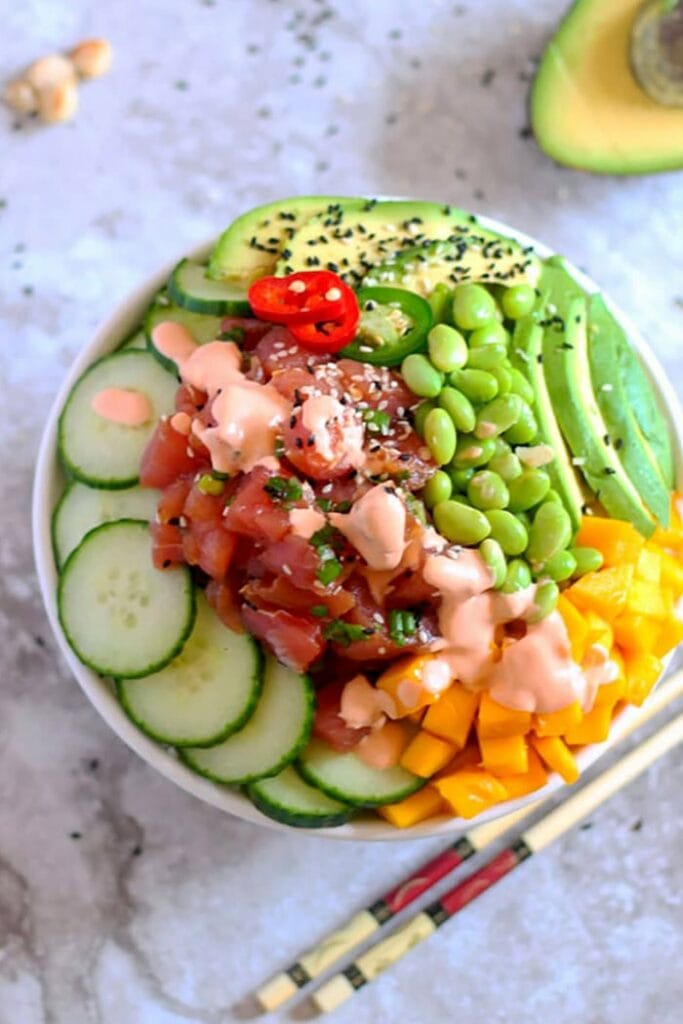 This spicy sauce poke bowl variation also features ahi tuna marinated in a citrus ponzu sauce. This is a really fresh and delicious way to prepare your fish! Served with sweet mango, avocado and edamame. From Once Upon A Chef.
Salmon Poke Bowls With Shoyu & Spicy Mayo Sauce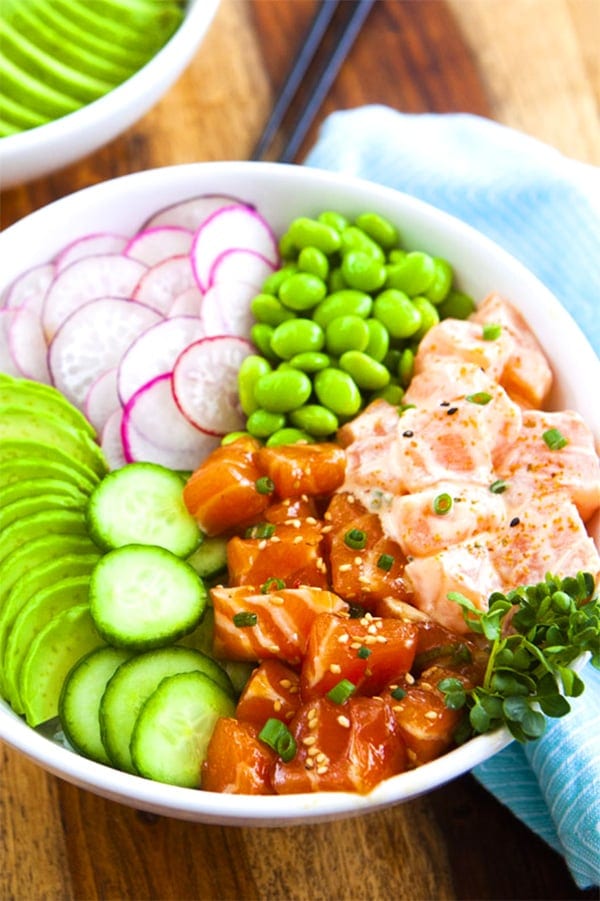 This salmon poke bowl features two sauces which is one of my favourite ways to order! This half and half plate will satisfy all your cravings. From Food Is Four Letter Word
---
Seared Tuna Poke Bowl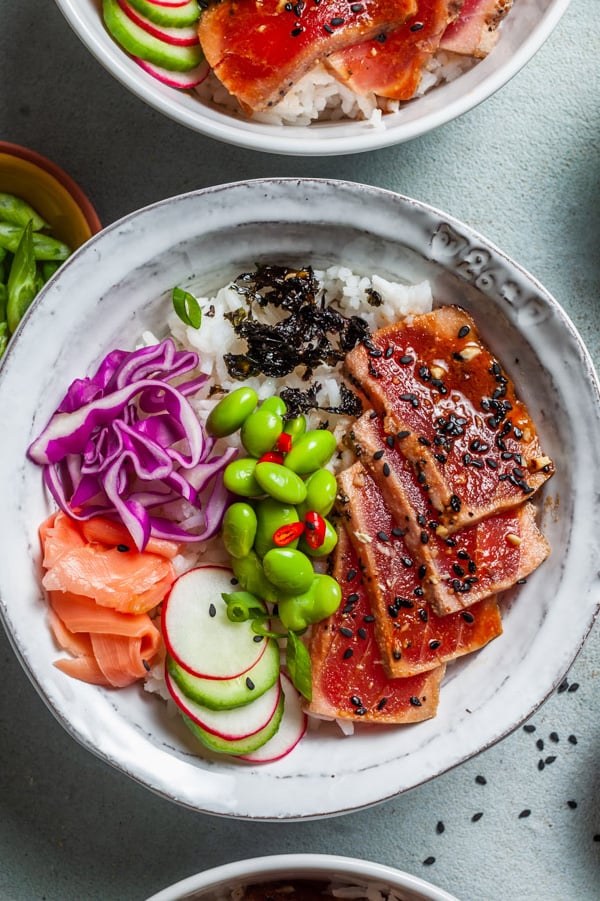 Seared tuna is just as delicious as raw with a more palatable flavour for some. Plus, the preparation is different as you'll typically sear the fish when cut into slabs rather than chunks. Otherwise, the core components of the poke bowl remain delectably the same. From Olive & Mango.
Kimchi Salmon Poke Bowl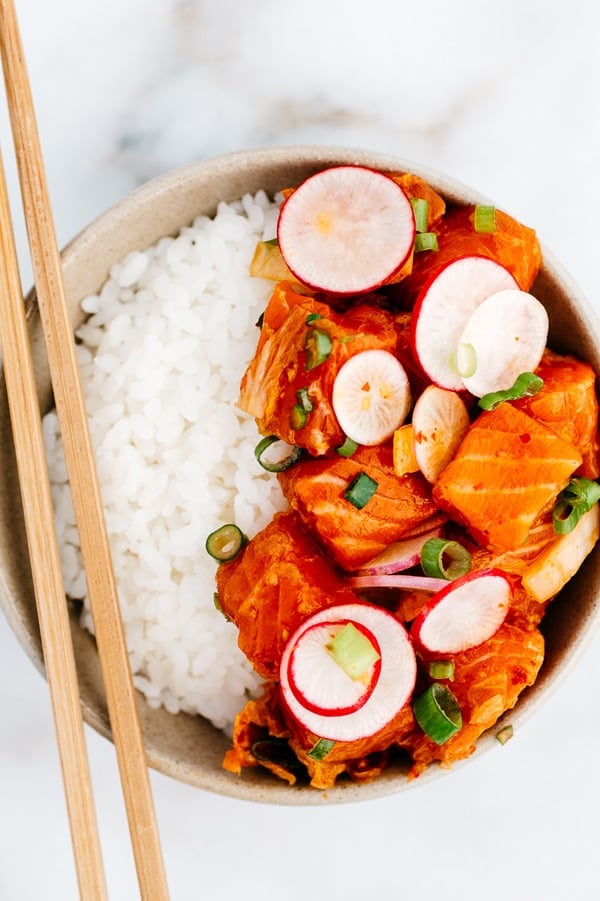 Kimchi is a fairly common addition to poke on the islands. You'll see variations at most fish counters. This Korean influence is incredible if you love the pungent, fermented flavours of kimchi! Plus, this recipe uses salmon for some fresh flair. From Fix Feast.
---
Keto Poke Bowl With Spicy Sauce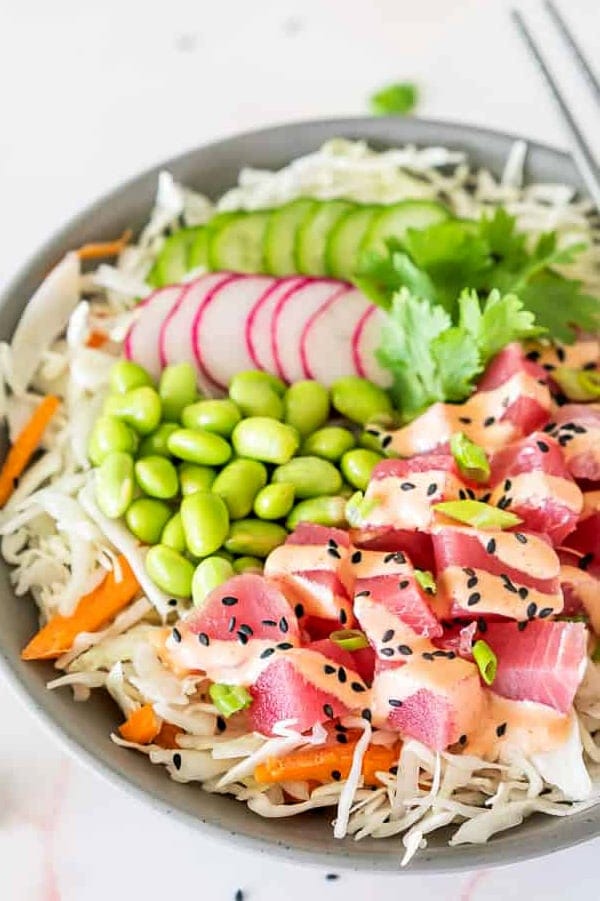 This recipe features plenty of low-carb, keto-friendly ideas for topping off some delish spicy tuna poke bowls. The highlight of this poke is the sweet and spicy mayo without the rice, sugar, or refined oils making it a low-calorie poke bowl option as well! From Health Starts in the Kitchen.
Whole30 Poke Bowl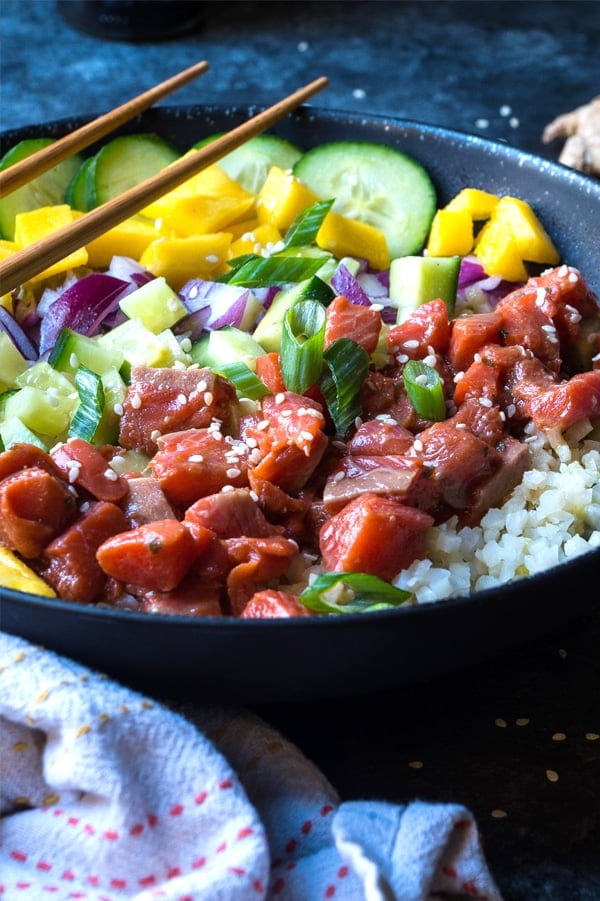 Soy-free and sugar-free may be tough to find in poke shops and online. This recipe uses coconut aminos, orange juice for a sweet and tangy citrus element, and a base of cauliflower rice making it paleo, Whole30-friendly, and low-carb depending on toppings. From The Kitcheneer.
---
California Chicken Poke Bowls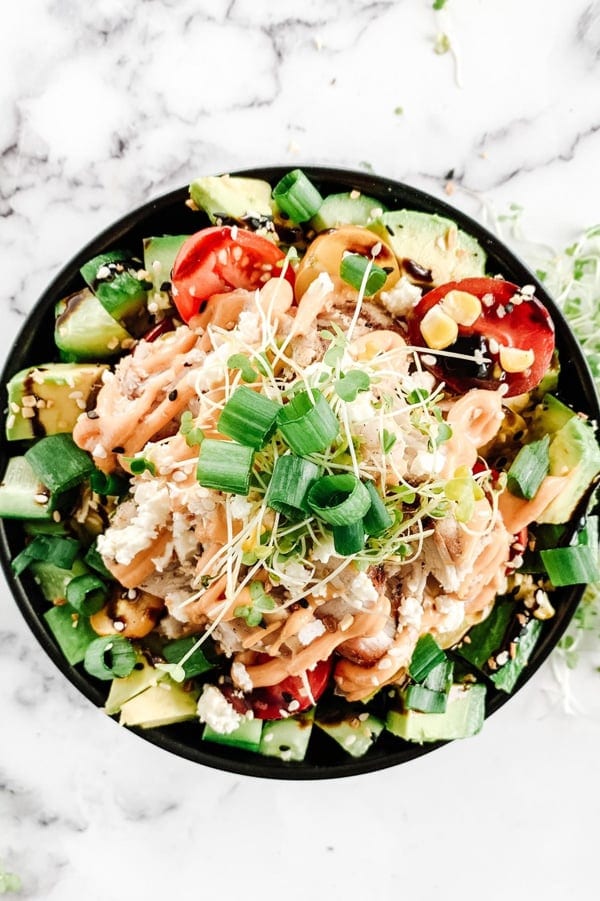 This chicken dish may not technically be poke, but it is certainly inspired by it. This version features some of the same toppings and flavours like spicy sauce and sesame seeds. It's a unique twist packing in veggies and poblano rice to add even more flavour depth. From The Communal Feast.
Shrimp Poke Bowls With Creamy Sriracha Sauce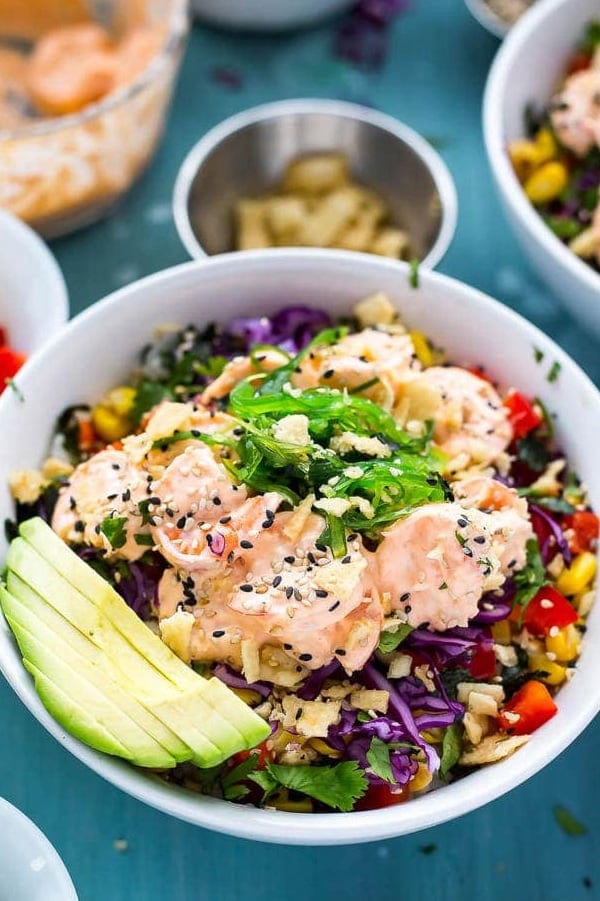 Swap out raw fish for shrimp which you can easily find in your frozen foods section. It's also a little more budget-friendly. These vibrant bowls feature an awesome spicy sauce recipe you'll keep on hand for easy, delicious meals later. From The Girl on Bloor.
---
Spicy Crab Poke Bowls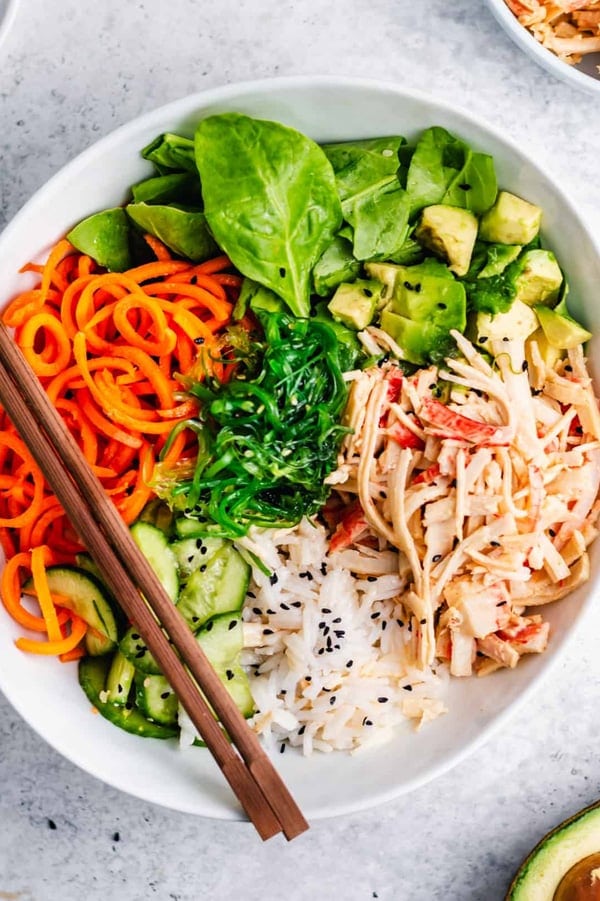 Kani, meaning crab in Japanese, is a standout ingredient in poke bowls. Sometimes the crab will be fresh, and other times imitation crab is used. This spicy mayo-based crab salad is delicious and indulgent atop a rice poke bowl, paired with vegetables and seaweed. From My Therapist Cooks.
California Poke Bowls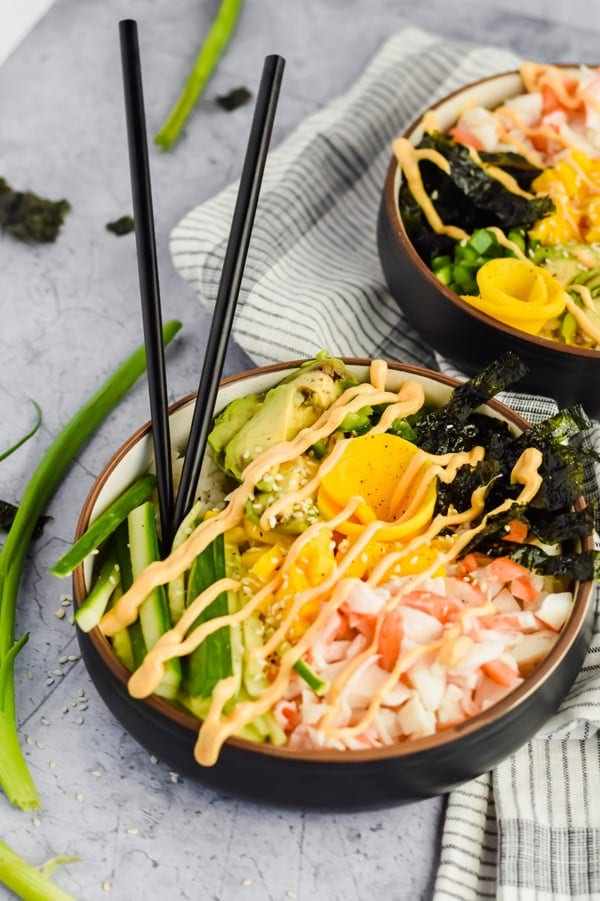 California style sushi and poke is typically marked by spicy mayo and avocado in my experience. It's a truly addictive combination, even if it strays from the authentic flavours of traditional poke. This bowl features imitation crab, but you can swap it out for your favourite fish if you prefer. From A Paige of Positivity.
Vegetarian Poke Bowls
---
Vegan Poke Bowl With Tahini Sauce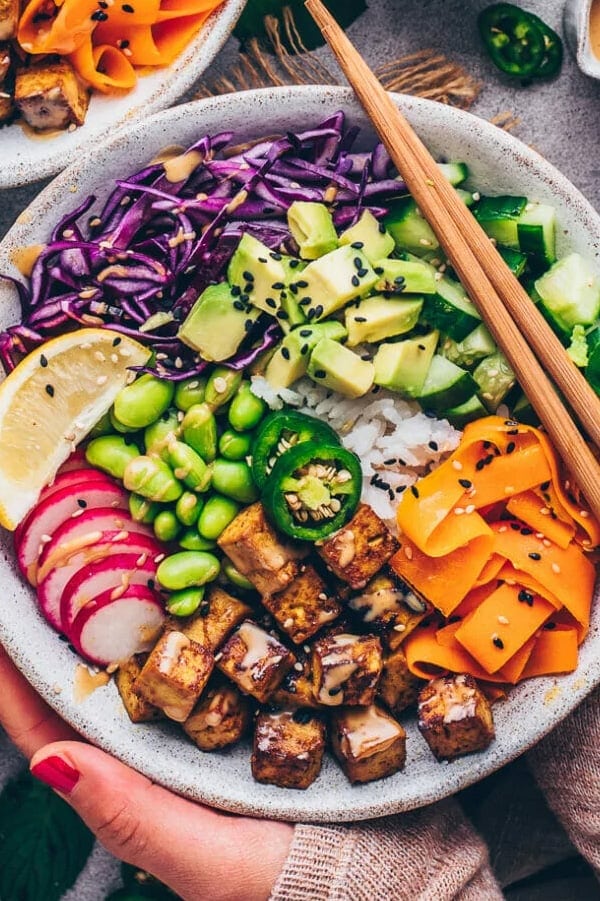 This vegan dish is inspired by a poke with a totally different flavour profile from the creamy tahini sauce. Fortunately, if you don't eat fish or can't find ahi nearby, tofu makes a good substitution. It's easy to pick up on the flavours you season with, and extra firm chunks will even make for a similar texture. From Bianca Zapatka.
General Tso's Tofu Poke Bowl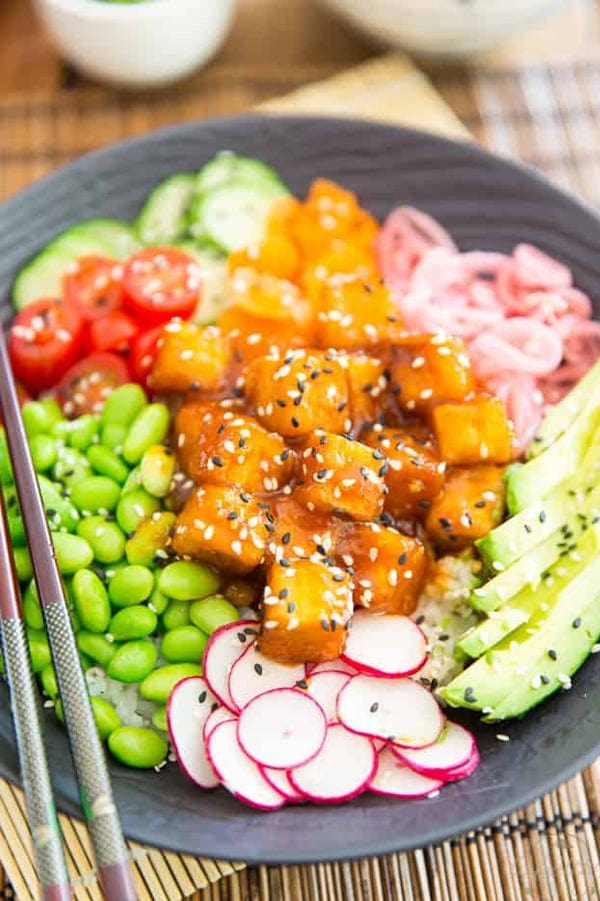 This vegan poke bowl features a General Tso's sauce to switch things up a bit, but you can swap it out for your favourite sauce or a more traditional Hawaiian poke bowl seasoning! This is a great weeknight meal with budget-friendly tofu and all the convenience of poke you love. From The Healthy Foodie.
---
Tomato 'Sashimi' Poke Bowl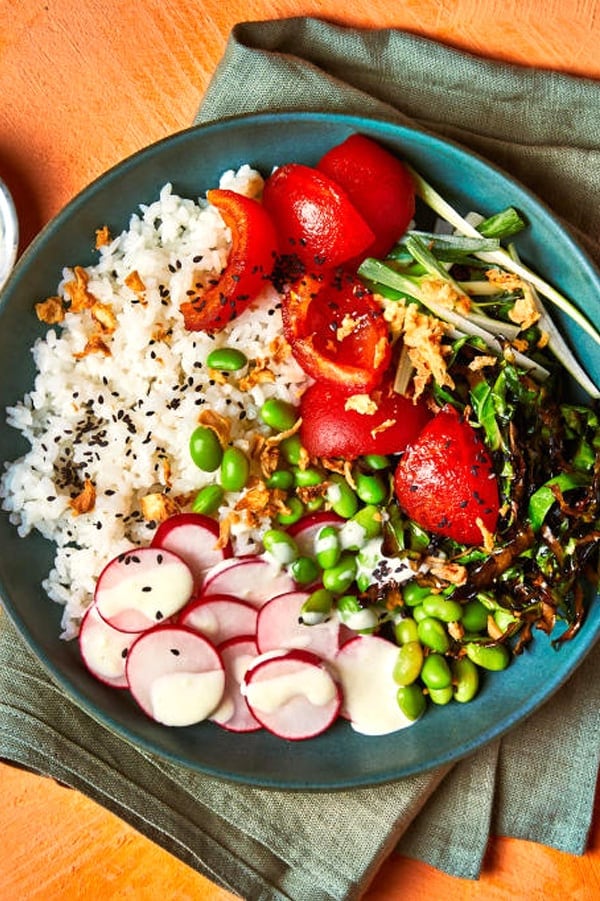 If you want to recreate ahi in a vegan poke bowl, this tomato sashimi looks to be pretty legit. With the right method and marinade, you can turn tomatoes into tuna. From Gousto.
Watermelon Poke Bowls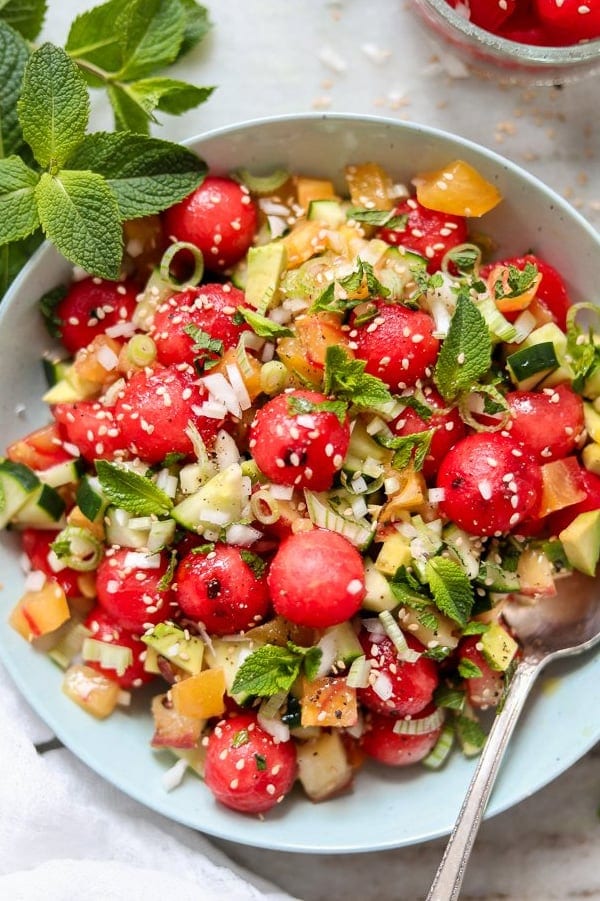 When cut into chunks, watermelon actually resembles ahi which is probably how this idea was born. Turns out, it also kind of works. This is a vegetarian and vegan poke bowl option that will blow your mind! It's a great light appetiser or dish to share during the summer. From Two Spoons.
---
Crispy Sesame Mushroom Poke Bowls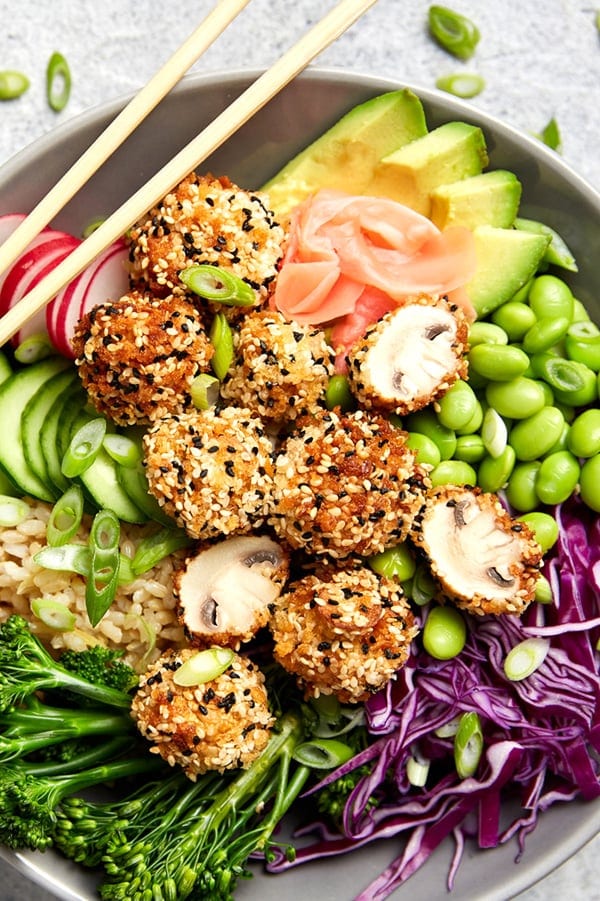 Somewhere between a falafel buddha and a poke bowl, this creation with crispy sesame mushrooms over brown rice is a nourishing and delicious vegetarian take on the classic. From Healthy Food.
Healthy Tempeh Poke Bowl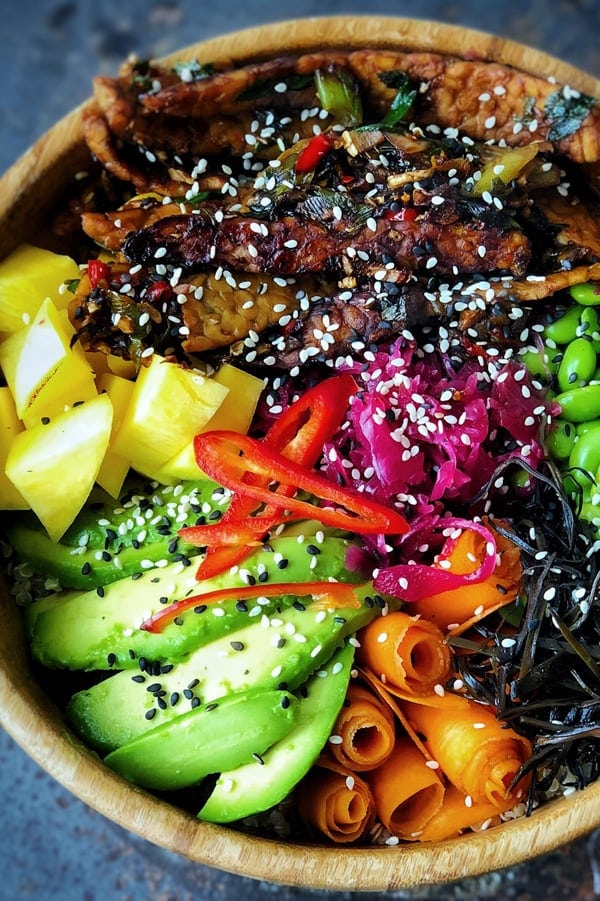 For another vegetarian poke bowl option, tempeh is the perfect protein with enough heft and bite to take on the marinade and texture just right. Plus, tempeh is budget-friendly and fairly easy to find these days. This recipe is easy with teriyaki or Tamari sauce on hand! From The Happy Pear.
More Healthy Fish Recipes