Enjoy this nutritious and tasty salmon loaf recipe made with canned fish for a budget-friendly family dinner. Served with creamy cucumber and dill salad. This recipe is low-carb, paleo, Whole30 and gluten-free.
---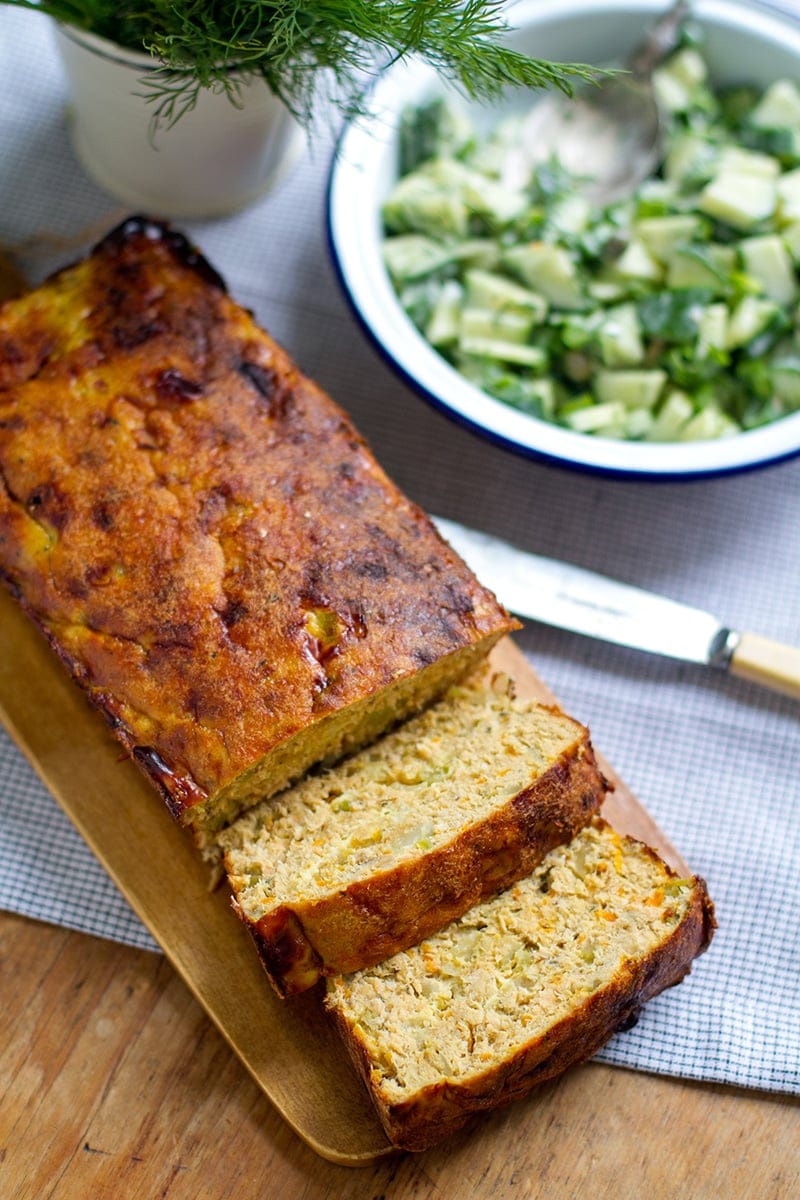 Why Make ASalmon Loaf?
Forget about the meatloaf! Today, I'm going to share with you a different kind of protein-baked goodness. Let me introduce my super delicious baked salmon loaf.
It's made with canned salmon  – so it's budget-friendly – and will make even the most anti-tinned-fish-eaters think twice.
Served with a refreshing, saucy dill and cucumber salad, this is a fantastic and healthy weeknight dinner meal.
This dish is great for summer picnics and those nights when you feel like something lighter than meat. It's a great dish to make ahead as part of your meal prep as it can be sliced and served cold out of the fridge for breakfast, lunch or dinner. And, it's a great pescatarian alternative to Sunday roast dinner.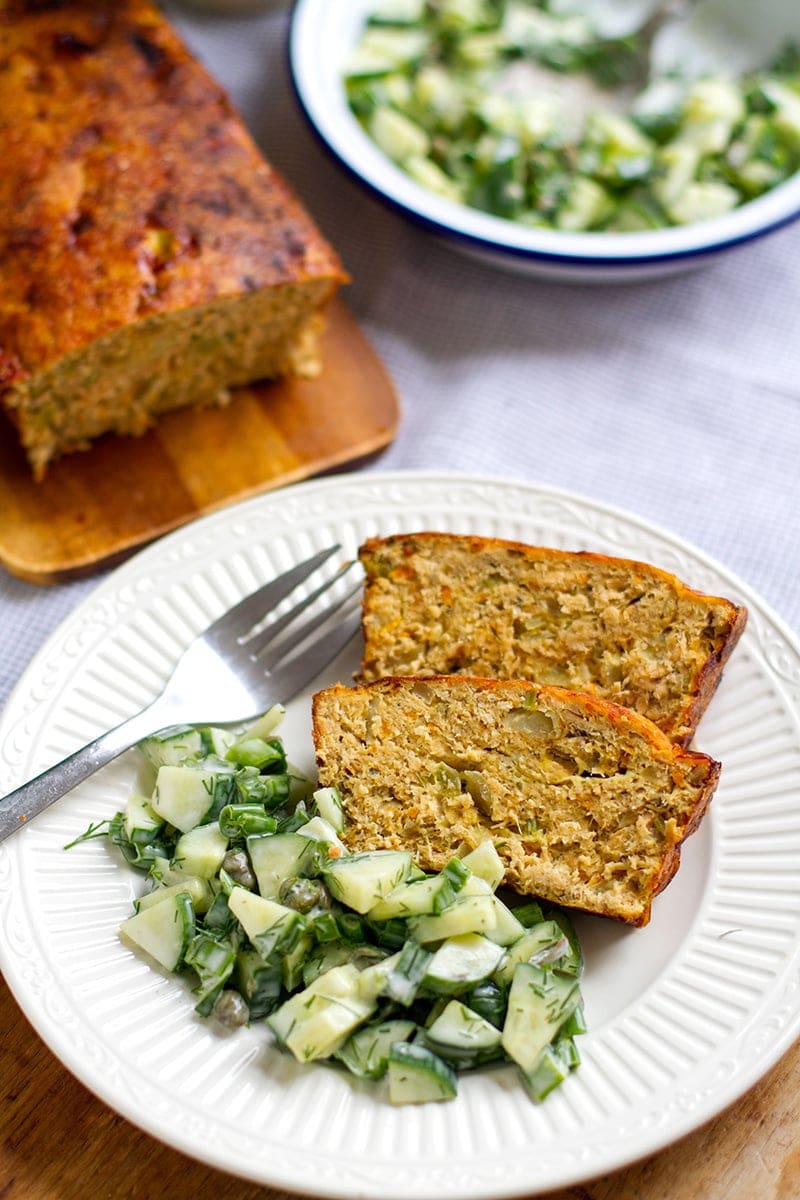 What You Need For Salmon Loaf Recipe
You can use canned or pre-cooked salmon in this recipe, and even tuna will be a good substitute if that's all you have. I sautéed onion, celery and carrot – also known as mirepoix – which adds a lovely sweet, umami flavour to the loaf, as well as extra fibre and nutrients.
Add a few eggs and some almond meal, and Bob's your uncle, as we say. In the oven, it goes. You prepare the salad. And 30 minutes later your dinner is ready.
If you're avoiding nuts, use the same amount of tapioca flour or half as much coconut flour instead of almond meal. Buckwheat or quinoa flour could also be used.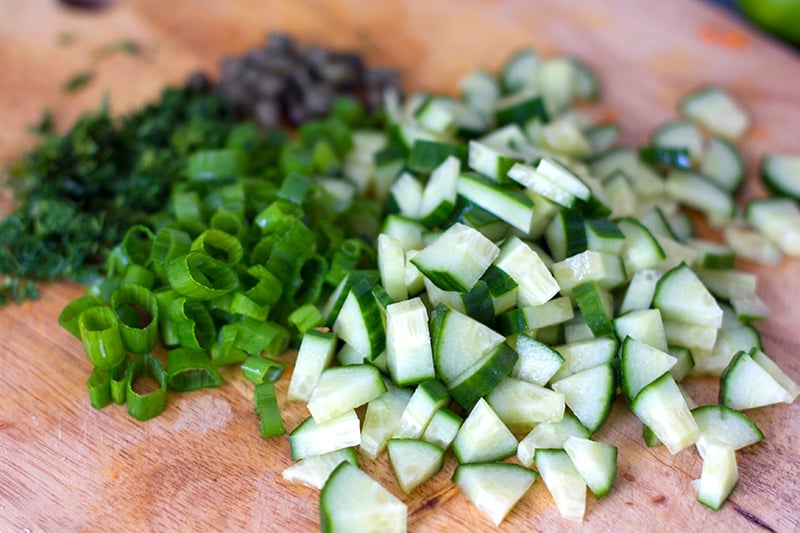 Can You Freeze Salmon Loaf?
Yes, the salmon loaf should freeze quite well for up to 3 months. You can slice it or leave it whole and I recommend putting it back in the oven once it's defrosted to reheat but also to get that crispy finish again.
More Salmon Recipes To Try
Salmon Beetroot Cakes With Pink Coleslaw
Japanese Baked Salmon Balls (With Canned Salmon)
Salmon & Sweet Potato Fishcakes With Radish Salad
Find all of my salmon recipes here
Print
---
Description
A nutritious and tasty salmon loaf recipe made with canned fish for a budget-friendly family dinner. Served with creamy cucumber and dill salad. Step-by-step pictures below.
---
---
Preheat the oven to 175 C/ 350 F.
Heat olive oil in a large skillet over medium heat and add the onion and celery. Saute for 2 minutes, stirring once, and then add the grated carrots. Season with salt and pepper and cook for 5 minutes, stirring a few times. Add a couple of tablespoons of water when it feels like the oil has dried up. Finally add the garlic and cook together for another minute or two.
In the meantime, drain the salmon and remove any visible large bones. Don't worry too much about the smaller bones or the skin as it will blend in just fine. Add the fish to a mixing bowl and flake with a fork or your fingers.
Add the cooked vegetables to the salmon. Grate some lemon zest, add the eggs and almond meal and mix everything together with a fork. Make sure the egg is well incorporated.
Grease a medium loaf tin with a little coconut oil (make sure to brush all sides with oil). Transfer the loaf mixture to the tin and press down until well compacted and even on the top. I like to bang the tin against the bench a couple of times to get rid of any air pockets inside the mix. Then place in the oven, middle shelf, uncovered, for 30 minutes.
In the meantime, combine the salad ingredients in a bowl and set aside.
---
Nutrition
Serving Size:

2 slices + 1/3 cup salad

Calories:

466

Sugar:

3.5 g

Sodium:

1211.1 mg

Fat:

26.3 g

Saturated Fat:

4.9 g

Carbohydrates:

14.9 g

Fiber:

2.4 g

Protein:

44 g

Cholesterol:

233.1 mg