Turkey Parmesan Meatballs have added nutrition from hemp hearts, and these tasty low-carb meatballs are also gluten-free!
PIN Turkey Parmesan Meatballs to try them later!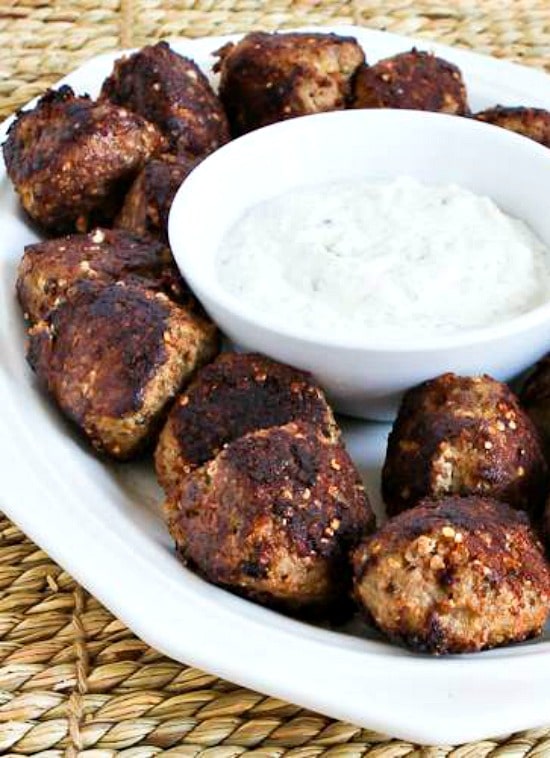 When I first tried these Turkey Parmesan Meatballs, ground turkey was something I'd been working hard to gain an appreciation for. Now I've been using ground turkey regularly in things like lettuce wraps, stir fries, tacos, and soup, and these low-carb meatballs with lots of ground herbs and Romano or Parmesan cheese are still one of my favorites.
In this updated version of this favorite meatball recipe I added a small amount of hemp hearts to bump up the nutrition, but that's completely optional. The meatballs are a little soft to work with, and you do have to watch them so the cheese doesn't burn when you're frying them, but if you want a flavorful meatball that's low-carb, and gluten-free, I think this recipe is a keeper!
What ingredients do you need for this recipe?
What are Hemp Hearts?
Hemp hearts (or hemp seeds) are the seeds of the hemp plant (which is not the plant that produces marijuana.) They have a pleasant flavor and are highly nutritious, and I love to use them as a binder in meatballs and meatloaf.
What other kinds of cheese could you use?
You can use finely-grated Parmesan Cheese or Parmesan-Romano Cheese for this recipe, whichever you have, and you don't need freshly grated cheese to make these meatballs. This would also work with other types of hard cheese like Asiago or Grano Padano.
Want more ideas for low-carb meatballs?
Check out Low-Carb and Keto Meatball Recipes for a great collection of meatball recipes from blogs around the web.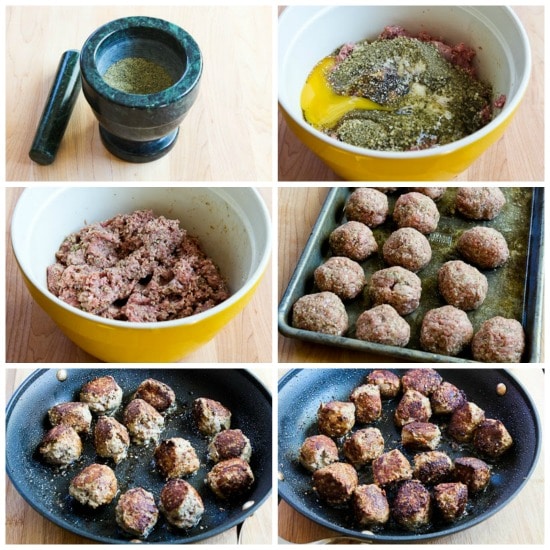 How to make Turkey Parmesan Meatballs:
(Scroll down for complete recipe, including nutritional information.)
Start by mixing together granulated garlic, rubbed sage, dried rosemary, and dried thyme in a mortar and pestle or spice grinder and grinding until it's in fairly small pieces.
Then add that to the ground turkey, along with 1/2 cup finely grated Parmesan or Romano cheese, hemp hearts (if using), Worcestershire sauce, and an egg.
Mix all the ingredients together with clean hands.
Then use your hands to roll the mixture into meatballs.
You can make about 30 small meatballs or 18-20 larger ones, but I went for the slightly larger ones so I didn't have so many to keep turned in the frying pan.
Heat a little olive oil in a non-stick frying pan over medium heat and cook the meatballs until they are well-browned and done clear through, about 15 minutes.
It's important to keep turning them often so the cheese doesn't burn, so I started with about 2/3 of the meatballs and added more as they started to get done.
I used an Instant Read Meat Thermometer (affiliate link) to make sure they were done, but you can also cut one in half.
I love to serve the meatballs with Tzatziki Sauce or Creamy Cucumber Dill Sauce.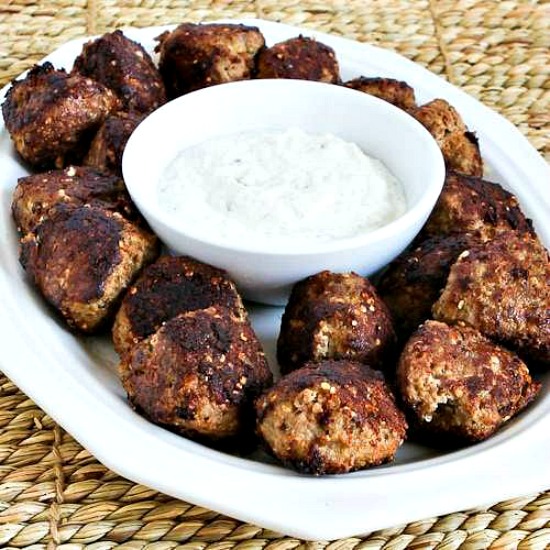 More Ideas with Ground Turkey:
Sriracha Turkey Meatballs
Grilled Middle Eastern Turkey Burgers
One-Pan Ground Turkey Curry
Asian Lettuce Cups with Spicy Ground Turkey
Thai-Inspired Ground Turkey Stir Fry
Weekend Food Prep:
This recipe has been added to a category called Weekend Food Prep where you'll find recipes you can prep or cook on the weekend and eat during the week!
Ingredients
1 1/2 lbs. ground turkey
1/2 cup Parmesan or Romano Cheese
1/4 cup raw hemp seed (optional)
1 tsp. granulated garlic
1 tsp. teaspoon rubbed sage (or less)
1 tsp. dried rosemary (or less)
1 tsp. dried thyme (or less)
1 egg, beaten
2 tsp. Worcestershire sauce
4 tsp. olive oil, for frying the meatballs
Instructions
Take ground turkey out of the refrigerator, put into medium sized plastic bowl, and let come to room temperature.
While turkey is coming to room temperature, put granulated garlic, dried sage, dried rosemary, and dried thyme in a mortar and pestle or spice grinder and grind until it's fairly fine. (If you're making these meatballs for kids I might use a smaller amount of herbs, especially the sage and rosemary, since those are fairly strong flavors.)
When meat is room temperature, sprinkle ground herbs, Parmesan or Romano cheese, and hemp hearts over the meat.
Then add the egg and Worcestershire sauce.
Wash hands.
Then use your hands to mix the herbs, cheese, and egg into the ground turkey. (Try not to over mix, just squeeze together until it's combined.)
Use a spoon to scoop out same-size pieces of meat and form into individual meatballs by rolling them between your hands. (The mixture will be soft, but it will firm when the turkey is cooked.)
When all meatballs are rolled, heat 1 T (3 tsp.) olive oil in a large non-stick frying pan. (Add the additional tsp. of olive oil as they cook if needed.)
Fry meatballs over medium heat, turning every few minutes to a new side, until all meatballs are well browned and done through, about 15 minutes.
Cut one in half to be sure the inside is done, or test with a meat thermometer to be sure the temperature is at least 165F for ground turkey.
Serve hot. I love these meatballs with Tzatziki Sauce or Creamy Cucumber Dill Sauce.
Nutrition Information:
Yield:
6

Serving Size:
1

Amount Per Serving:
Calories: 453Total Fat: 33gSaturated Fat: 9gTrans Fat: 0gUnsaturated Fat: 21gCholesterol: 171mgSodium: 349mgCarbohydrates: 3gFiber: 1gSugar: 1gProtein: 37g
Nutrition information is automatically calculated by the Recipe Plug-In I am using. I am not a nutritionist and cannot guarantee 100% accuracy, since many variables affect those calculations.
Low-Carb Diet / Low-Glycemic Diet / South Beach Diet Suggestions:
Turkey Parmesan Meatballs are a good choice for any phase of the original South Beach Diet, and for other low-carb eating plans. I have not found any definitive information about Hemp Hearts for the South Beach diet, but they have hardly any carbs, so I am assuming they would be an approved ingredient for South Beach and low-carb eating plans.
Find More Recipes Like This One:
Use Quick Recipes or Turkey Recipes for more recipe ideas like this one. Use the Diet Type Index to find more recipes suitable for a specific eating plan. You might also like to Follow Kalyn's Kitchen on Pinterest to see all the good recipes I'm sharing there.
Historical Notes for This Recipe:
This recipe was updated October 2012, with better photos, better instructions, and the addition of Hemp Hearts for added nutrition. It was last updated with more information in 2022.
We are a participant in the Amazon Services LLC Associates Program, an affiliate advertising program designed to provide a means for us to earn fees by linking to Amazon.com and affiliated sites. As an Amazon Associate, I earn from qualifying purchases.