This website may contain affiliate links and advertising so that we can provide recipes to you. Read my privacy policy.
Sheet Pan Salsa Verde Chicken Fajitas are the tangy new way to enjoy a delicious taco Tuesday, or Wednesday, or any other day of the week. This healthy meal is made in minutes, leaving you with little cleanup, and tons of leftover salsa verde.
Craving easy-to-make meals with little to clean after? Try these sheet pan meals and take back your evenings Sheet Pan Nachos, Sheet Pan Teriyaki Chicken and Vegetables, Sheet Pan Garlic Lime Salmon Fajitas.
Sheet Pan Salsa Verde Chicken Fajitas
School days are coming to an end in our house and summer is close to heating up, which means I need no-mess, no-fuss, and very little cleanup for dinner recipes. Sheet pan meals made with healthy and fresh ingredients like these Sheet Pan Salsa Verde Chicken Fajitas are the perfect answer when my kids are asking what's for dinner.
These fajitas will please everyone giving each family member their own options, including the pickiest ones in the bunch. Make super simple fajitas using only the seasoned chicken and tangy tomatillo salsa verde or load them up by adding the roasted vegetables, fresh cilantro, and steamed rice toppings too.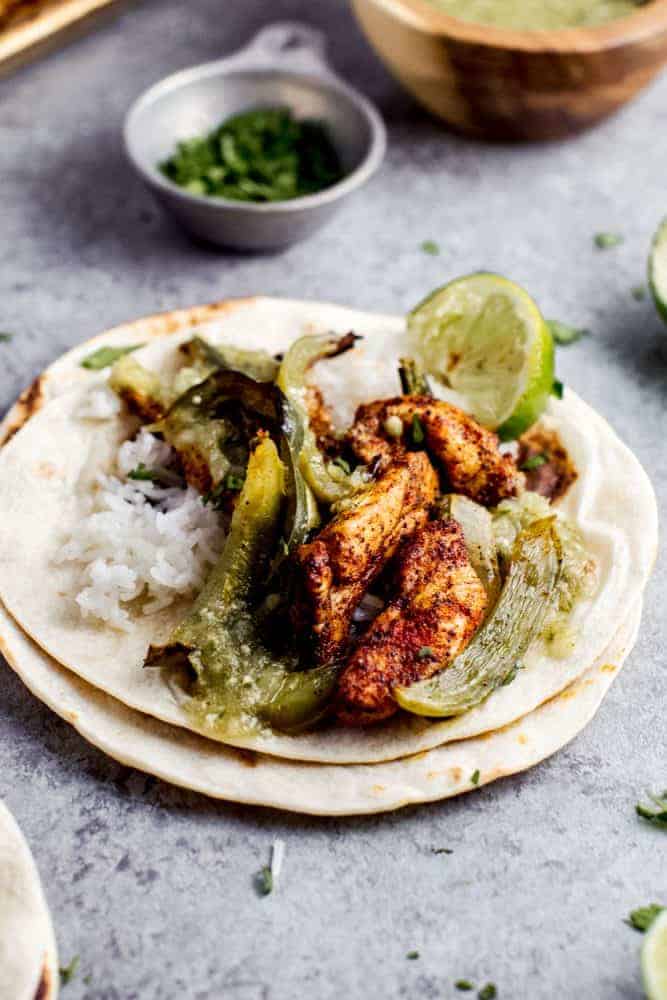 How to Make Salsa Verde
Tomatillos, known as the Mexican husk tomato, are the key ingredient in salsa verde and have a tart and citrusy taste, as well as bright green shade. Making them into salsa verde is extremely easy and the batch in the recipe below will leave you with plenty of leftovers for later tortilla chip dipping.
You'll most likely find tomatillos in the produce section of your local grocery store near the, you guessed it, tomatoes. Look for ones that are firm and bright green as opposed to shriveled ones. The rest of the very common salsa verde ingredients are garlic, cilantro, white onion, lime juice, cumin, and salt and pepper.
For the VERY easy 2 step process of making salsa verde start by setting the oven to broil and roasting the tomatillos (remove the outer husk first) until the tops begin to char and brown. Place them in a blender or food processor and pour in the remaining ingredients. Carefully, since the tomatillos will still be slightly warm, pulse or blend the ingredients until well combined.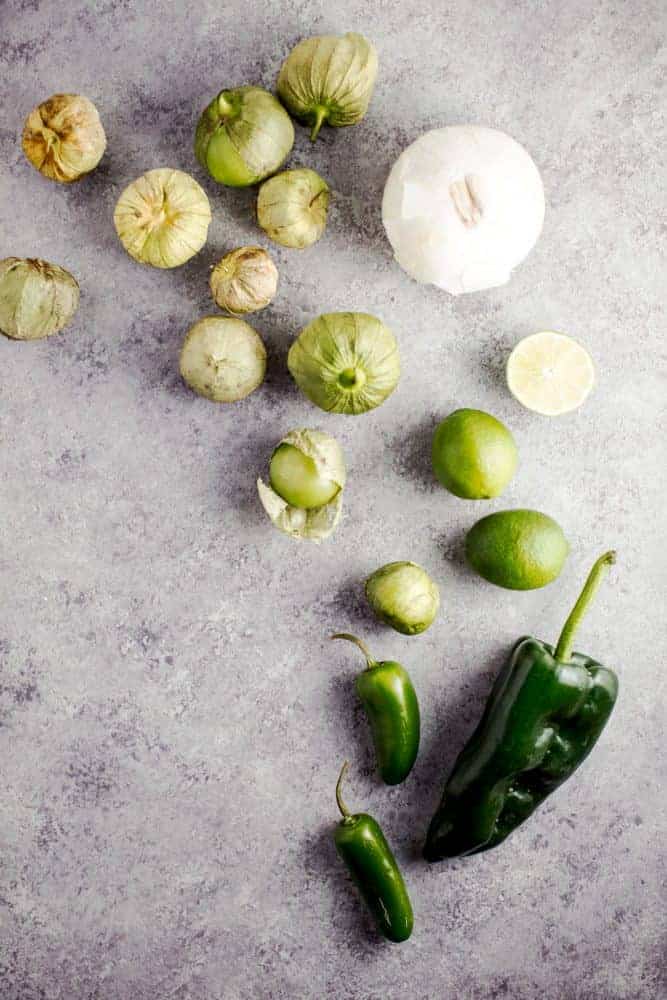 How to Make This Meal Family Friendly
If you have picky eaters, or should I say those who know their tastes well, in your house then this is a perfect family meal to please all levels of taste. When preparing the fajitas for my kids I spooned out some steamed rice on the side and placed the seasoned chicken inside the flour tortilla with a little cheese and avocado. My husband had a slightly similar version, which included the salsa verde but no peppers and onions. Then for myself who likes just about everything I loaded up my fajitas with all the ingredients listed.
This is one of those a la carte meals that leaves room for you to put it together however you, or your family, would like.
Making Sheet Pan Fajitas
Season the chicken with spices and olive oil and place on one side of a large rimmed baking sheet.
Toss the onion and peppers with olive oil and set on the opposite side of the sheet.
Cook for 25 to 35 minutes at 425 degrees ℉ and toss the ingredients to mix.
Warm or toast tortillas and top with sheet pan ingredients as well as additional garnishes such as pre-made salsa verde, steamed rice, sour cream, or avocado.
Can these be Made Vegetarian?
Yes, absolutely! Remove the chicken and just add more peppers and onions. There are so many delicious components to these Sheet Pan Salsa Verde Chicken Fajitas that you won't even miss the chicken. Although, it is quite a tasty version of chicken.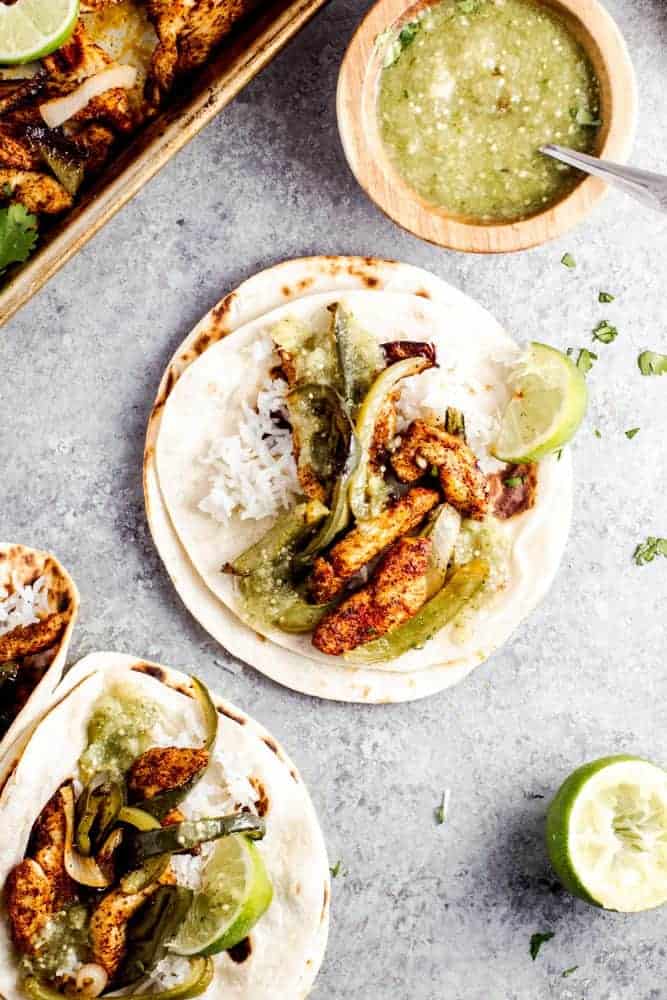 Craving more fajitas? Try out these recipes: