This website may contain affiliate links and advertising so that we can provide recipes to you. Read my privacy policy.
Roasted Honey Garlic Butter Chicken with Brussels Sprouts and Butternut Squash is a rustic and delicious meal that is full of amazing flavor. This is a comforting meal in one that is perfect for feeding your family! 
In less than an hour enjoy a satisfying and complete meal with fresh ingredients! Honey is a favorite in our house, try this Slow Cooker Honey Garlic Chicken, Honey Dijon Garlic Chicken or Foil Pack Honey Garlic Chicken.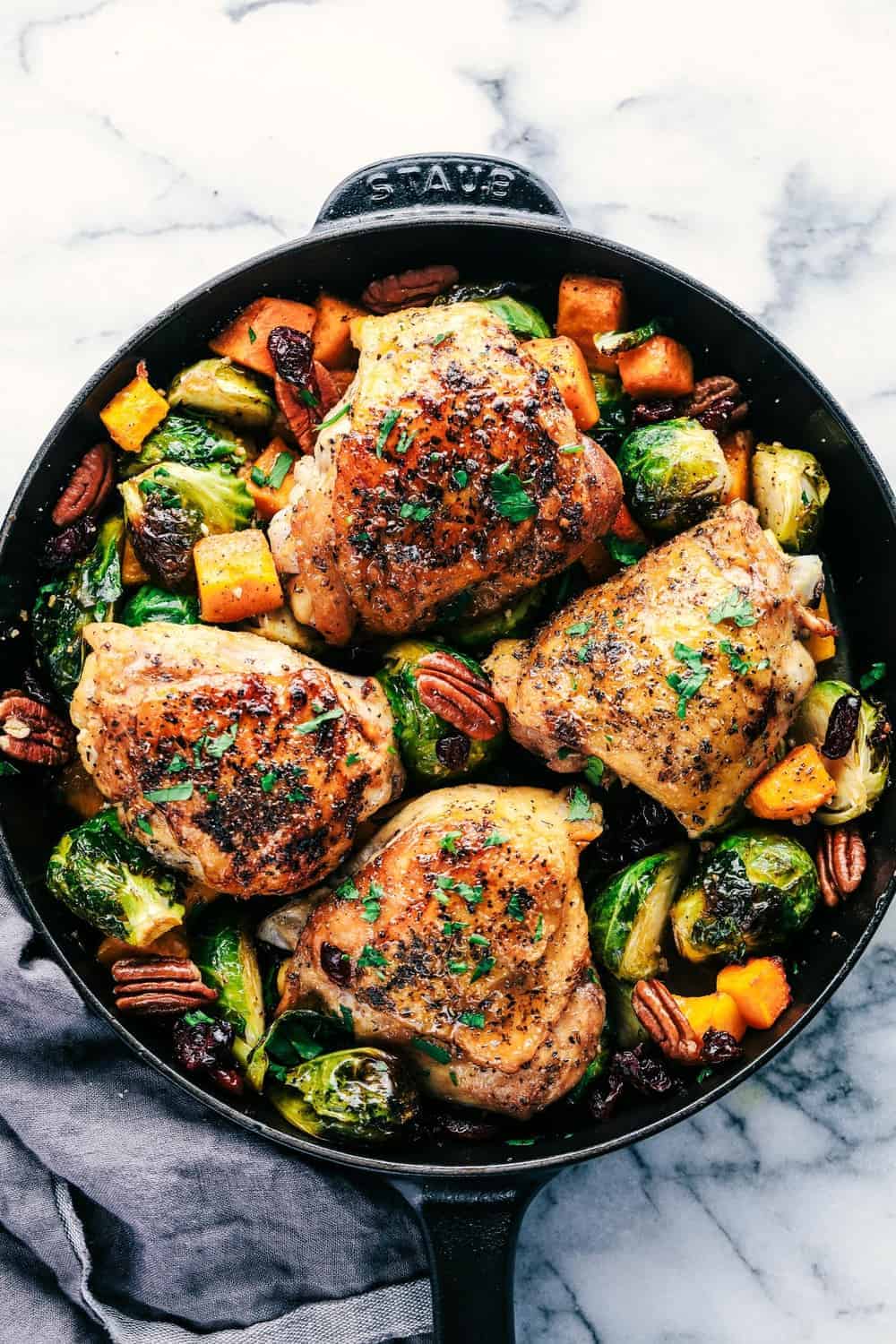 Roasted Honey Garlic Butter Chicken
Honey is apart of so many recipes here on The Recipe Critic and I am so excited to share with you this delicious new recipe and also an important cause.
Feed a Bee  is a national effort to plant more flowers and forage for honey bees and other pollinators.
One of the biggest challenges for bees is finding enough food. They eat nectar and pollen from flowers.
In order to keep the honey supply coming, we need to plant pollinator-attractant plants and gardens.
Everyone can help feed the bees!
What you need to make honey garlic butter chicken
This holiday season, we're celebrating pollinators for the role they play in bringing squash, cranberries, honey, pumpkins, apples and more to our tables as we gather with friends and family.
This recipe includes Brussels sprouts, butternut squash, cranberries, and honey which are all pollinators that help feed the bees.
Some of my favorite winter foods are included in this dish and it all comes together nicely bringing you a super flavorful dish.
Butter: you need this for the pan to help the chicken from not sticking and adds just a buttery flavoring.
Italian Seasoning: this brings all flavoring and seasonings come to life on your chicken.
Chicken thighs: bone in skin on chicken thighs are best. They are healthier but do cook a bit longer.
Brussels sprouts: cut in half and will taste so good!
Butternut squash: cut into one inch cubes.
Honey: I love fresh, homemade honey but store bought is just as delicious.
Butter: you can't have enough butter!
Mustard: adds just the right tangy flavor.
Garlic cloves: minced and fresh is best.
Salt: just a dash!
Cranberries: dried cranberries are best and will have a lasting flavor all blended together.
Pecans: whole and adds that crunchy nutty flavor.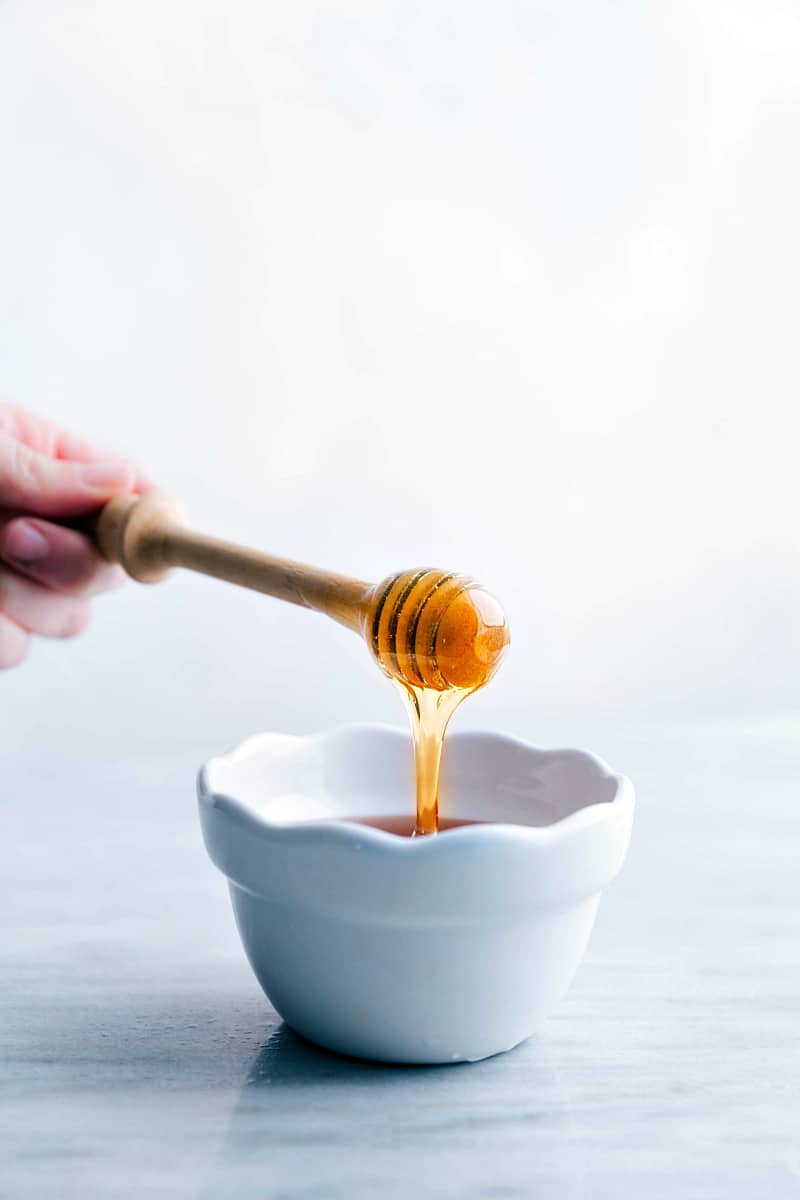 How you make honey garlic butter chicken
This chicken roasted beautifully in the oven with the brussels sprouts and squash.
It smelled amazing as it cooked and the honey garlic butter flavor is amazing.
The chicken was so tender and juicy and I love the crisp pan seared edge.
As soon as it came out of the oven I added some pecans and dried cranberries to the top.
The pecans added a crunchy nutty texture while the cranberries added something sweet.
This meal had so many incredible flavors and the sweetness from the honey was key!
Cook you chicken: Start by melting butter in a medium-sized skillet. Rub the spices on the top of the chicken thighs and sear each side until browned.
Prepare Vegetables: Add the brussels sprouts and butternut squash to a large bowl. In a small bowl whisk the honey, butter, garlic, mustard, and salt. Pour half over the vegetables.
Combine all ingredients: Add the vegetables to your skillet. Pour the rest of the honey mixture over the chicken and roast in a 400-degree oven for 30 minutes or until chicken is cooked through
Tips on making honey garlic butter chicken
This is such an incredible holiday meal to feed your family. I know that you are going to love it just as much as our family did!
I hope that you join in the Feed a Bee campaign and and help by planting pollinator-attractant plants. Everyone can help!
Visit FeedABee.com to learn more and use #FeedABee to spread awareness to help feed the pollinators that help feed us.
Chicken thigh/bone in: Chicken thighs have a darker meat and are super moist while packed with the ultimate flavor. They will take a bit longer to cook though.
Chicken thigh/boneless: use boneless, skinless chicken thighs for a faster way of cooking.
Chicken breast: Chicken breast can work for this recipe as well if needed. I recommend cutting them in half horizontally to help the cooking process go quicker.
Cast Iron: I used a cast iron skillet for this and it works well for caramelizing the chicken thigh as well as heats up quickly.
What to serve with honey garlic butter chicken
This chicken is perfect without a side. It is complete on its own with the Brussel sprouts and butternut squash.
If you are looking to add a little more to your dinner table these are great additions.
Any fall salad or vegetable will be colorful and tasty next to this honey garlic butter chicken.
Storing roasted honey garlic chicken
Usually we don't have left overs with this meal but there are days that I like to meal prep it for me during the week.
I can easily make it in less than an hour and have it ready for me each day for lunch.
It also is a great freezer meal that will last a longer time than most chicken.
Making this for families with babies or needing a meal to have with friends is the perfect combination for this tried and true recipe!
Make Ahead: follow instructions according to recipe. Let completely cool, add a chicken thigh and some vegetables to each container. You should be able to make 4 to 6 portions depending if you cut the chicken up. This will last in the refrigerator for 4 to 6 days.
Refrigerator: let cool completely and store in an airtight container or ziplock bag in the refrigerator for 3 to 4 days.
Freezer: let cool completely and store in an airtight container or ziplock bag with the air released. This will freeze for 1 to 2 months.
Reheating: you can warm up in the oven at 350 degrees Fahrenheit for 15 minutes or until chicken is warmed up to your liking. Microwave slowly and in 1 to 2 minute increments until it is warmed up completely. Enjoy!
More delicious recipes with honey:
This post was brought to you on "bee-half" of Feed a Bee, an initiative of the Bayer Bee Care Program. I was compensated in exchange for creating this recipe.