This website may contain affiliate links and advertising so that we can provide recipes to you. Read my privacy policy.
This grilled BBQ chicken is a simple to make tender chicken that's coated in a sweet homemade barbecue sauce that comes through with great flavor in every bite!  You will be making this weekly after you see what a huge hit it is!
Grilled Hawaiian BBQ chicken or honey chipotle BBQ chicken are two other easy grilled chicken recipes I find myself using over and over! They are made of many of the same tried and true flavors that I never get tired of!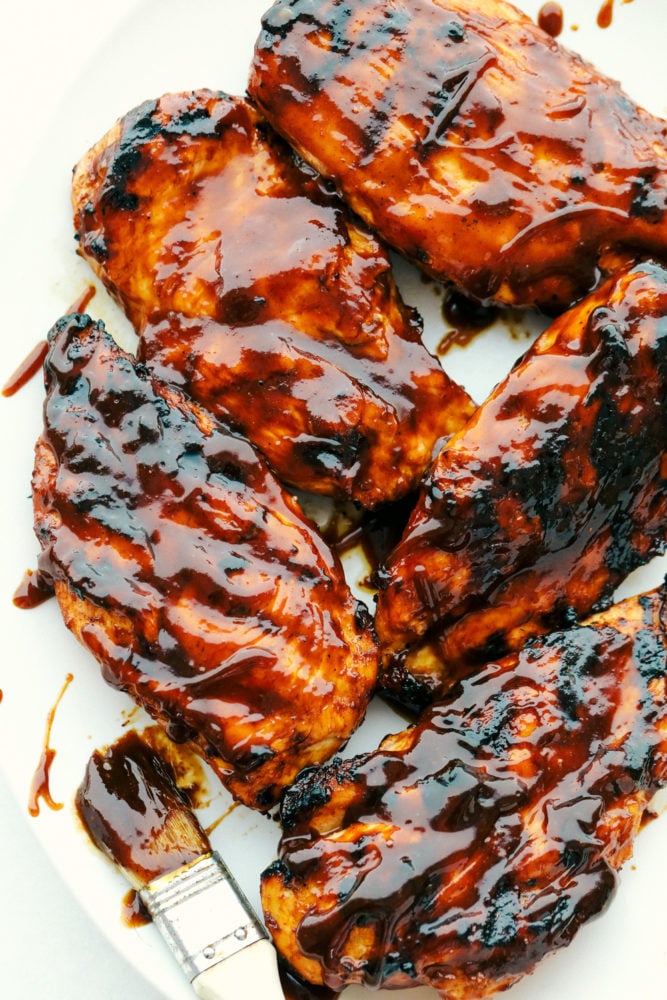 Easy Grilled BBQ Chicken
BBQ season is now in full force, and I love BBQ's. They make me so happy! I love the smell of the grill heating up outside!  I'm not sure why I usually reserve using my grill for having people over and an official barbecue?  So, lately I have been stepping out of my comfort zone and making more and more of my family's meals outside on my grill even during the week.  This simple recipe is one reason why!
We had friends over last week and I made this easy grilled bbq chicken. It was perfect!  The chicken was so moist and grilled perfectly. My hubby has always had awesome BBQ skills, but after that night I can definitely say I do too!  Now, I feel confident to use the grill any night of the week.  It is especially nice that I'm not heating up my kitchen on these hot summer nights! My mouth is watering just thinking about this yummy chicken! I am definitely going to make it again soon!
BBQ Chicken Ingredients:
It's amazing how two simple ingredients that are so simple and easy to find make such a stand out meal!  I love that I can come up with this meal at the last minute too, because these are two staple ingredients I always have on hand.  Either I use store bought BBQ sauce or often I have my homemade BBQ sauce ready to go because I can make it ahead and it lasts up to 2 weeks in the refrigerator.  So, if unexpected company comes or if we are just looking for a weeknight meal for the family, this is one I am always ready to make!
Chicken: I prefer to use chicken breasts.  I pound it out or cut it lengthwise to make even, thin pieces.
Homemade BBQ sauce: Stir together ingredients then split into two parts. Use one for marinating chicken for at least 2 hours. The second reserved part will be used for basting while grilling. (If you are in a pinch using pre-made barbecue sauce works fantastic too!)
How to Grill Chicken:
Grilling chicken is such a quick and easy way to cook a hearty chicken dinner.  I get tired of always baking chicken in the oven.  And lets me honest, it is so hot in the summer I am just not excited about heating up my oven!  It is so nice to heat up the grill outside and let it do its thing!  Just flip it over halfway through and don't forget to baste it as it cooks with your delicious BBQ sauce!
Combine ingredients from Homemade BBQ Sauce:

 

In a medium sauce pan stir together ketchup, molasses, brown sugar, cider vinegar, Worcestershire sauce, paprika, chili powder, onion powder, salt and liquid smoke.
Bring to a simmer over medium heat and cover with a lid.  Let cook stirring occasionally until the sauce thickens about 10-15 minutes.
Reserve Sauce:  Set aside ½ cup of BBQ sauce reserve for basting the chicken as it is grilling.
Marinate Chicken: Place chicken in a ziplock or airtight container. Pour the other part of your homemade BBQ sauce over top of the chicken and seal or close the container for 2 hours.
Grill BBQ Chicken: Preheat grill to medium heat. Place the marinated bbq chicken in the center of the grill. Grill in homemade BBQ sauce for 12 to 15 minutes.  Flip the chicken over halfway through and finish grilling on the other side until the internal temperature of the chicken reaches 165 degrees Fahrenheit.  *Don't forget to use the ½ cup of reserve bbq sauce for basting on the chicken as it is cooking.
Homemade BBQ Sauce Ingredients:
This may seem like a long list, but trust me, you have most of these things already!  Just dig around in that spice cabinet and in the door of your refrigerator.  You will most likely have them.  If you do need to grab a few things, buy them in bulk because you will be making this homemade sauce a lot once you see how amazing it is!!
Ketchup: Adds sweet and tangy flavor to the sauce.
Molasses: For sweetness and a warm, smoky flavor.
Brown sugar: Rich sweetness
Cider vinegar: Balances out all the sweetness with its tartness.
Worcestershire sauce: Savory and sweet tangy sauce.
Paprika: Adds an unmistakable red color and very mild pepper flavor.
Chili powder: For spice!
Onion powder: Sweet and savory flavor of onions are perfect in this sauce.
Salt: To taste
Liquid smoke: I love the smokiness the BBQ sauce gets from adding this!
Grilling the Perfect Chicken:
I am taking all the guesswork out of grilling for you.  After writing many grill recipes, responding to your comments and questions, and some of my own trials and errors, I have compiled everything you need to know to make the perfect grilled chicken!
Which chicken works best on a grill? Any chicken can be great, but I stick to chicken breasts because they are lean and cook quickly.  I butterfly them and pound them out so I have nice, thin, evenly sliced pieces to work with, which also helped me determine cooking time.
How hot does my grill need to be? Your grill needs to be at least 350 degrees before you begin cooking your chicken.
Where do I place the chicken on the grill? You want to aim for an indirect heat on the chicken, so do not place it directly over a flame.  The inside of the chicken needs to have time to cook completely without burning the outside.
How long do I cook my chicken? Depending on the size or thickness of your chicken, every piece will be different. The average is 5-8 minutes per side.  For example, a ¾ inch thick breast would cook 5 minutes per side.  Add more time for a thicker piece or a bone-in chicken.
Do I need to turn chicken as it cooks? Flip once while cooking, any more than that and your chicken may start to break apart or stick to the grates.
How do I know when my chicken is done? When your chicken is done the juices will run clear.  However, it is best to just trust a meat thermometer when it comes to deciding if your chicken is done.  The internal temperature of the chicken needs to reach 165 degrees.
What do I serve with grilled chicken?
I love to serve grilled chicken with other sides I can cook on the grill like corn on the cob, grilled coconut lime pineapple.  It is also great served over simple rice or a summer salad.
Tips for Grilling:
I used to leave all the grilling to my husband, but that was several grill recipes ago 😊.  Now, I have learned that the grill is nothing to be feared.  After learning a few easy tricks and tips, I can grill anything! And so can you!
Grill care: Taking care of your grill will help it to last longer and your food will turn out better. So, be sure to clean your grill before and after using it.  To clean it just turn it on and let the grates get hot.  Then using a wire brush, clean of any debris on the grates. Coat the grill rack with oil before placing meat on it to prevent any sticking and also make it easier to clean later.
Keep the lid closed: Resist the urge to check on your chicken often. Just as with our oven in the kitchen, the more you open the lid, the more heat you lose.  Containing the heat will cook your meat quickly and more evenly.  Only open the grill to flip once halfway through cook time.
Baste: Take the opportunity when your grill is open to flip your chicken to baste it with some of the sauce you set aside.  Remember to discard any sauce that was used to marinate chicken and only baste with the sauce that has not been used.
Grill temperature: Keep the grill at a lower temperature when cooking chicken so that it does not burn the outside while the inside is still raw.
Oil your grates: To keep your meat from sticking, brush the grill racks with oil before putting the meat on the grill.
Storing Grilled Chicken:
The number one thing about storing this chicken is to make sure you do not leave it out at room temperature (or hotter if you are outside) for more than 2 hours.  This can be hard when everyone is busy talking and enjoying the evening, but it needs to be stored right away or discarded.
Refrigerator: Store in a shallow airtight container or bag for 3-4 days.
Freezer: Pack as tightly as possible in a freezer safe bag or heavy duty foil and freezer wrap for up to 4 months.
Re-heating:  To prevent your chicken from drying out, wrap it in aluminum foil and heat at a very low temperature (between 170-250 degrees).
More Delicious Grilled Chicken Recipes: