This website may contain affiliate links and advertising so that we can provide recipes to you. Read my privacy policy.
Grilled Honey Buffalo Chicken Wings are perfectly tender and juicy on the inside with a crispy skin on the outside that is drenched in a sweet and spicy honey buffalo sauce.  The flavors are so irresistible you will not be able to stop eating them!
Buffalo chicken is so easy to turn into a perfect appetizer, too!  Try The Best Buffalo Chicken Dip or Skinny Buffalo Chicken Dip if you want to have a huge hit at your next gathering.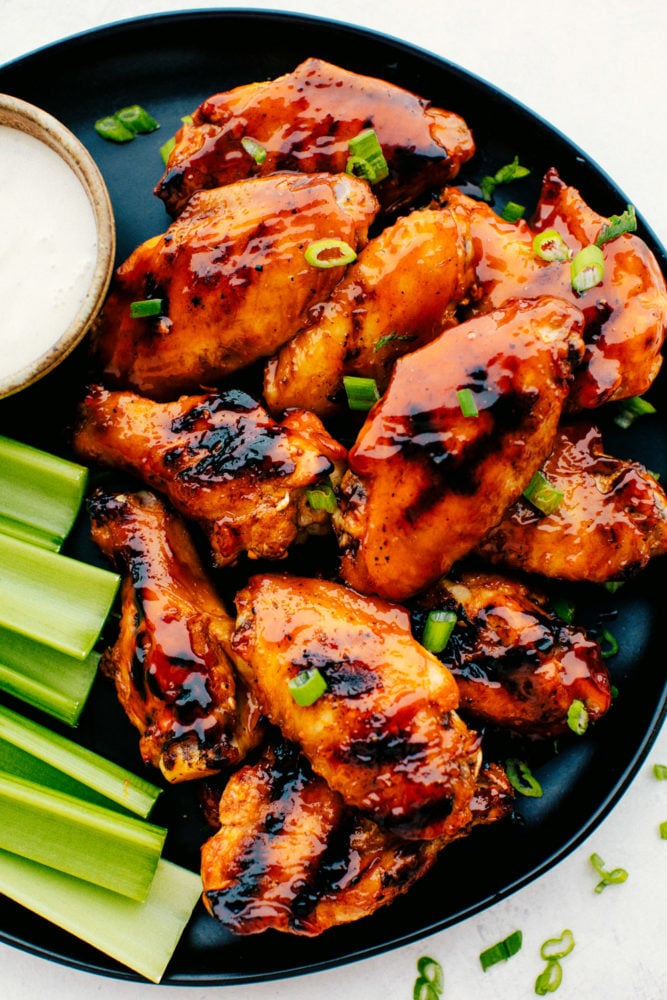 Grilled Honey Buffalo Chicken Wings
Grilling is always my favorite during the summertime. I knew I needed something that was light but good for my teenagers and their friends while hanging out together. These buffalo chicken wings came to mind when I was at the grocery store. Buying a large bag of chicken wings and simple ingredients that I always have on hand was the perfect combination for these wings. It is easy to double the recipe and even my boys love to start the marinade when they know their friends are on their way.
The sticky honey buffalo sauce is so good, it is even better than Buffalo Wild Wings. The grilled honey buffalo marinade was just the right amount of sticky and sweet with some heat in the background. If you love extra heat, simply add just what you like to customize your wings the way to like them. The chicken turned out perfectly and was so tender and juicy.  I highly recommend these if you are looking for a quick and easy chicken wings recipe!
Grilled Chicken Wing Ingredients:
The marinade on these wings is everything!  Simply whisk up some hot sauce, honey, brown sugar, and Worcestershire sauce.  The result is so completely sweet and spicy at the same time. Customize these powerful flavors by choosing a hotter buffalo sauce or adding more or less honey to adjust the heat/sweet levels.
Wings: Marinate your wings for a minimum of 30 minutes.  Then grill on medium-high.
Salt and Pepper: To taste.  Remember to season chicken before marinating it.
Buffalo Sauce: I like Franks Red Hot Sauce because it is so perfectly spicy and tangy.  Its a tried and true for sure!
Honey: Adds a strong sweet flavor.
Brown Sugar: Adds rich sweetness.
Worcestershire sauce: Sweet and tangy flavors in the marinade.
Let's Get Grilling:
Season and marinate the chicken first, then place the wings on your grill and let it do all the work.  Baste it often with the reserved marinade to keep it moist while it cooks. It is that simple!
Prep: Salt and pepper the wings.
Whisk: In a medium sized bowl combine buffalo sauce, honey, brown sugar, and Worcestershire sauce. Reserve 1 cup of the sauce.
Toss: Add the wings to the sauce and toss to coat. Marinate for 30 minutes.
Grill: Heat the grill to medium high heat. Place the wings on the grill and turn occasionally until crispy.  Baste with marinade every time you turn the chicken.
Baste and Serve: Remove wings from the grill and baste with marinade. Serve with ranch or favorite dipping sauce.
What to Serve with Honey Buffalo Wings:
I love to serve these honey buffalo chicken wings with raw veggies on the side, like celery, carrots or broccoli. The cool and clean flavors are the perfect match for the spice in the buffalo sauce.  Chips or fries also stand up well to this chicken.  Add a cup of ranch or blue cheese dressing on the side to dip them in, and you have one amazing meal!
Grilled Wing Tips:
Here are some tips to help you look like the pro when making this recipe.  Read through these before you get started to prevent burning, get great flavor, and achieve crispy skin on these delicious buffalo wings.
Spice it up!  Add cayenne pepper to the chicken with the salt and pepper before marinating for even more spice.
Garnish: Add blue cheese crumbles as garnish on your finished bowl of chicken wings for more flavor and texture the crowd will love!
Reserved Sauce: To thicken the part of the marinade you reserved, heat it over the stove top with a bit of corn starch.  This will create an even thicker sauce to dip or toss in after it has been grilled!
Dry Chicken: Pat your chicken dry before adding salt and pepper to keep the skin crispy as it cooks.
Crispy chicken: For an even crispier chicken skin, rub on a bit of baking powder when you add salt and pepper.
Don't burn it: The best way to make sure your chicken doesn't burn is to make sure it doesn't stick to your grill.  Make sure to rub oil on the grill pan or grates before you begin.  Also, baste each piece during cooking and turn them as they cook.
Storing Buffalo Wings:
Allow to cool completely before storing.  It is best to use a shallow airtight container or wrap tightly in aluminum foil.  Discard if the chicken has been sitting out at room temperature for more than 2 hours. If properly stored follow these guidelines:
Refrigerate for 3-4 days.
Freeze for up to 4 months.
More Wings and Buffalo Recipes: