In this post, I show you how to make your own, homemade ceviche recipe with white fish such as tilapia, citrus juice, chilli and pineapple for a little sweet twist. You'll see that this popular Peruvian dish is not just just for the fancy restaurant menus and is very easy to make. Ceviche is also super healthy and is gluten-free, paleo, Whole30-friendly.
---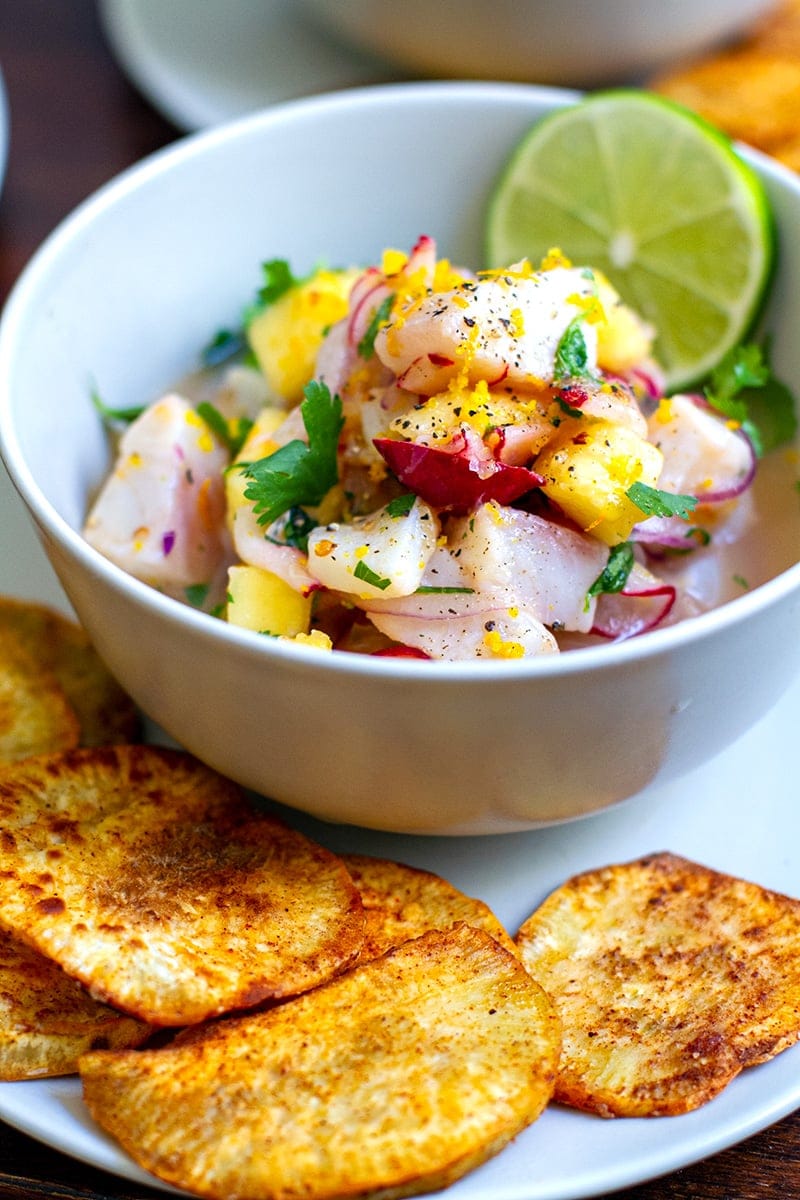 I am excited to share this easy ceviche recipe with you guys because it's one of my favourite dishes and I think it's something everyone should try. With its vibrant, zesty, and tangy flavours, fish ceviche is easy to make and can be enjoyed as an appetizer or starter or a light main.
What is ceviche?
If you've never had ceviche, the best way to think of it is as a South and Central American version of sashimi or tuna tataki. Made with raw fish or seafood that's briefly marinated (cooked) in citrus juices and other flavourings, ceviche is one hell of a healthy dish. Boasting protein, essential fatty acids and minerals and tonnes of zing and flavour, it's one of my favourite things to make.
Ceviche is originally from Peru, although there are now many adaptations of this dish around the Latin American region and the world.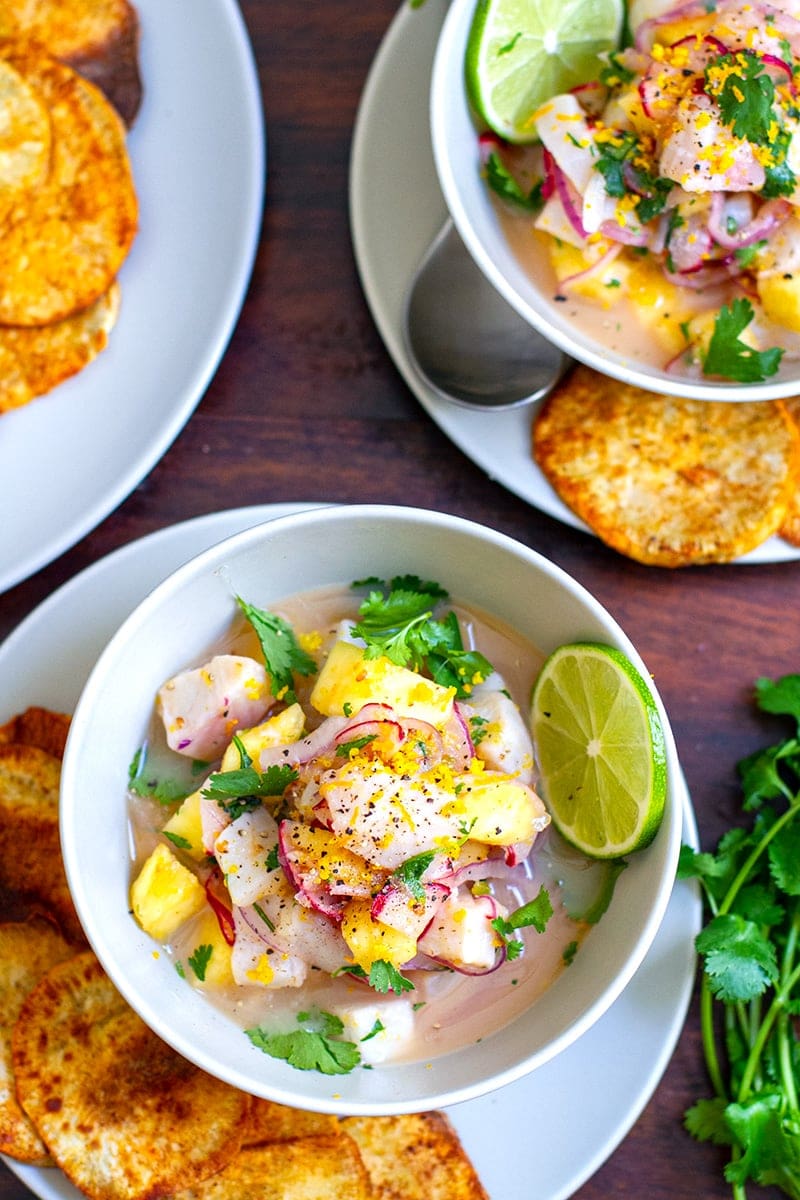 How to make ceviche
Ceviche is typically made from raw fish (usually sliced or diced) cured or marinated in citrus juice (lemon or lime), chilli and other ingredients like finely sliced onions, salt, and herbs.
The acid in the citrus-based mixture denatures the proteins in the fish or seafood, which means that it softens the texture and briefly 'cooks' the protein. In some authentic ceviche recipes, the fish is marinated for a few hours but many modern versions are prepared fresh and the curing process takes minutes.
Mine is a tilapia ceviche recipe but this dish can be made with many types of fish and seafood. Historically, it was made with sea bass or Corvina white fish, but these days you can use anything from tilapia and halibut to salmon and tuna. Shrimp or prawns, scallops and crab meat are also often prepared as ceviche.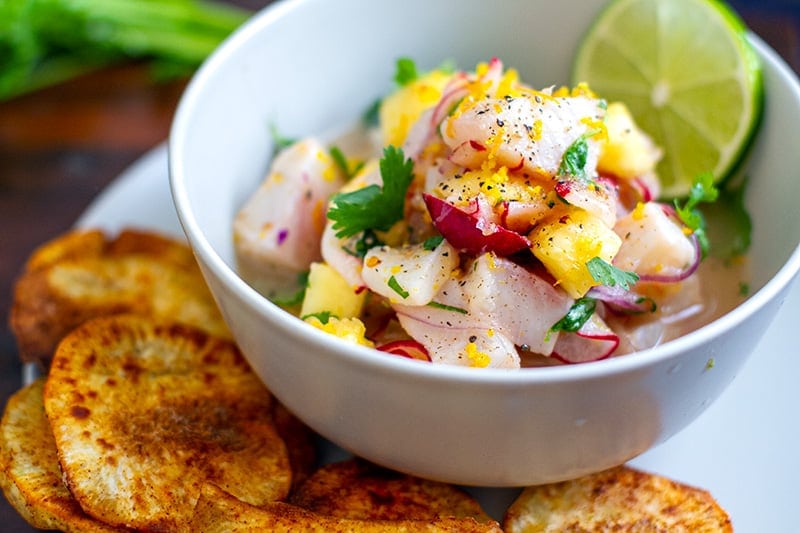 How long does ceviche last?
Ceviche is a dish that's not cooked with heat but is rather 'marinated-cooked' with juices, so it should be prepared and consumed fresh to minimise the risk of food poisoning. You should also use the freshest fish possible as it will result in the best flavour.
It can be marinated for a few hours and overnight, so you can make ceviche ahead of time.
What to serve with ceviche
There are many ways to enjoy ceviche. It often comes with side dishes that complement those sour, tangy flavour notes, such as cooked sweet potato or sweet potato chips, diced avocado, cooked or roasted corn, tortilla chips, plantain chips, beetroot or carrot chips, lettuce leaves or shredded lettuce, rice crackers or prawn rice crackers, and so on.
For my recipe, I made roasted yam chips (or sweet potato) which are lovely and sweet. If serving this as an appetizer, you can present ceviche in small ramekins, cocktails glasses or shot glasses. Otherwise, you can serve it in a communal bowl or platter with a big basket of corn chips.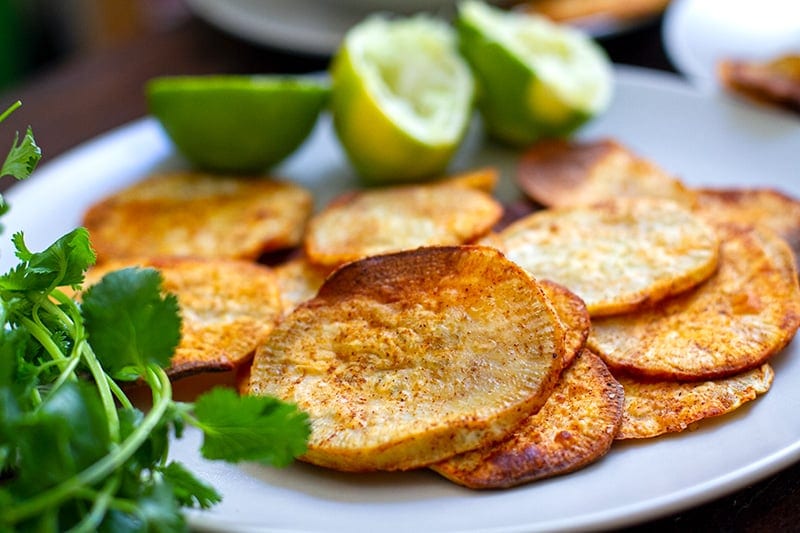 MORE FISH RECIPES YOU MIGHT LIKE
Cured Lomi-lomi Salmon With Avocado
Cajun Grilled Salmon & Kale Salad
Spiced Mexican Tuna Steak With Avocado & Warm Peppers
Macadamia Crusted Fish Fingers & Tarragon Slaw
Print
---
Description
Freshly marinated tilapia fish ceviche with lime and orange juice, pinepple, red onions, chili, radish and coriander. Served with roasted yams (sweet potato) chips.
---
For ceviche
For yam chips
---
Preheat the oven to 200 °C (400 °F). Peel and slice the yams and mix with spices, salt and olive oil in a bowl until well coated. Layer the chips on a baking paper covered flat roasting tray and bake for 25 minutes, turning over halfway through.

Place radishes, pineapple, lime and orange zest, sliced onion, chili and coriander powder a bowl. Add lime juice, orange juice, salt, honey and fish sauce. Mix through.

Cut fish into small cubes or thin slices, add to the bowl with juices, sprinkle with some black pepper and toss through using your hands. Add fresh coriander and mix through again. Leave for 10-15 minutes, stir a couple of times to make sure the fish is coated through evenly. 

Serve in bowls with any leftover juices with yam chips on the side.
---
Notes
Serving: 2 if served as a main dish and 4 is served as a starter. Nutritional breakdown is per serving, based on 2 servings.
You can make ceviche with white fish (tilapia, snapper, ling), salmon, tuna, prawns or scallops but the key is that your chosen seafood is super fresh. I recommend asking your fishmonger about the freshest seafood that day and go from there.
I used purple skin yams for the chips as the sweetness of root vegetables offsets the acidity and saltiness of the ceviche perfectly. You can use red or purple sweet potato, carrots, pumpkin or beets instead. Even white potato will do, although it's lacking the sweetness we're after.
Pineapple can be replaced with mango, while radish can be replaced with red peppers, jicama root or cucumbers. If coriander (cilantro) is not your thing, you can use parsley, chives or basil instead.
Nutrition
Serving Size:

1 fish fillet worth with half the yam chips

Calories:

421

Sugar:

20.1 g

Sodium:

2922 mg

Fat:

16.7 g

Saturated Fat:

2.8 g

Carbohydrates:

46.1 g

Fiber:

7.3 g

Protein:

27.9 g

Cholesterol:

58 mg
SAVE THIS EASY CEVICHE RECIPE TO PINTEREST