This website may contain affiliate links and advertising so that we can provide recipes to you. Read my privacy policy.
Easy Shrimp Creole is a spicy, chunky tomato and green pepper mixture that coats tender shrimp to make a hearty family meal done right! This classic meal only has one pot and mixes all the ingredients quickly and easily. Your family will be jazzing during dinner with this classic southern meal! 
Bring the taste of New Orleans into your home with this easy to make Shrimp Creole. The shrimp are simmered in a spicy tomato sauce and the dish is served over rice. For more shrimp recipes try these Sticky Honey Garlic Butter Shrimp, Cajun Garlic Butter Shrimp, Cajun Garlic Shrimp and Grits or Cajun Shrimp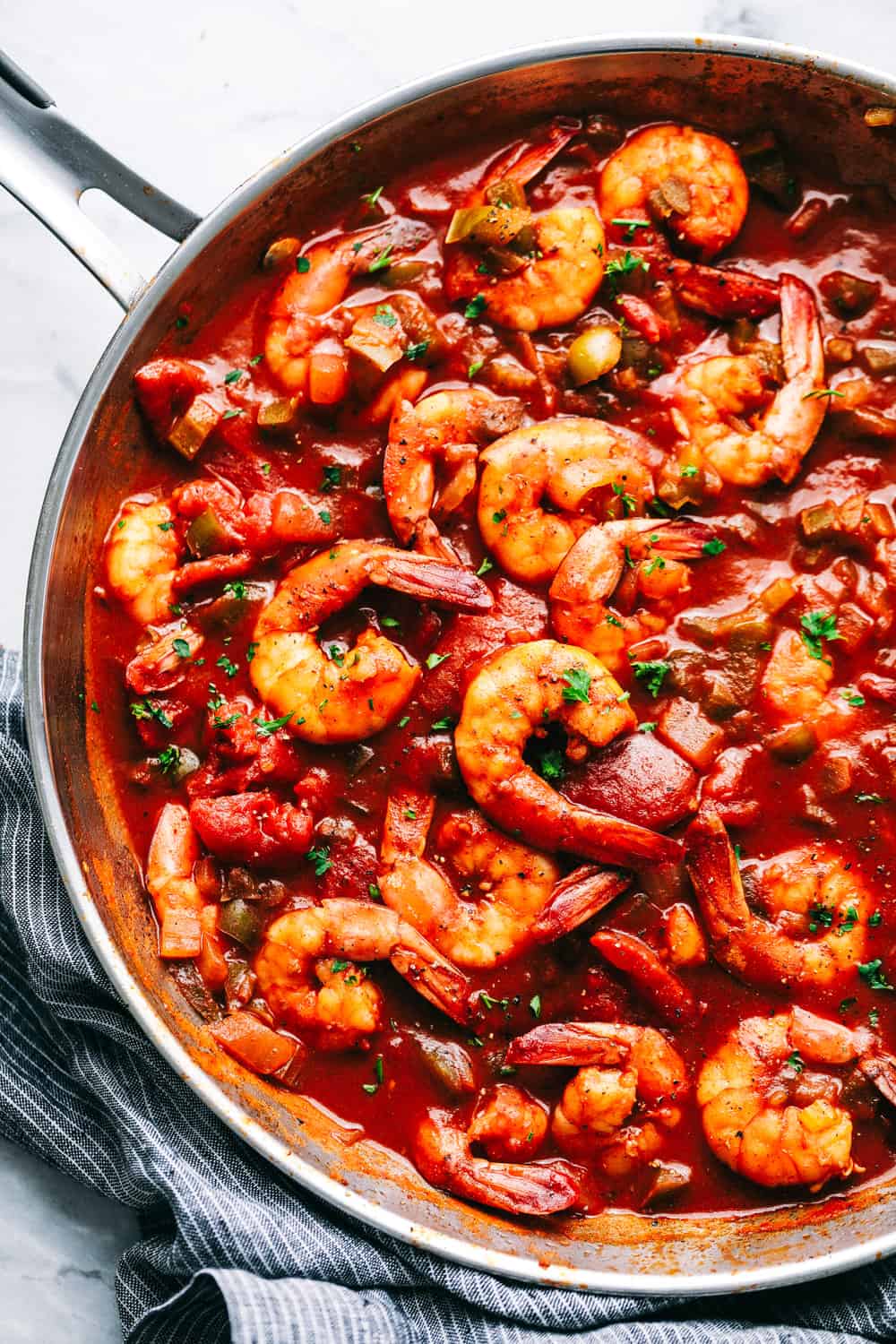 Easy Shrimp Creole
I have become a huge shrimp fan these last few shrimp recipes I have made. Shrimp has grown on me and I am loving experimenting with flavor and stew like textures like this Easy Shrimp Creole. Traveling has enhanced my palate and taught me the rich foods and delicacies that are popular in other cities. This recipe originated in Southern Louisiana where gulf shrimp are famous there. I have enjoyed my time in Louisiana and have learned so much about their style of cooking.
I am heading to New Orleans in a few months and I am excited to go try all things southern and learn more about southern food. Adding flavors, seasonings and mixing ingredients together has been my passion! With this shrimp creole I loved jazzing it up with some extra ingredients to add a kick of spice and flavoring that is irresistible for all. It makes a great one-pot meal for an easy dinner night together!
How do you make Shrimp Creole?
In a medium sized skillet over medium high heat add the olive oil. Add in bell pepper, onion and celery and cook until tender.
Add in stewed tomatoes, tomato sauce, chicken broth, chili powder, and Worcestershire sauce. Add shrimp and cover and let simmer for about 5-7 minutes until the shrimp are cooked through. Mix together the cornstarch and water and stir into the sauce and cook for an additional 1-2 minutes to let the sauce thicken.
How long do you cook the shrimp?
When the shrimp are no longer Pink in color and is taking on more of an opaque white color, is when I would consider them done. You do want to keep an eye on how white they do get and assure they do not overcook. Keeping an eye on size reduction in the shrimp as well is a great way to watch how "done" your shrimp are getting. I like to leave the tails on the shrimp when cooking them. It does add extra flavor; however, if you prefer to peel the whole shrimp or purchase them that way, that is fine too.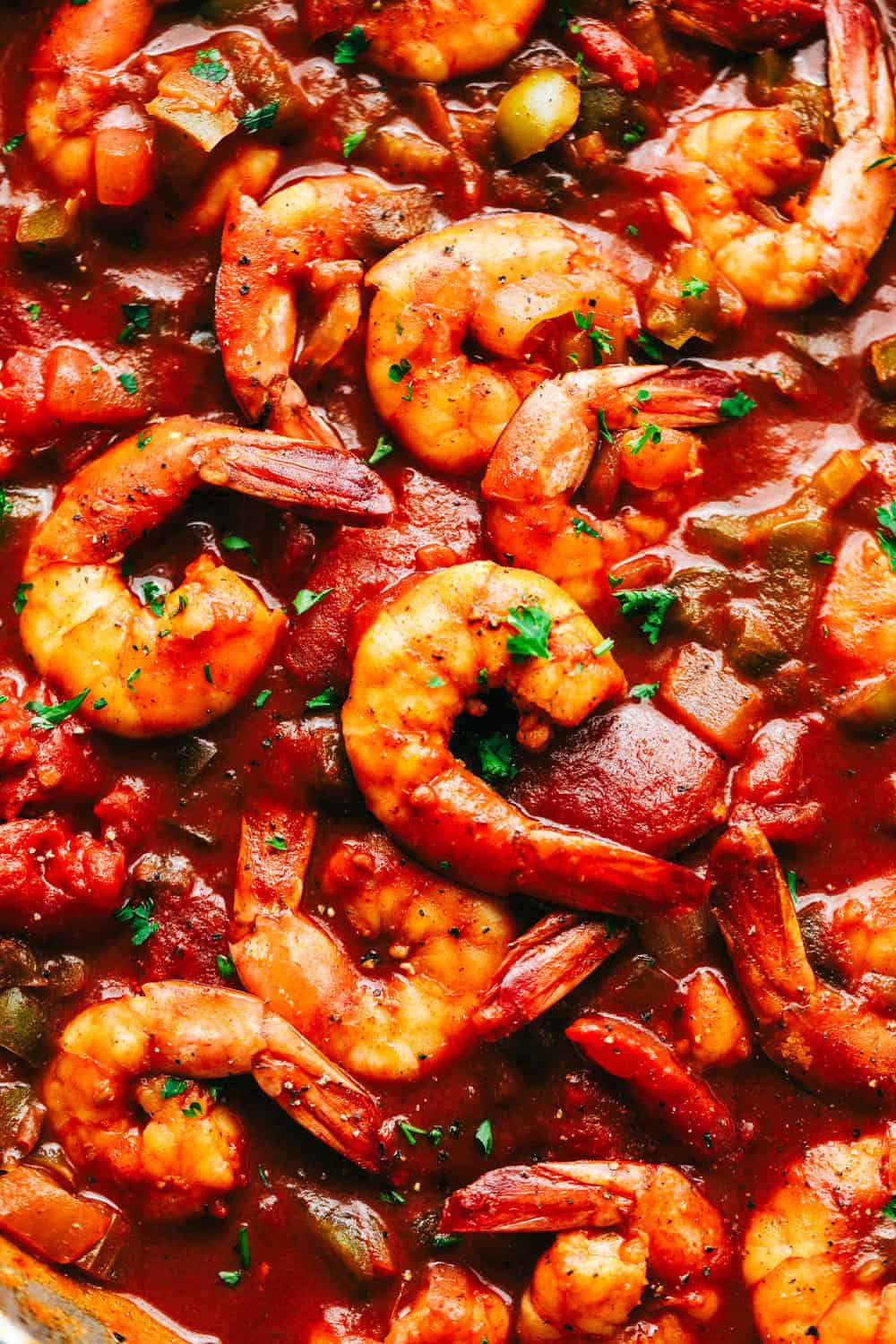 What is Good to Serve with Creole Shrimp?
We love to serve this Shrimp Creole with white rice. You can enjoy it with mashed potatoes or a pasta, such as angel hair, if you are looking for something other than rice. It is best garnished with parsley and/or green onions. Lemon also adds a great sweetness and flavor to the overall dish.
What are some tips for making Shrimp Creole?
If you are planning for a larger crowd this recipe is perfect for doubling or tripling the recipe.
If you are planning ahead of time this sauce can be made ahead to help with time even though this is an easy and quick meal made with one pot. When ready to make the meal, rewarm the sauce and add in the shrimp at the end. The sauce is better and more flavorful the longer it sits together.
If you are looking for more of a stew, let the sauce stew on the oven for a few hours then add the shrimp and proceed with the recipe as below.
If you are looking for other types of meat to serve with this, sausage or cat fish are great substitutions. Cat fish and shrimp also blend well with this meal.
If the spice is a little too bold for your style you can adjust the spice to you liking.
If you prefer a more fish flavored stock, such as shrimp or seafood stock, you can replace the chicken broth for that added flavor.
If you would prefer Creole seasoning over the sauce mixture, leave out the salt and enjoy another flavorful meal!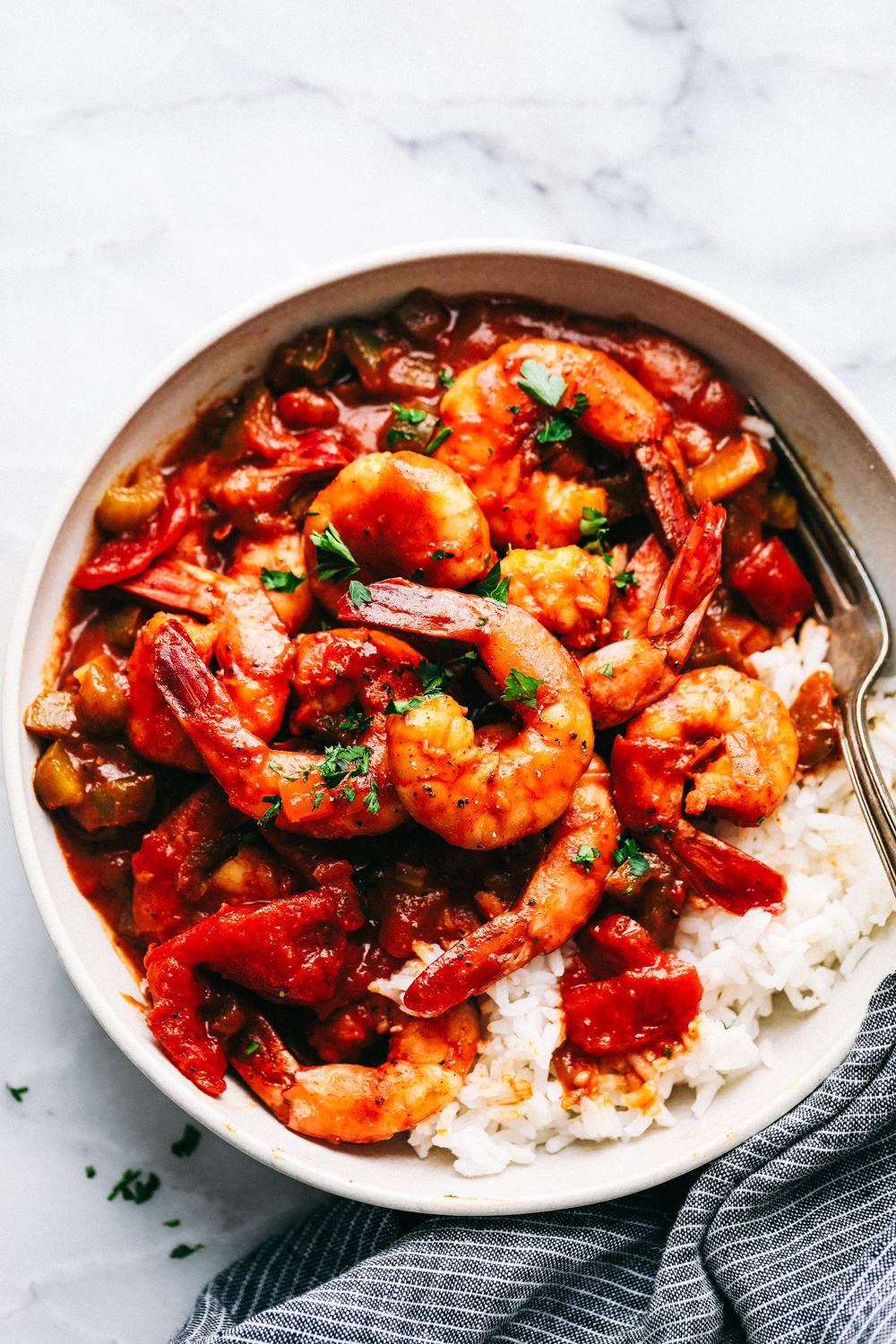 Would you like more Shrimp Recipes? Here are a few!