This website may contain affiliate links and advertising so that we can provide recipes to you. Read my privacy policy.
This Easy Jambalaya Recipe is packed with spicy andouille sausage, shredded chicken, sweet shrimp, and of course, plenty of vegetables and rice. It's the perfect one-pot meal for busy nights!
For more easy one-pot meals, check out this One Pot Beef Stroganoff, this One Pot Mexican Pasta, this One Pot Cream Spinach Mushrooms Artichoke Chicken, and this  Honey Chipotle BBQ Chicken.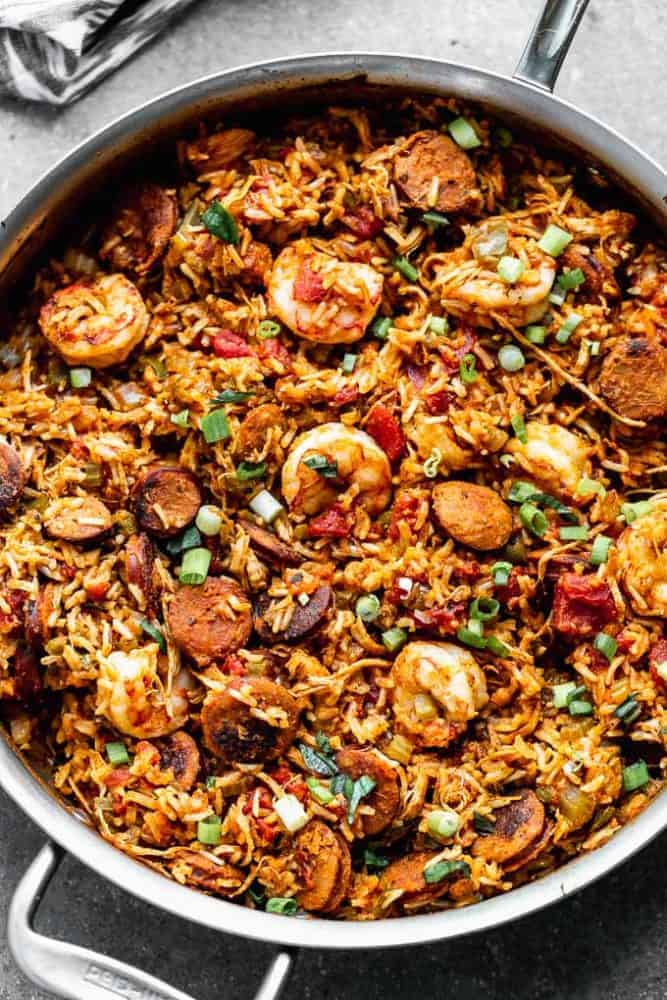 Easy Jambalaya Recipe
Jambalaya is one of those sort of daunting dishes most people think is really difficult to make. But I'm here to tell you it's most definitely not! It's basically just a one-pot meal – literally everything from the meat to the veggies to the rice cooked in one pot, so it's really great for busy weeknights.
This version is packed with plenty of shredded chicken, spicy andouille sausage (I used chicken), plump shrimp. I upped the vegetable ratio above what you'd normally find, and of course, there's plenty of rice and cajun-influenced seasoning. This is spicy, smoky, filling, and most importantly, SO delicious!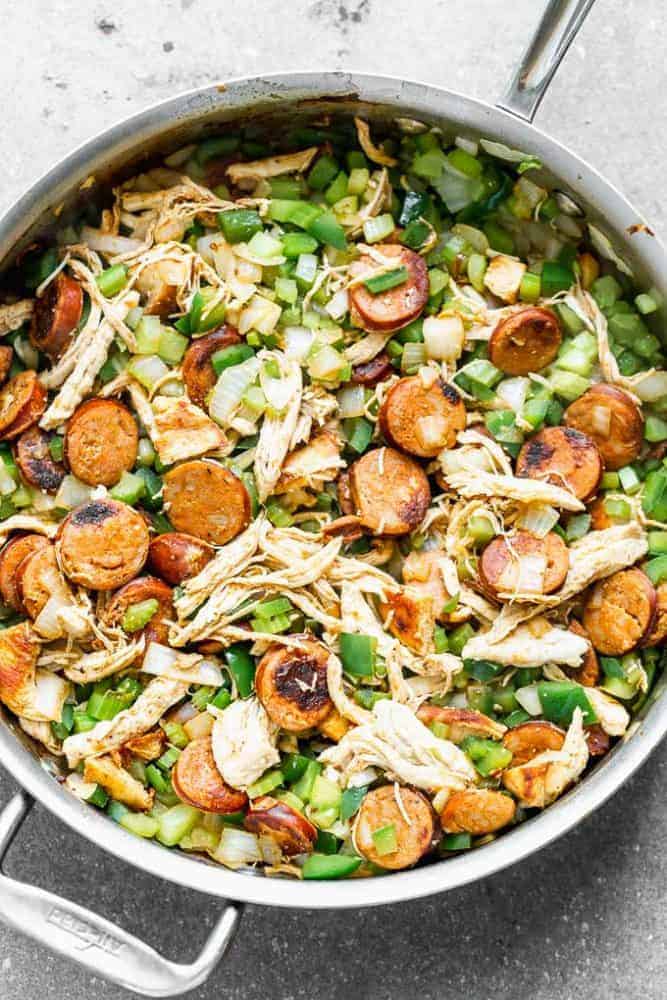 What is Jambalaya??
Jambalaya originated in Louisiana, and like a lot of creole cooking, has a little bit of Spanish and French influence. At its most basic explanation, it's a one-pot dish with meat, vegetables and rice. Typically it's tomato-bases somehow, and always included plenty of cajun spices.
Cajun holy trinity
In almost all cajun cooking, you'll find a base called The Holy Trinity. It's a vegetable combination of celery, bell pepper, and onion, and it's also the base in all jambalaya recipes. My version also includes plenty of garlic, and green onion.
Shortcuts for Easy Jambalaya
You don't have to, but I like to use shredded chicken instead of diced chicken you cook. Leftover chicken works great, or you can buy a rotisserie chicken breast.
Use quick-cooking brown rice. I like to use the quick-cooking brown jasmine rice from Trader Joe's.
Use peeled and deveined shrimp. You don't want to mess with peeled and deveining shrimp!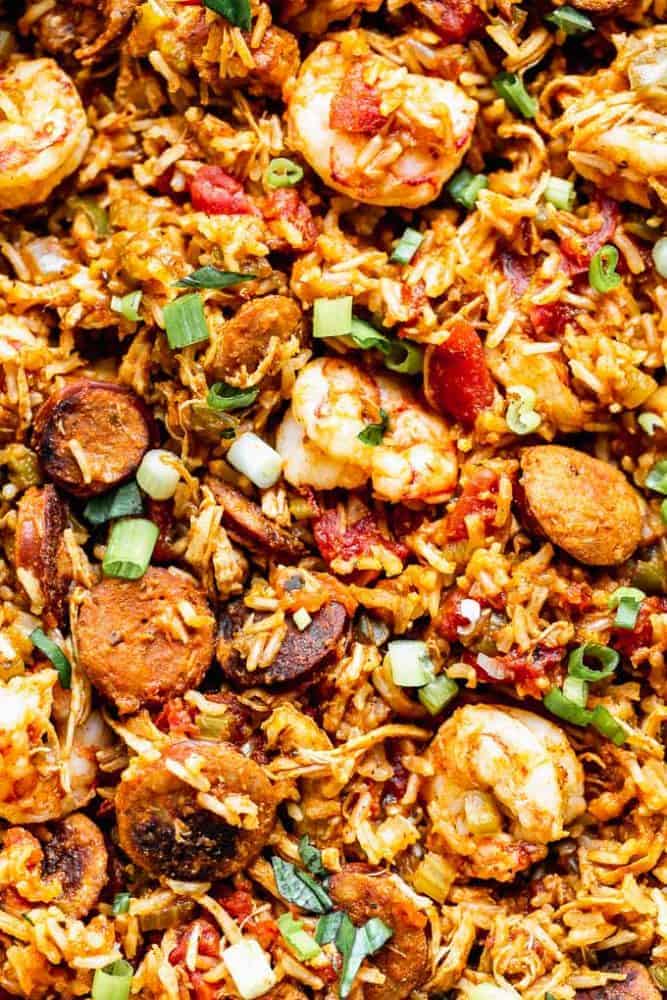 Spices in this Easy Jambalaya Recipe
You could use a pre-packaged cajun blend, but I usually have all the spices on hand, so here's what I used.
smoked paprika
oregano
bay leaves
dried thyme
garlic powder
onion powder
black pepper
How to Make this Easy Jambalaya Recipe
Brown sliced andouille sausage in a little bit of olive oil. It's already cooked, so it shouldn't take too long to brown!
Add in a little bit more olive oil along with the green pepper, onion, celery and garlic. Sauté until slightly softened, about three minutes,
Add in tomato paste, canned tomatoes, chicken stock, a little bit of salt, spices, and rice, Stir to combine.
Bring the mixture up to a boil, and then reduce to a low simmer and cover, Let the stove do the work! Cook the rice and veggies until the rice is puffed and cooked, about 20 minutes.
When the rice is juusst shy of being done, add in the shrimp and shredded chicken. Cook for 4-5 minutes until pink.
Garnish with green onion and season to taste with salt and pepper.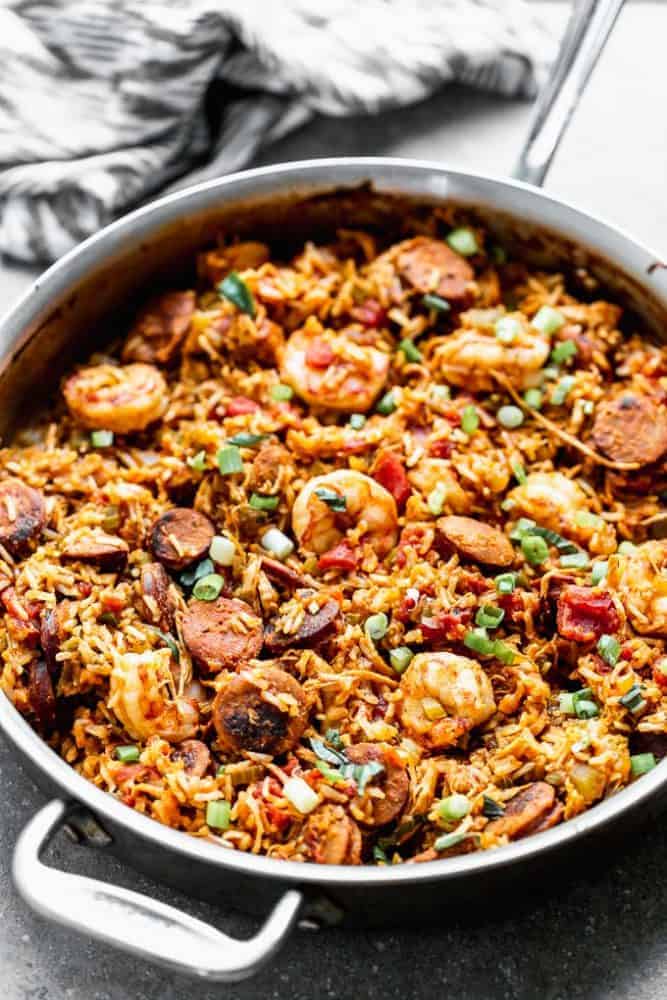 Does is matter what kind of rice you use?
This recipe is written for quick-cooking brown rice, but white rice tends to have the same cook time, so you could swap that out. If you don't use a quick-cooking brown rice, you'll probably need to increase the liquid and definitely the cooking time, as brown rice takes about 40-45 minutes to cook.
Substitutions and Tips and Tricks for Recipe Success
Make sure to buy peeled and deveined shrimp
Use regular andouille sausage or chicken sausage. (I can't taste the difference)
Rinse the rice several times under cold water. This helps is cook up fluffier.
Season shrimp with salt and pepper before adding to the pot.
For an extra kick of heat, add in a little bit of cayenne pepper.