This website may contain affiliate links and advertising so that we can provide recipes to you. Read my privacy policy.
Crunchy Baked Parmesan Garlic Shrimp is buttery and delicious parmesan garlic shrimp coated and baked to crispy crunchy perfection. The flavor is incredible and you won't be able to get enough!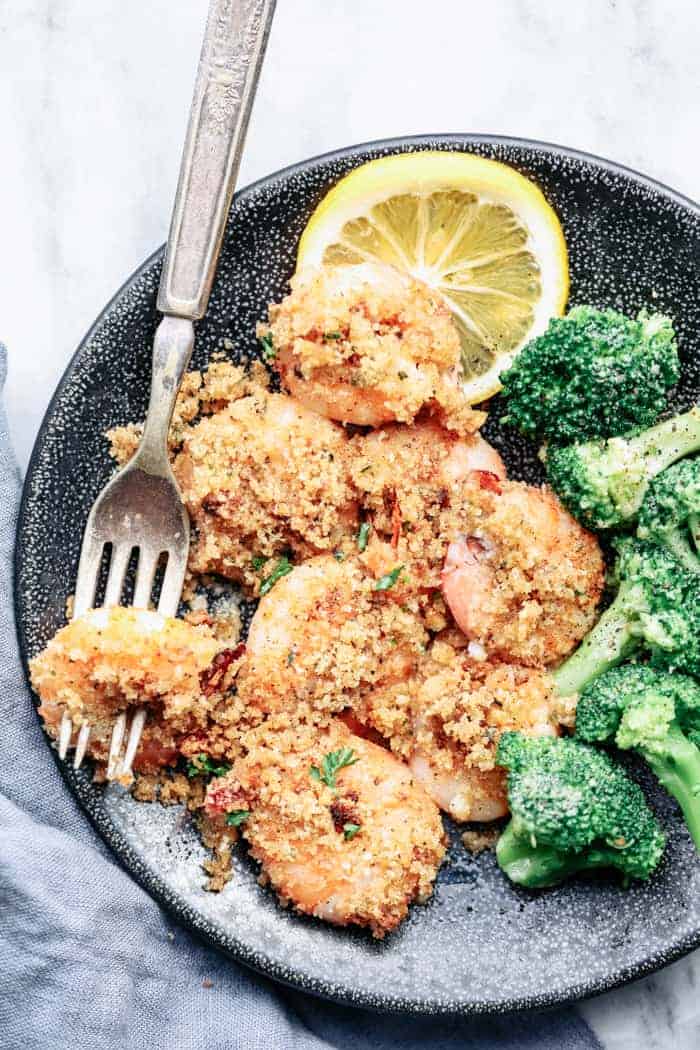 I was born and raised in Utah and the weather still kills me every year. It just can't make up its mind if it is spring or winter. Just a couple of days ago it was snowing and last week was so dreary. My boys had Lacrosse games yesterday and we had to bundle up and wear our winter coats. But also being a Utah native I know that any day now it will be warm and my boys will be wearing shorts to school. We are sure looking forward to the warm weather and can't wait for it to stay!
I will tell you what I did love about last week though… these crunchy baked parmesan garlic shrimp.
I compromise with my shrimp loving husband every once in a while. And actually by eating it more I actually have grown to like it. But I think all of us loved this meal as much as he did!
It starts out with tossing the shrimp in buttery garlic goodness and putting them in a pan to bake. Then right before you put them in the oven to bake you top them off with crispy crunchy bread crumbs. This gives the shrimp such great texture and flavor as it bakes. I sure do love anything that has a crispy crunchy coating with that first bite.
I do love shrimp because it cooks so quickly. So we had this quick and easy meal on the dinner table in no time at all. Every bite of these shrimp were crunchy and delicious. Of course you know how much I love the parmesan garlic combo and it did not disappoint. You will go crazy over this meal! It will become a new favorite recipe to add to the dinner rotation.