This website may contain affiliate links and advertising so that we can provide recipes to you. Read my privacy policy.
This is the perfect summer recipe. I loved it and I didn't feel guilty after eating it. I love fruit in my salads. But I have never tried peaches. Oh my it was good. And the dressing was delicious on top. This recipe has a little more to it, but it is a nice change!
Rating: 3 stars  Difficulty of Recipe: 4 stars
How I changed it:  Kept it the same
Things I may do differently next time:  I think I would like to add some seasonings into the flour. I think a little parmesan cheese or something like that may give it a little more flavor. Also I think the dressing was good, but needs to be sweetened up a little. I am going to try changing both of the things the next time I make it.
Will I make it again?  Yes with those changes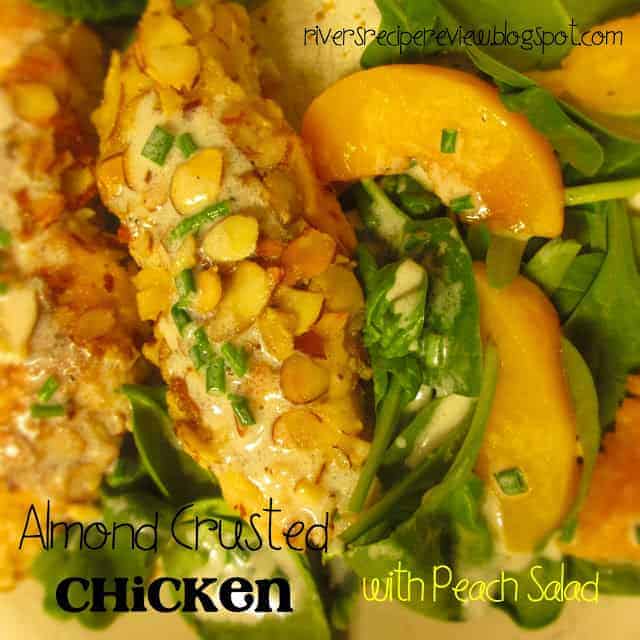 In a small bowl, whisk together the buttermilk, sour cream, vinegar, and honey. Whisk in the oil, in a slow stream, to blend. Stir in the chives and season with salt and pepper. Chill until ready to use.
Heat your oven to 200* and place an empty cookie sheet inside the oven.
Lightly beat the eggs in a wide bowl. Place the almond slices and flour in a food processor and pulse until the almonds are chopped, but not fully ground. Transfer the almond mixture to a shallow plate, for dredging. Season the chicken tenders on both sides with salt and pepper.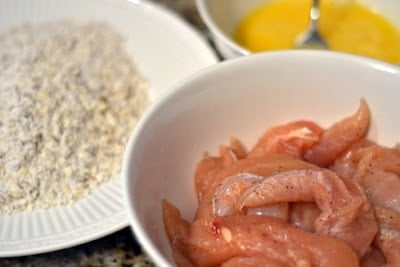 Dip one pieces of chicken at a time in the egg. Shake off the excess and then dredge the pieces in the almond mixture. Press the flour mixture onto the chicken to help it adhere. Set the breaded tenders on a wire rack.
In a large skillet, heat 2-3 Tbsp. of vegetable oil over medium heat. When it's shimmering hot, it's ready to work with. Working in batches, cook the chicken until light golden brown on both sides, turning often, and cooked through, about 4-5 minutes per batch. Add a little more oil to the pan with each batch as necessary, and remove any large almonds that have fallen off of the chicken, from the oil. Drain the tenders on paper towels after cooking, and then place them on the warmed cookie sheet in the oven.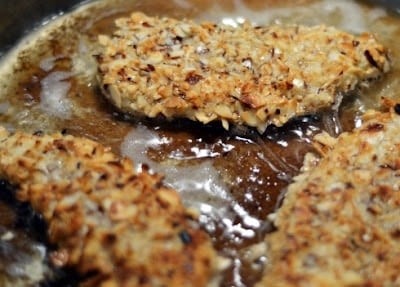 In a large bowl, toss the lettuce and peach slices with about half of the dressing. Season to taste with salt and pepper. Portion the salad out on your dinner plates and then arrange the chicken among the plates. Drizzle some of the remaining dressing over the chicken and serve.