This tasty White Bean Soup with Ham is a classic bean soup recipe that's is perfect for dinner on a cold day. And check the net carbs; I bet this is lower in carbs than you might think.
PIN White Bean Soup with Ham to try it later!
No matter how much we long for warm weather, Utah always gets some cold snowy days in April (and sometimes even in May.) When that happens I make something like this White Bean Soup with Ham! And when it's cold outside I love to make soup on the stove, simmering it all day and letting the smells fill my house.
Last weekend when I woke up to snow on the ground I decided it was a good day to update this favorite soup recipe with better photos! I bumped up the flavor with fresh parsley and rosemary, and this soup has a lot of ham and celery, so the net carbs are probably lower than you might think. I don't even dare hope this is the last snow for this year, but the soup did taste great on a cold spring day.
What ingredients do you need? 
How can you add flavor to ham and bean soup?
When I make bean soup I like to use either homemade ham stock or homemade chicken stock if I have some in the freezer. If not I would add a tablespoon or two of Goya Ham Flavor Concentrate (affiliate link) or Better than Bouillon Roasted Chicken Base (affiliate link) to the water. When I'm using ham with a rind, I simmer the rind in the soup for part of the cooking time and then remove it.
What if you don't have fresh rosemary?
I'm not such a fan of dried rosemary in soup, because it floats to the top and makes dark flecks on the surface of the soup. But I love a pinch of ground rosemary (affiliate link) when I want some rosemary flavor.
More Tasty Soup with Beans:
Check out Sausage and Bean Soup with Chard, White Bean Soup with Ham and Chard, or CrockPot Bean Soup with Ham and Kale to see more tasty bean soup recipes from the past!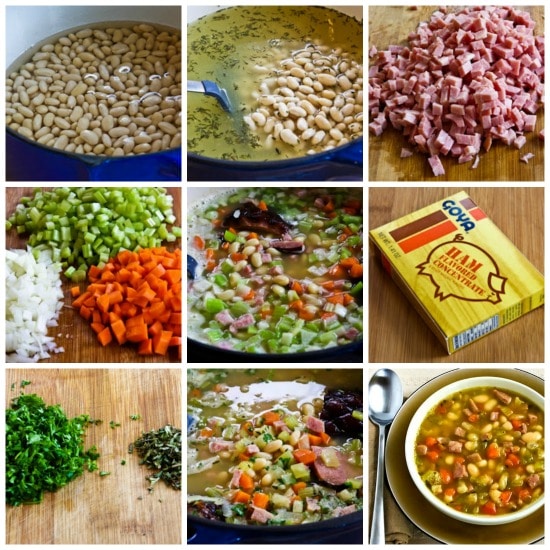 How to Make White Bean Soup with Ham:
(Scroll down for complete recipe with nutritional information.)
Soak beans for at least 8 hours or overnight in cold water, then drain and rinse.
Put the soaked beans, 2 quarts homemade ham stock, homemade chicken stock, or water, and dried thyme into a large soup pot and start to simmer.
While the soup is simmering, dice the ham.  (I like small pieces for meat and vegetables in soup, but you can make them bigger if you prefer.) 
If your ham has a rind, add it to the simmering soup.
Also finely dice the carrots, celery, and onion.
Add the diced ham, carrots, celery, and onions to the soup and simmer at least 30 minutes more.  (Those dark pieces in the photo are the ham rind.)
After soup has cooked for one hour taste for seasoning, adding some ham flavor concentrate (affiliate link) or Better than Bouillon Roasted Chicken Base (affiliate link) if you want more flavor.
Add finely chopped fresh parsley and fresh rosemary (or ground rosemary) to the soup, along with a couple more cups of water if needed.  
Continue simmering until the soup is flavorful and the beans are well-softened.  (This can take more than an hour if you're using old beans that have been sitting in the pantry.  If it does, you may need to add more water again a few times.) 
When beans are soft, remove ham rinds (if using), season soup with fresh ground black pepper, and serve hot.
More Dishes with White Beans:
Tuna and White Bean Salad
Italian Sausage and White Beans with Sage
Amy's Amazing White Chicken Chili
Ingredients
2 cups dry white beans (soaked 8 hours or overnight, then drained)
2 quarts chicken broth or ham broth (see notes)
1 tsp. dried thyme
2 cups finely chopped celery
1 cup finely chopped carrots
1 cup finely chopped onion
2 cups finely chopped ham
1 envelope Goya brand ham flavor base (optional)
about 2 additional cups water
finely chopped fresh rosemary or a small amount of ground rosemary
2 T finely chopped fresh parsley (or use 1 T dried parsley)
fresh ground black pepper to taste
Instructions
Soak beans 8 hours or longer in cold water, drain and rinse well.
Put beans, 2 quarts of ham or chicken broth or stock (or water with ham or chicken base), and thyme in large soup kettle.
Simmer 30 minutes.
While soup simmers, chop veggies and ham so that pieces are about 1/4 inch square.  (If you're using ham with a rind, cut it off and add to the simmering soup.)
Add celery, carrot, onion, and ham to soup pot and simmer 30 minutes more.
Taste soup for seasoning.
Add up to 2 cups more water, ham or chicken base if needed, rosemary (or ground rosemary) and parsley to soup pot.
Simmer one hour on very low heat or until beans are nicely softened and soup is flavorful.  (If you're using old beans from the pantry the cooking time will be longer, and you may need to add more water more than once.)
When the beans are softened, remove ham rind (if using), season soup to taste with fresh ground black pepper and serve hot.
This freezes well, so you may want to make a double batch and put some into individual containers to take to work for lunch.
Nutrition Information:
Yield:
8

Serving Size:
1

Amount Per Serving:
Calories: 187Total Fat: 5gSaturated Fat: 1gTrans Fat: 0gUnsaturated Fat: 2gCholesterol: 35mgSodium: 1582mgCarbohydrates: 21gFiber: 5gSugar: 4gProtein: 17g
Nutrition information is automatically calculated by the Recipe Plug-In I am using. I am not a nutritionist and cannot guarantee 100% accuracy, since many variables affect those calculations.
Low-Carb Diet / Low-Glycemic Diet / South Beach Diet Suggestions:
This White Bean Soup with Ham would be a great choice for the original South Beach Diet. If you want to make it for phase one, leave out the carrots and remember that dried beans should be eaten in small amounts for phase one. This isn't a low-carb recipe, but there's a lot of ham and celery so if you check the net carbs it's probably lower in carbs than you might think.
Find More Recipes Like This One:
Use Soup Recipes to find more recipes like this one. Use the Diet Type Index to find recipes suitable for a specific eating plan. You can also Follow Kalyn's Kitchen on Pinterest to see all the good recipes I'm sharing there.
Historical Notes for this Recipe:
This white bean soup recipe was posted in 2011. It was last updated with more information in 2021.
We are a participant in the Amazon Services LLC Associates Program, an affiliate advertising program designed to provide a means for us to earn fees by linking to Amazon.com and affiliated sites. As an Amazon Associate, I earn from qualifying purchases.