Guys, this is one of the tastiest soups I've made and I am super excited to share this recipe! It's a roasted tomato soup that is Bisque-like, tangy and sweet with silky, decadent mascarpone cream cheese folded in at the last minute. It's a vitamin and antioxidant-rich recipe that is gluten-free, grain-free and vegetarian. You can also make a dairy-free version, although I do think mascarpone adds a bit of magic to it. Make sure to rate this recipe and comment at the bottom for others to discover this yummy dish.
---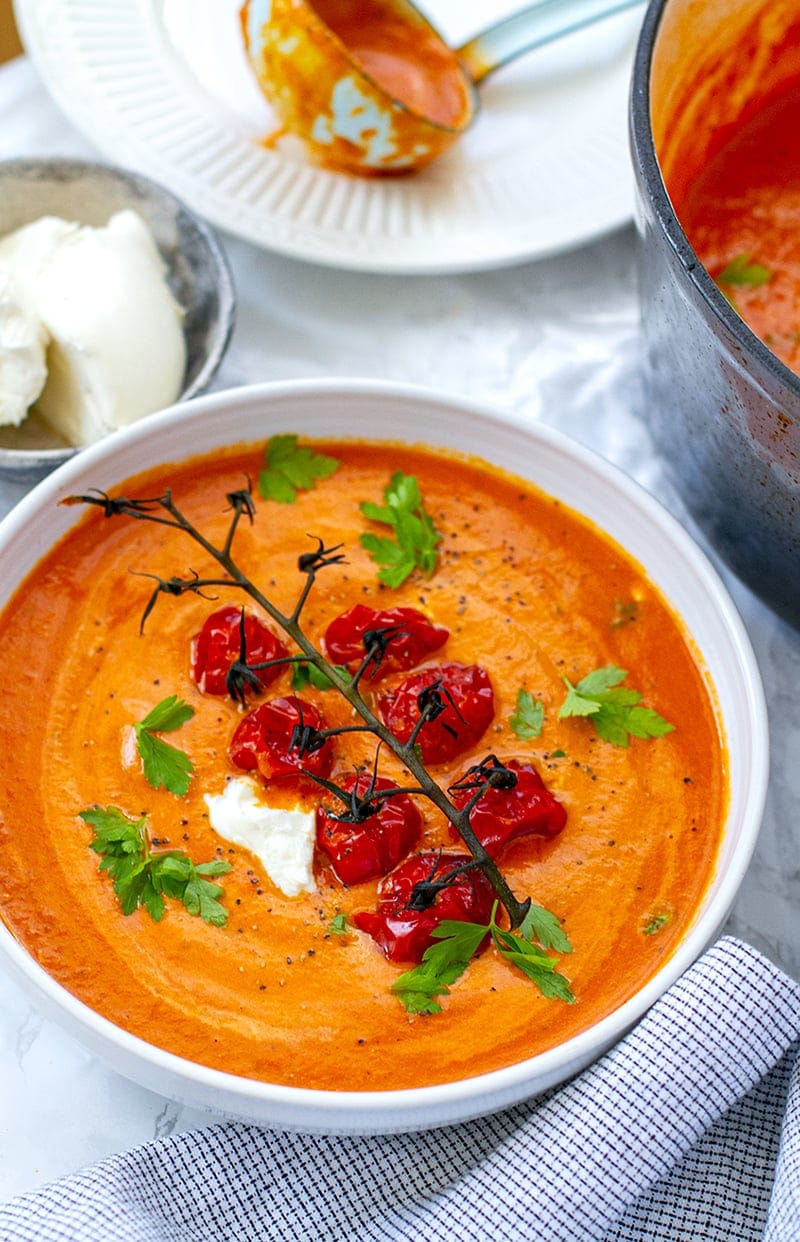 The idea for this soup wasn't mine, to begin with. A couple of months ago, I was walking down a supermarket in London and I saw a few ready-made soups on offer. There was the roast chicken, the classic butternut squash and then I spotted a pot of roasted cherry tomato soup with mascarpone. I've never had that soup, neither did I buy it that time.
But, the idea has stuck in my mind because just that morning I roasted a whole bunch of cherry tomatoes and I was commenting to my partner how extra sweet and flavourful they become when caramelised during roasting.
I thought 'Wow, imaging that punchy, tangy and sweet roasted cherry tomato flavour mellowed out by the milky mascarpone. Creamy, silky, plenty of umami." It was working in my head, so without ever trying the supermarket version, I decided to make my own creamy roasted tomato bisque soup. Not sure if it's anything like that other soup but it was bloody fantastic and I am definitely making it again.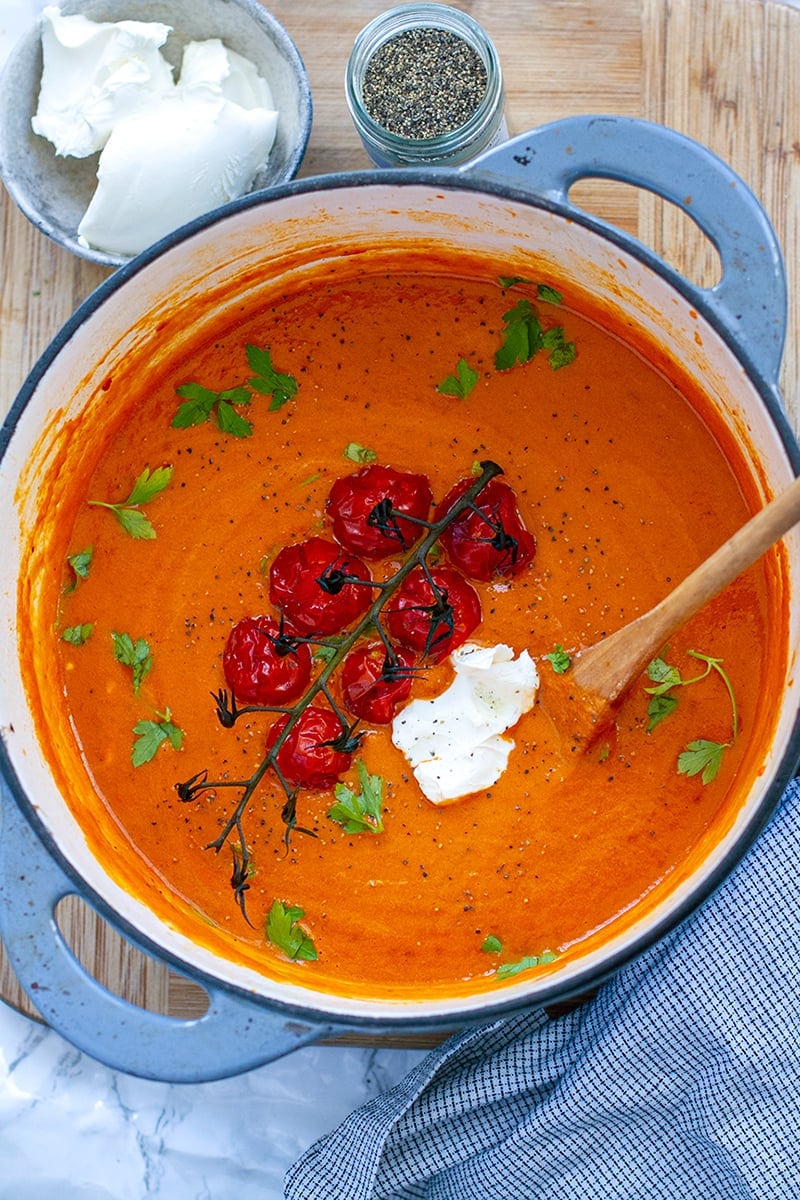 HOW TO MAKE ROASTED TOMATO SOUP
There are three simple parts to making this creamy tomato soup. I will guide you with some step-by-step pics and you can find the full list of ingredients, instructions and nutritional breakdown in the recipe card below.
Part 1. Roast cherry tomatoes until caramelised and slightly charred. This will take about 30 minutes, during which time you can do Part 2.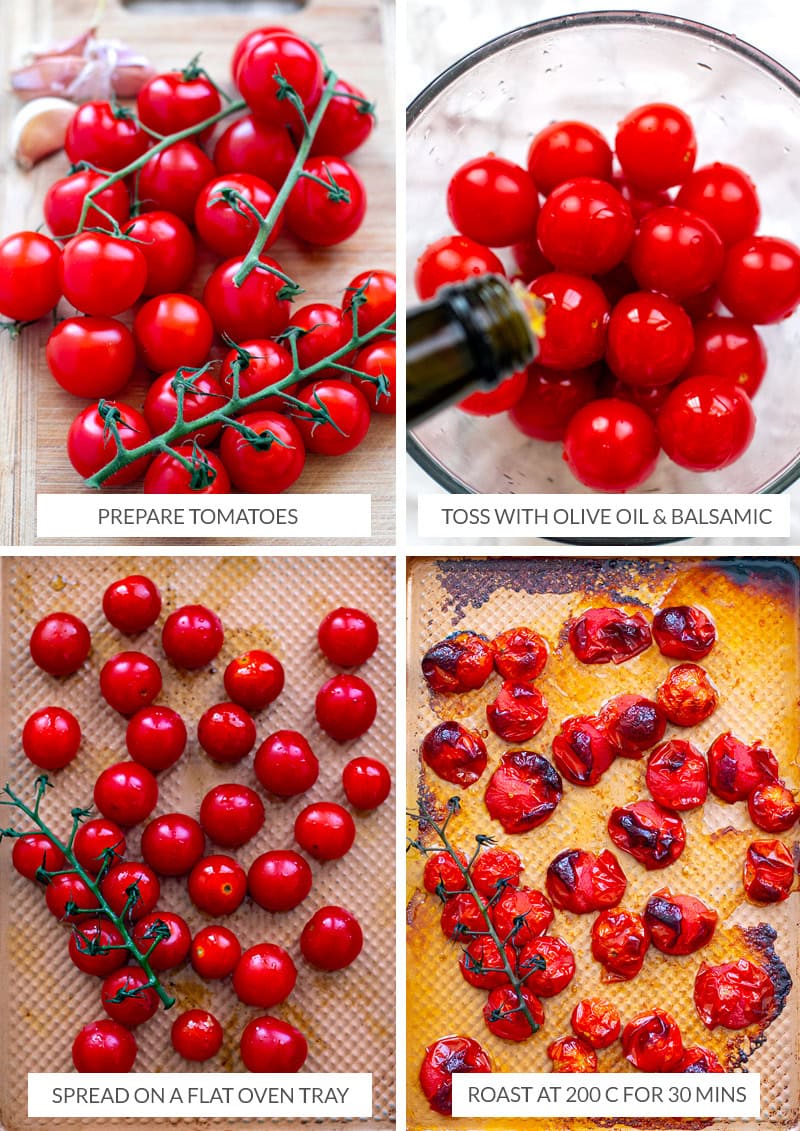 Part 2. Cook the base soup with sauteed mirepoix (onion, celery and carrots), garlic, tinned tomatoes and a few sun-dried tomatoes for extra oomph. This should take about 15-20 minutes.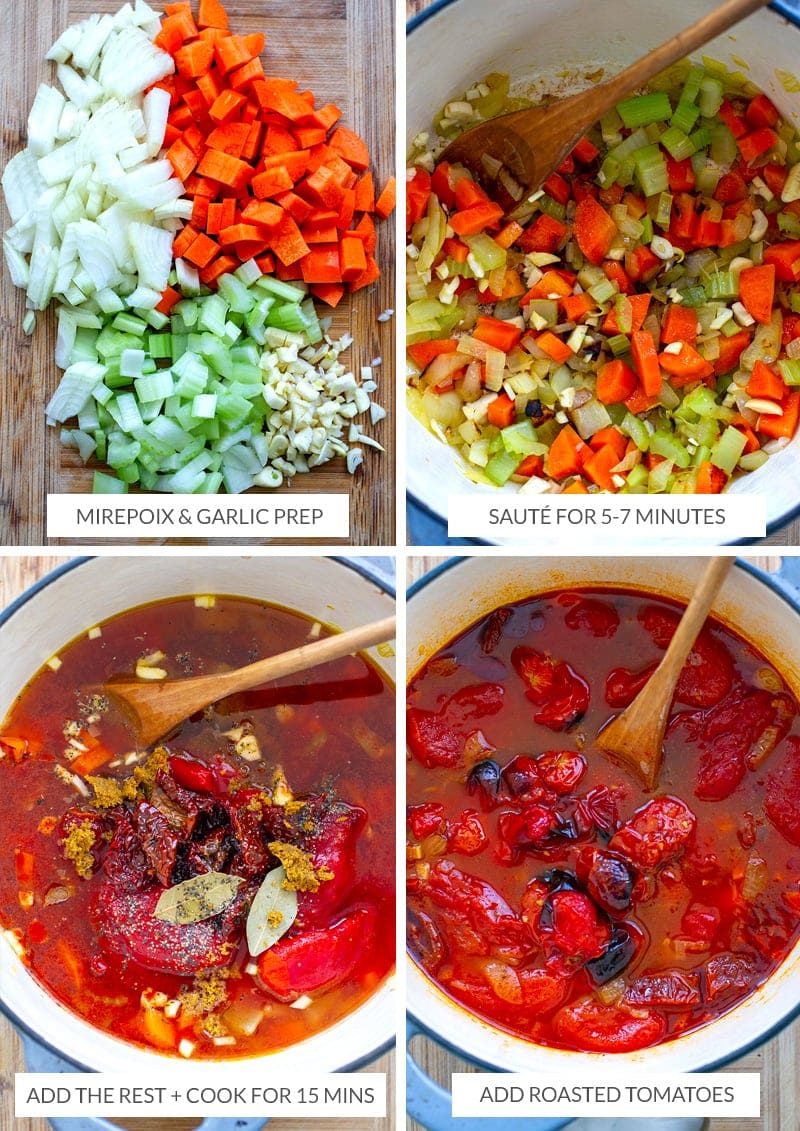 Part 3. Add the roasted cherry tomatoes to the cooked soup and puree into smooth bisque consistency. Finally, fold in the mascarpone cream cheese or alternatives.
What is mascarpone?
Mascarpone is an Italian cream cheese that is most known for its use in tiramisu. It's subtly sweet and silky cow's milk cheese that has a rich texture that is somewhere between Philadelphia cream cheese and double cream. It tastes somewhere in between two, so it's has a very faint hint of cheese and all the creaminess of the milky fat.
Alternatives to mascarpone: you can fold in regular or light cream cheese, heavy or double cream, sour cream, creme fraiche, thick Greek yoghurt. If you're using just the cream or yoghurt, you could also add a tiny sprinkle of grated cheese or Parmesan. For a dairy-free version, try thick coconut cream or a dairy-free cream.
What goes with tomato soup?
The soup is rich and satiating on its own but you could serve it with some shredded chicken, cooked prawns, quinoa or chickpeas for extra protein. Grilled salty halloumi would also work well here. If bread is not an issue, some sourdough croutons might be nice or you can top the soup with some fried shallots or pumpkin seeds for an extra crunchy texture. For a very decadent (not a lean and clean version), cheesy toasty will make all your foodie dreams come true.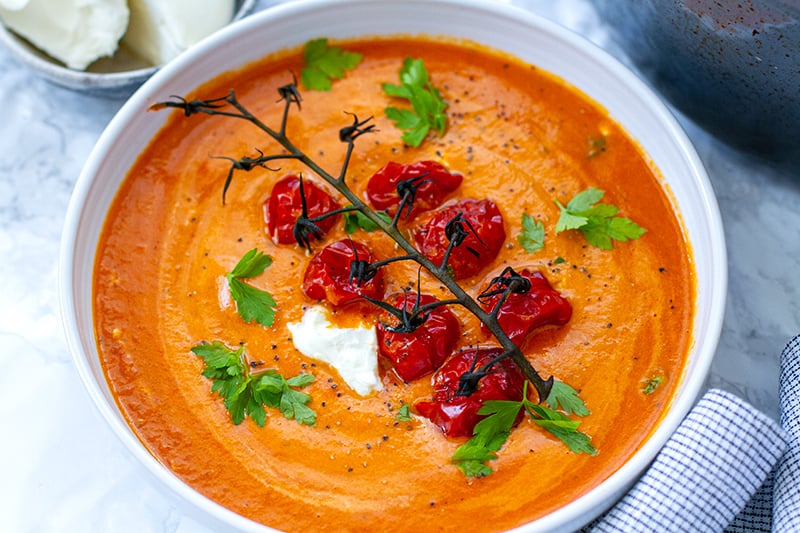 Print
---
Description
Learn how to make the most delicious roasted cherry tomato soup with creamy mascarpone. It's a Bisque-like, tangy and sweet soup that is grain-free and gluten-free (if served as is). You can make a dairy-free version with coconut cream or plant-based cream.
---
---
Part 1. Preheat the oven to 200 C / 395 F. Toss cherry tomatoes with a tablespoon of olive oil and Balsamic vinegar. Spread on a flat baking tray and roast for 30 minutes or so, until collapsed and slightly caramelised/charred.
Part 2. Add a tablespoon of olive oil, onions, carrots and celery to a heavy bottom saucepan and saute for 5 minutes, until softened. Add the garlic and the rest of the base soup ingredients, stir through and bring to a simmer. Cover with a lid and cook for 15 minutes, then set aside.
Part 3. Transfer roasted cherry tomatoes and all the juices from the pan to the soup. Using an immersion blender or a food processor, puree the soup until smooth. Taste for salt and season with a little extra pepper.
Finish the soup by folding in the mascarpone cream cheese until it melts into the liquid.
---
Nutrition
Serving Size:

1.5 cups

Calories:

236

Sugar:

12.4 g

Sodium:

271.4 mg

Fat:

16.1 g

Saturated Fat:

6.7 g

Carbohydrates:

21.3 g

Fiber:

5.1 g

Protein:

5.5 g

Cholesterol:

29.3 mg
Keywords: Vegetarian, Soups, Appetizer
MORE HEALTHY SOUPS TO TRY
SAVE THIS CREAMY TOMATO SOUP TO PINTEREST