This website may contain affiliate links and advertising so that we can provide recipes to you. Read my privacy policy.
Lemon Garlic Parmesan Shrimp Pasta is made in just one pot and ready in 30 minutes! Fresh shrimp gets cooked in a buttery lemon garlic sauce and gets tossed in fresh parmesan cheese and pasta. It will become a new favorite!
I love cooking shrimp because it cooks up so fast and it is such a crowd pleaser! Even the kids love it no matter which way I make it.  Here are some of my family's favorites…lemon garlic shrimp scampi, creamy garlic shrimp alfredo pasta or creamy tuscan garlic shrimp.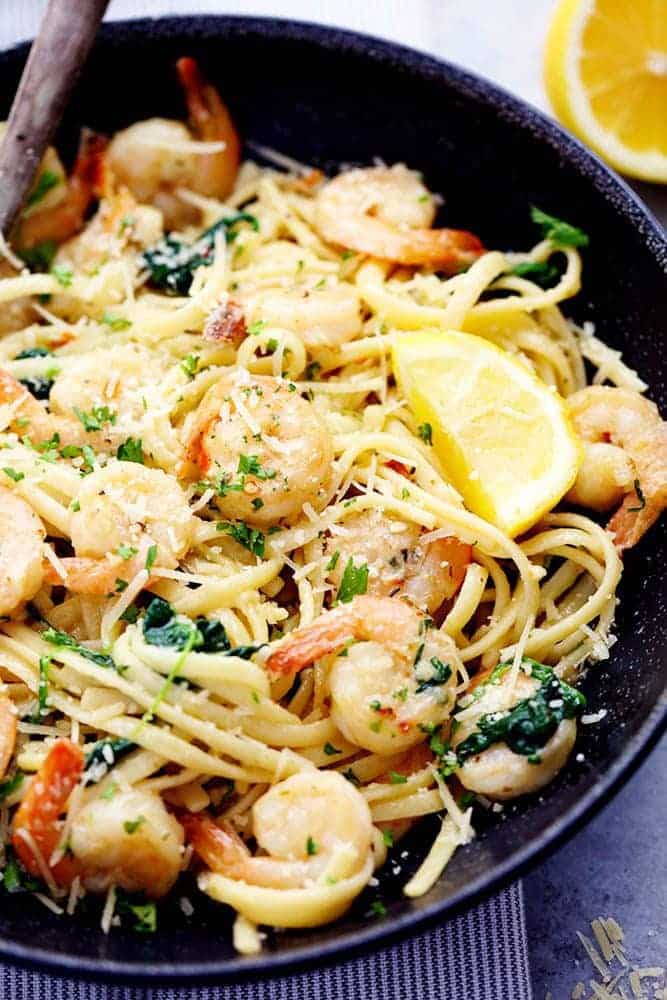 Lemon Garlic Parmesan Shrimp Pasta
Say hello to your new favorite one pot meal. This seriously blew away our taste buds and became an instant favorite with the first bite.
Rewind to the time I despised shrimp. Yes, I hated shrimp. But now, I am a firm believer in giving things a chance. For example. I used to hate salmon. Now it is hands down my favorite thing to eat.
So I told myself that I am going to give shrimp a chance. Especially because my hubby loves shrimp! So I try to cook a meal with shrimp for him a few times a month. This dish my friends is incredible. And even the former shrimp hater aka me LOVED it!
Shrimp Pasta Ingredients:
The shrimp is cooked in an amazing lemon garlic butter sauce that is to die for. I love shrimp because it cooks so incredibly fast. It gets tossed in spinach and pasta and fresh grated parmesan cheese. So basically all of my favorite things in one. Lemon, butter, garlic, parmesan…. are you getting hungry? You guys are going to LOVE this meal. I pinky promise.
Linguine Pasta: Thin, light noodles that are perfect paired with the creamy sauce and shrimp.
Olive oil and butter: Sauteing the shrimp in the combination of olive oil and butter is the key to a great texture in the shrimp!
Garlic: Add the garlic into the oil with the red pepper until fragrant.
Red pepper flakes: Adds some heat to the flavors.
Large shrimp: The bigger size hold up better to the pasta.
Salt and pepper: To taste.
Italian seasoning: The Italian seasoning is perfect flavor combination with this garlic infused pasta sauce.
Baby spinach: Add it at the end so you get a perfect wilt without it getting soggy.
Parmesan cheese: Combine with the shrimp and pasta after they are cooked.
Lemon juice: To taste (one tablespoon is a good place to start)
How to Make Shrimp and Pasta:
The awesome thing about this meal is that it is cooked in just one pot. Only having to dirty one pot and deliver an amazing meal for the fam = one happy mama.
Cook pasta: In a large pot cook the pasta in boiling water according to package directions. Drain and set aside.
Saute garlic and red pepper in oil: Using the same pan, heat olive oil and 2 Tablespoons of butter. Add the garlic and red pepper flakes and cook until fragrant.
Cook the shrimp: Add the shrimp and salt and pepper to taste. Cook until the shrimp start to turn pink. Add italian seasoning and spinach and cook until wilted.
Combine pasta and shrimp: Add the pasta back to the pot with the remaining butter, parmesan, and parsley. Still until mixed and butter is melted.
Add a dash of lemon juice and serve while hot.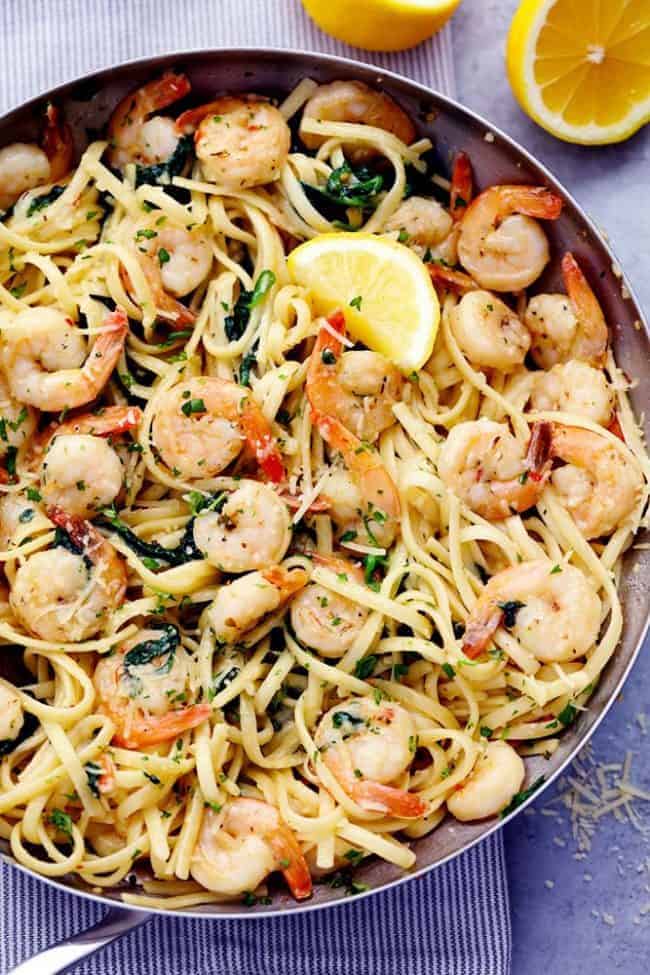 Tips for Making a 30 minute Meal:
Keep it simple! Stick to recipes and ingredients you are familiar with. Save your new ideas and ingredients for a day when you have a little more time.
Plan ahead.  When you get home with groceries, go ahead and wash fresh produce, chop, make dressings, etc. that you will use later in the weeks recipes.  Then they are ready to grab when you need them quick!
Order matters.  Start the oven and the water boiling first since these things take more time.  While they heat up you can be working on the next steps.
Substitute, swap or even omit ingredients you don't have on hand or are time consuming to prep. If an ingredient doesn't change the overall flavor of the dish, and will take extra time to work with or make, simply change it or skip it.  Use something that is pre-made instead for example.
Ask for help.  Delegate duties like chopping or making a side salad to get the work done quicker!
Variations or Substitutions:
Try changing up the pasta. Rotini and fusilli are great choices!  You could also even consider a vegetable noodle like zucchini noodles for a healthier version.
Add in new ingredients like mushrooms, asparagus, chicken, other seafood, and sausages to see what your favorite combinations are.  You never know what you will discover you love!
Turn this into a creamy sauce by adding some heavy cream and/or cream cheese.
How to Store Pasta:
Properly stored, cooked shrimp will last for 3 to 4 days in the refrigerator. To make it last longer, you can freeze it for up to 6 months. Freeze in covered airtight containers or heavy-duty freezer bags. You could also wrap tightly with heavy-duty aluminum foil or freezer wrap.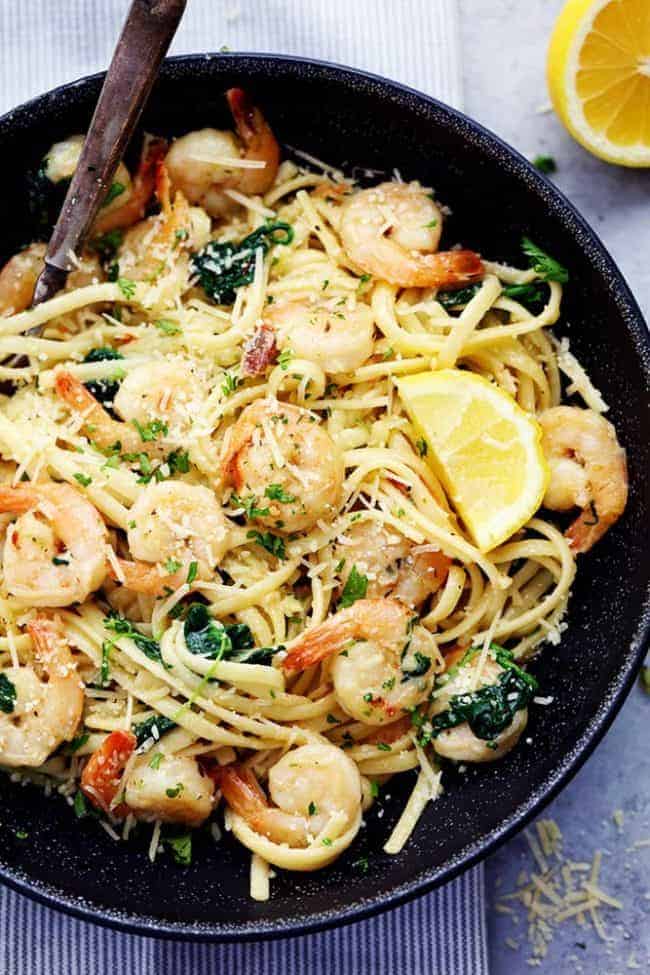 More Pasta Dinner Recipes: