This website may contain affiliate links and advertising so that we can provide recipes to you. Read my privacy policy.
Grilled Hawaiian BBQ Chicken is quick and easy and the flavor is amazing! Serving it over grilled pineapple makes the presentation colorful and impressive.  This meal is sure to be a hit!
Hawaii is such a special place to me and I love preparing meals that remind me of the amazing food there.  Grilled Hawaiian Teriyaki Chicken Skewers or Grilled Hawaiian Barbecue Chicken in Foil are two Hawaiian recipes that I never seem to get tired of!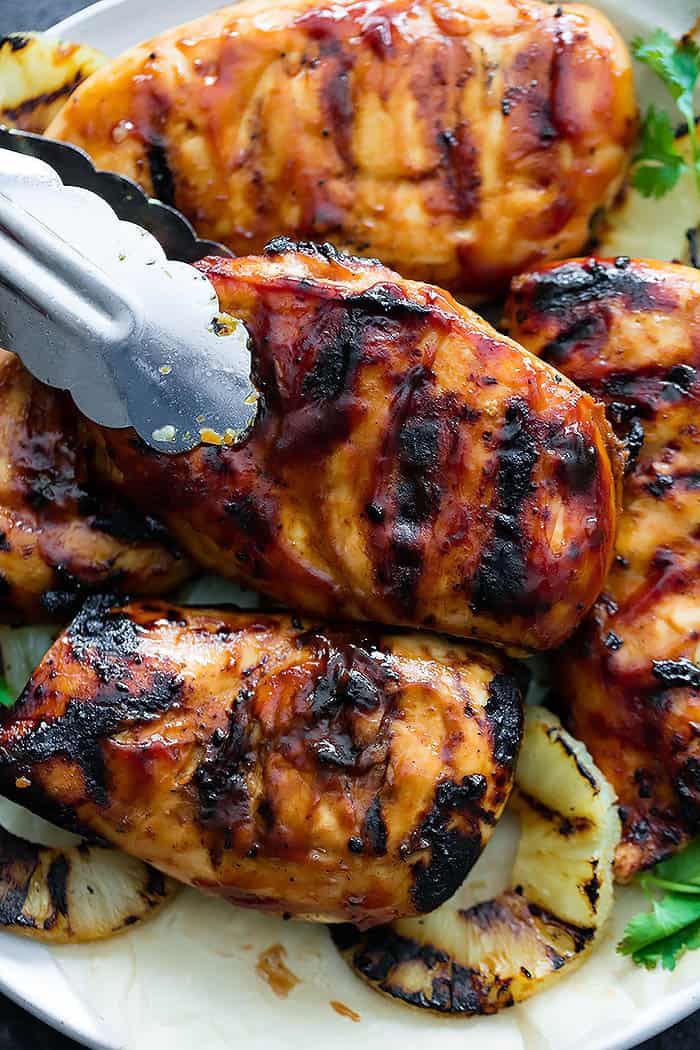 Grilled Hawaiian BBQ Chicken
Yessssss! It's officially grilling season and I could not possibly be more excited about it, grilling is my jam. This grilled hawaiian barbecue chicken is a dish I make all the time at my house.  It is so dang easy, has amazing flavor, and HELLO there is grilled pineapple involved! No brainer right??
The barbecue sauce mixture is used as both a marinade and a topping, and I always want to lick the plate clean because the flavor is so good. The great thing is that you can use your favorite bbq sauce as the sauce for the base – homemade or store-bought – whatever you love the most!  This meal is healthy, yummy, and easy, so why not give it a try, too!
What do I need to make Grilled Hawaiian BBQ Chicken?
Boneless skinless chicken breasts: Pounded to even thickness for even cooking.
BBQ sauce: Use your favorite!
Pineapple slices: Use the juice for the marinade and grill the slices.
Soy sauce: Strong salty flavor.
Garlic: Doesn't garlic seem to go with everything? Its just so good and pairs really well with the soy sauce and pineapple.
Oil: Used to help the flavors penetrate through the chicken when marinating.
Cilantro: Add a little bit of fresh, chopped cilantro when the chicken is finished cooking.
It's Easy to Make Grilled Hawaiian BBQ Chicken!
Make Marinade: In a bowl, whisk together bbq sauce, juice from the can of pineapple slices, soy sauce, and garlic. Pour half of the mixture into a large resealable bag and reserve half in the bowl for later use (keep chilled).

Marinate chicken: Add oil and chicken to the bag of sauce. Seal bag and chill for at least 30 minutes or up to overnight.

Prep grill: Grease and preheat grill to medium heat.

Grill chicken and pineapple slices: Remove chicken from bag, discard bag and marinade, and grill chicken for 6-8 minutes on each side or until cooked through. Grill pineapple slices along with the chicken, 2-3 minutes on each side til heated through and just beginning to char.

Garnish chicken: When chicken is finished cooking, brush with reserved sauce, top with chopped cilantro and serve with grilled pineapple slices.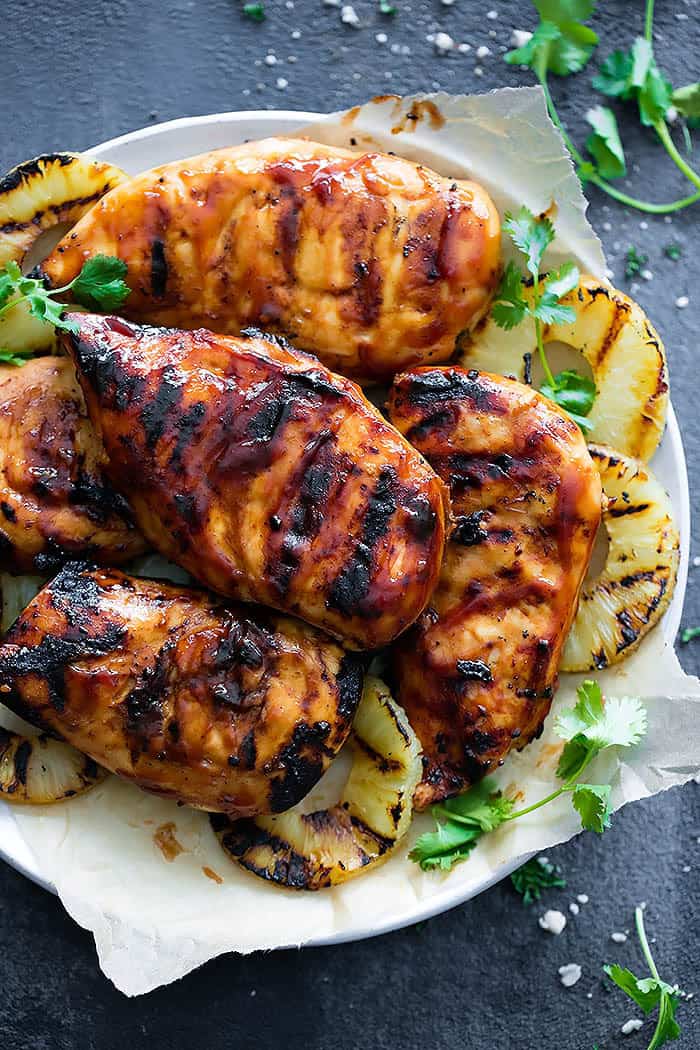 Is Grilled Hawaiian Barbecue Chicken healthy?
Yes! Grilled BBQ chicken is a healthy dinner choice.  Just be careful when choosing your ingredients, and read labels!  For example, choose barbecue sauce with lower sugar content that is made without high fructose corn syrup and with all-natural ingredients.  Or make the sauce at home so you have complete control over all the ingredients. The chicken itself is super low fat and is packed with protein, so that is fantastic for a super lean meal!  Choose healthy sides such as steamed veggies and you have a delicious healthy meal!
Barbecue Grill Skills:
Using a grill can be intimidating.  For many years I avoided it.  It seemed like it would be hard to know when food was done or how to cook food evenly.  However, I finally conquered my fears and you can too!
Properly prepare the meat! Do not skip pounding the chicken and marinating it! I know it seems like an extra step but pounding the chicken will help it cook evenly on the grill, so that there is not one side that is overcooked and dry and one side that just won't seem to cook through.  The marinade will keep it moist while cooking so it is mandatory too!
Clean your grill! Turn the grill on and let it cook off any food that is still on the grill.  Then turn the grill off and use a grill brush to clean the grates.  Finally, add oil to the grates so that your chicken will not stick.
Keep a good grill heat: Hover your hand 5 inches above the grill, if you can hold it there comfortably for about 5 seconds, it's at medium heat.  To keep the heat in close the lid of your grill while the chicken is cooking. Open only to flip the chicken halfway through cook time.
Know when its done: Use a meat thermometer to know for sure when the chicken done.  It is ready when it reaches 165 degrees.
More Hawaiian Inspired Dinner Recipes to try: