This website may contain affiliate links and advertising so that we can provide recipes to you. Read my privacy policy.
Cajun chicken pasta is so creamy and rich with a spicy kick that keeps you digging in for more.  It is a great way to mix up your usual weekly meals.  The cajun spice will wake up your tastebuds and your night! It is a meal you will be excited to make and even more excited to eat!
Cajun is a little bit of spice and a little bit of sweet! If you love cajun chicken seasoning southwest blackened cajun chicken with rice or cajun chicken alfredo pasta.
Cajun Chicken Pasta
True Story:  I tricked the hubby tonight into thinking I actually got Chili's take-out. He couldn't tell a difference. It was awesome! We love Chili's. It isn't a five star restaurant or anything fancy, but their two for $20 deal for a date night is great for us and we love it! I have been getting this cajun chicken pasta every time we went for years.  I have many great memories of eating this meal with my man! Maybe that's why I just had to try to make it myself!
This tastes just like the real thing. I tried making it once a few years back, but it was not nearly as close as this recipe was! Try it yourself and see!  I think you will be so happy with it!!
Ingredients for Cajun Chicken Pasta:
Chicken breasts: Boneless and skinless
Cajun seasoning: This is where the spice of this dish comes from.
Butter or margarine: Use half to cook the chicken and half for the sauce.
Heavy cream: Add to the saucepan for the sauce when the chicken is almost done.
Lemon pepper seasoning: The clean flavor of the lemon balances the spice from the cajun seasoning.
Salt: Helps bring out all the flavors.
Black pepper: Add to taste.
Garlic powder: Adds garlic flavor without having to add in garlic cloves and risk them burning.
Penne pasta: Cooked and drained
Roma tomatoes: Diced
Parmesan cheese: Fresh shredded, to taste
How to Make Cajun Chicken Pasta:
Prep the Chicken: Rinse the chicken in water and put in a Tupperware container or large resealable bag. Add the cajun seasoning and shake to coat thoroughly.

Cook the Chicken: In a large skillet, melt the 2 tablespoons of butter over medium heat.  Add the chicken and turn when needed. Make sure to check with a knife to make sure it is no longer pink.

Make the sauce: When the chicken is almost done, in a saucepan combine the heavy cream, 2 Tbs butter, lemon pepper, salt, black pepper, and garlic powder.  When the cream mixture begins to bubble, add the pasta and remove from heat stirring well.

Cut the Chicken: Once chicken is cooked, cut thin strips on cutting board.

Plate it up: Spoon the pasta onto a plate and top chicken, diced tomatoes and parmesan.  Sprinkle with more cajun seasoning if desired!  Best when served with a side of Texas garlic toast.
Tips for Making Cajun Chicken Pasta:
I added a little bit of cornstarch to the sauce to thicken it up a little.  If yours is too think add more heavy cream.
Wisk the sauce continually as it cooks to prevent burning.
Adjust the heat in this sauce by making your own Cajun seasoning and including less cayenne.
Slice the chicken before cooking for a faster cook time.
For extra creamy sauce add 2oz. of cream cheese to your sauce!
You can make this with shrimp instead of chicken, or use a combination of both.
Make this vegetarian by leaving the chicken out or replacing it with tofu and swap the chicken broth with vegetable broth.
You can also make this gluten-free by using brown rice pasta and replacing the flour with 1 teaspoon of gluten-free flour.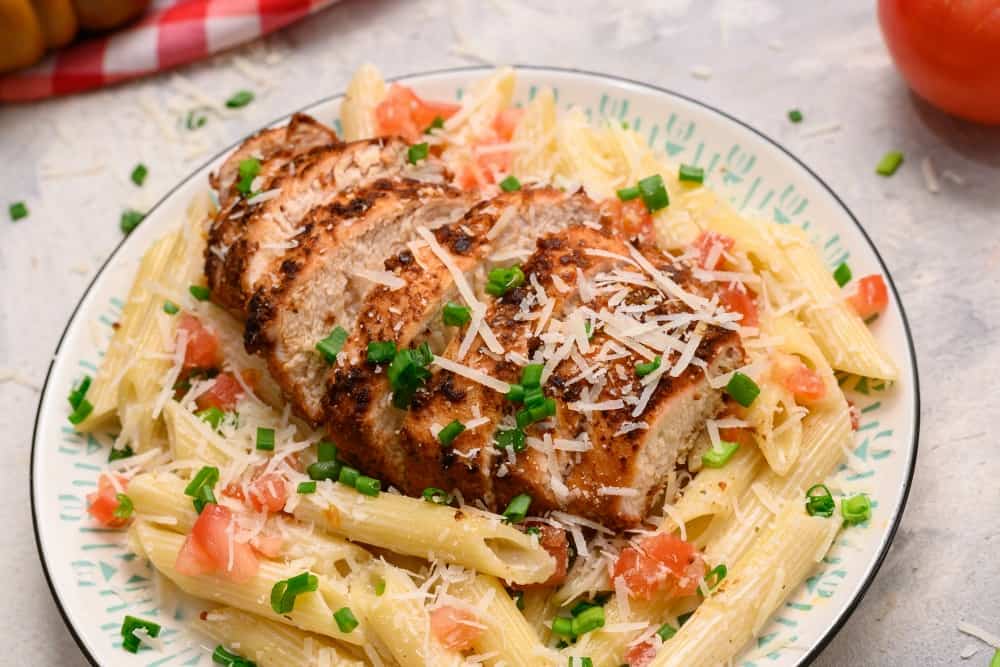 If you love Cajun Try These Recipes!