I love my Chicken Souvlaki recipe with lots of lemon and a touch of thyme in the marinade, and this delicious Greek chicken is easy to make. 
PIN the Chicken Souvlaki recipe to try it later!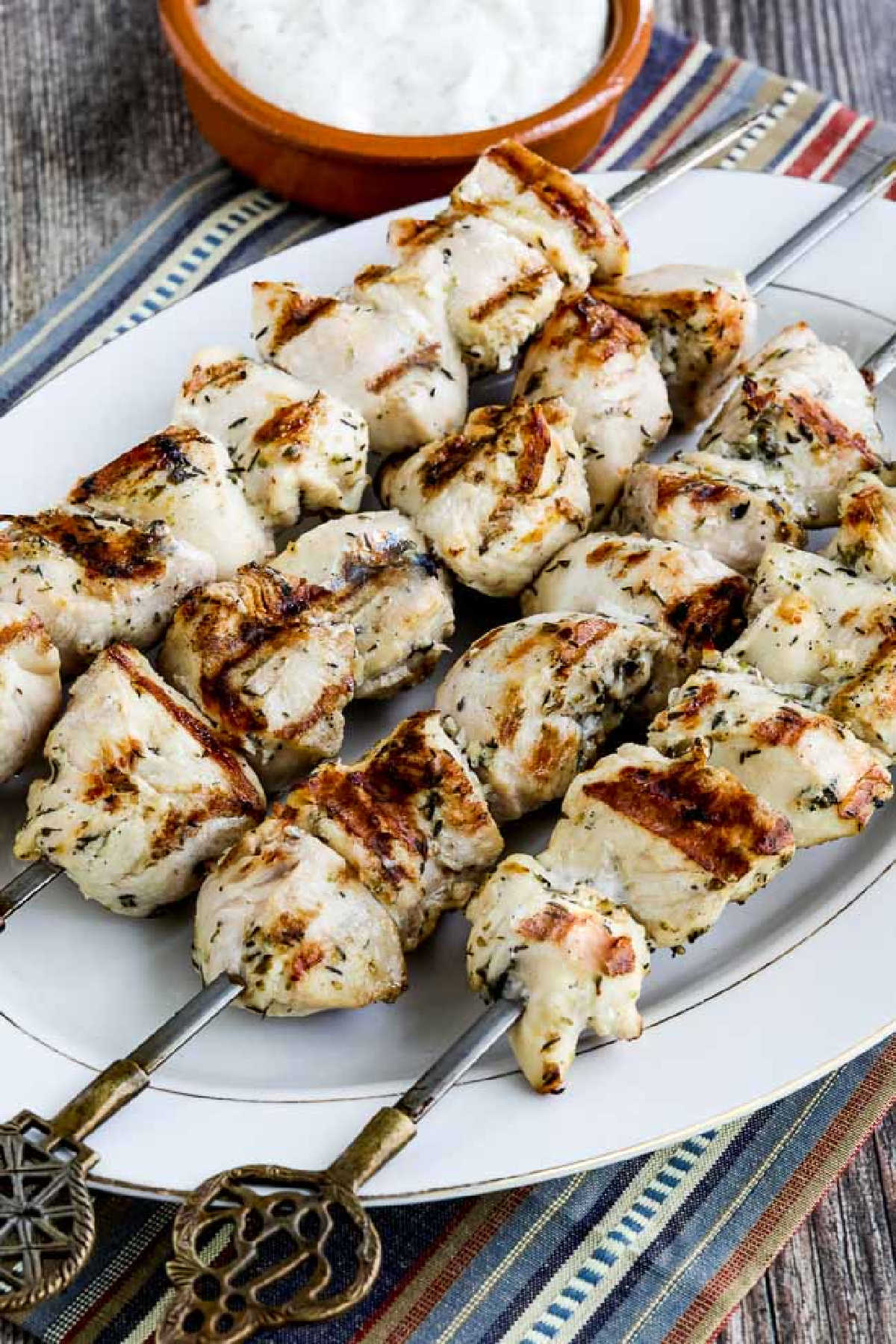 Souvlaki is a Greek dish that's so classic it's part of Wikipedia, which defines it as small pieces of meat grilled on a skewer. If I were writing the definition, I'd add that the Greek cooking trinity of lemon, garlic, and oregano would have to be included in any Souvlaki recipe, and for this tasty Chicken Souvlaki I also added a touch of thyme to the marinade.
And for a light summer meal I don't think you can beat the combination of Chicken Souvlaki, served with homemade Tzatziki Sauce, and one of my Low-Carb Salads with Feta Cheese. And if you're familiar with my blog at all, you know how much I love all those flavors; hope you enjoy!
What ingredients do you need for this recipe?
Is Chicken Souvlaki a traditional Greek Dish?
I'm guessing that Lamb Souvlaki and Pork Souvlaki are more common in Greece than the version made with chicken, and some people might even consider Chicken Souvlaki to be a Greek-American dish. But I love the version with chicken just as much as the ones with meat, and this is so tasty and easy for low-carb dinner!
How long should you marinate the chicken for Chicken Souvlaki?
Marinating all day is fairly important here because that's what infuses the chicken with Greek flavors, so this is a perfect dish to marinate in the fridge all day while you're at work and then cook when you get home. You can even marinate overnight and all the next day and then cook that night for dinner.
Want more variations for Greek Souvlaki?
If you love the idea of grilled pieces of meat with Greek flavors, you might also enjoy my recipes for Greek Lamb Souvlaki or Kalyn's Pork Souvlaki.
What if you don't have an outdoor grill?
If you don't have an outdoor grill or it's not grilling weather, you can cook these chicken skewers on a stove-top grill pan with ridges or it would be great cooked on a George Foreman Grill as well. (affiliate links) Remember the George Foreman Grill cooks both sides at once, so adjust the grilling time.
Steps for making Chicken Souvlaki:
(This is just a summary of the steps in the photos. Scroll down to see the actual recipe including nutritional information.)
Mix lemon, garlic, oregano, and thyme, plus a healthy dose of olive oil to make the marinade for the chicken.
Cut the chicken breasts into pieces. (Next time I might make them slightly smaller, just over 1″ square.)
Put chicken into a Zip-loc bag, add marinade, and let chicken marinate in the refrigerator all day while you're at work, or 8-10 hours
When you're ready to cook, drain chicken into a colander placed in the sink and let it come to room temperature while you preheat grill to medium-high. (Spray the grill with non-stick grill spray or brush with oil before you preheat.)
I love to use my blade type skewers (affiliate link) or double skewers (affiliate link) which really keep the meat from spinning on the grill, but if you don't have skewers like this try to fold over each piece of chicken when you put it on the skewer.
Cook the chicken on the first side until you start to see grill marks.
Turn over and continue to cook, until you have grill marks on the second side.
Turn and cook several more times, until the meat is just starting to feel firm and nicely browned. I cooked these about 15 minutes total cooking time on a medium-high grill.
Serve hot and enjoy!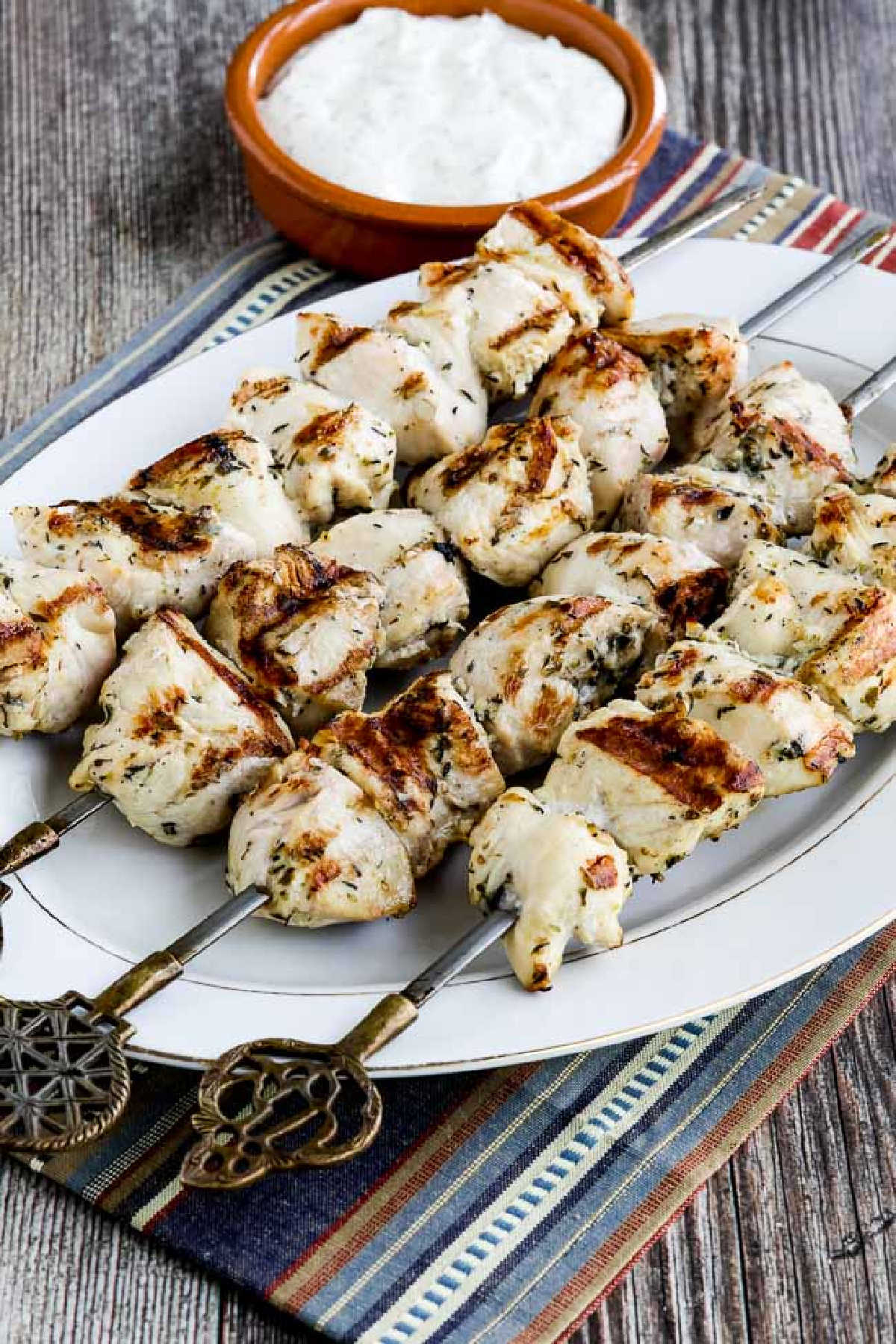 Make it a Low-Carb Meal:
Chicken Souvlaki is great with Tzatziki Sauce and I think one of my Cucumber Salads or Salads with Feta Cheese would be perfect on the side!
More Grilled Food with Greek Flavors:
Very Greek Grilled Chicken
Easy Grilled Greek Zucchini
Greek Pork Chops
Grilled Zucchini Greek Salad
Grilled Lamb Chops with Garlic, Rosemary, and Thyme
Ingredients
4 very large boneless, skinless chicken breasts
1/4 cup olive oil
1/3 cup fresh squeezed lemon juice
2 tsp. red wine vinegar
2 tsp. finely minced garlic (or garlic puree from a jar or garlic powder will work)
2 tsp. dried oregano (use Greek or Turkish oregano)
1/2 tsp. dried thyme
Instructions
Combine olive oil, lemon juice, vinegar, garlic, oregano, and thyme and stir together with a whisk or spoon.
Trim all visible fat and tendons from chicken breasts, then cut each piece into 6-8 cubes.
Put chicken strips into large Ziploc bag or plastic container with a tight-fitting lid.
Pour marinade into Ziploc bag or plastic container, seal, and squeeze bag or turn container over and shake gently so all pieces of meat are well-coated with marinade.
Put into refrigerator and marinate 8-10 hours.
To get ready to grill, remove chicken from refrigerator, drain into a colander, and let it come to room temperature;
Spray grill with non-stick spray or mist with olive oil, then preheat gas or charcoal barbecue grill to medium high. (You can only hold your hand there for a few seconds at that heat.)
Thread marinated chicken cubes onto skewers. (I love to use my blade type skewers or double skewers (affiliate links) to keep the meat from spinning on the grill; if you don't have skewers like that fold over each piece of chicken when you put it on the skewer.)
Grill skewers, turning the first time as soon as you see nice grill marks.
Continue to grill, turning every few minutes, until chicken is nicely browned and firm to the touch. Total cooking time is about 15 minutes, but I would use an Instant Read Meat Thermometer and make sure chicken has reached 165F.
Notes
This recipe created by Kalyn.
Nutrition Information:
Yield:
6

Serving Size:
1

Amount Per Serving:
Calories: 218Total Fat: 12gSaturated Fat: 2gTrans Fat: 0gUnsaturated Fat: 9gCholesterol: 68mgSodium: 60mgCarbohydrates: 2gFiber: 0gSugar: 0gProtein: 25g
Nutrition information is automatically calculated by the Recipe Plug-In I am using. I am not a nutritionist and cannot guarantee 100% accuracy, since many variables affect those calculations.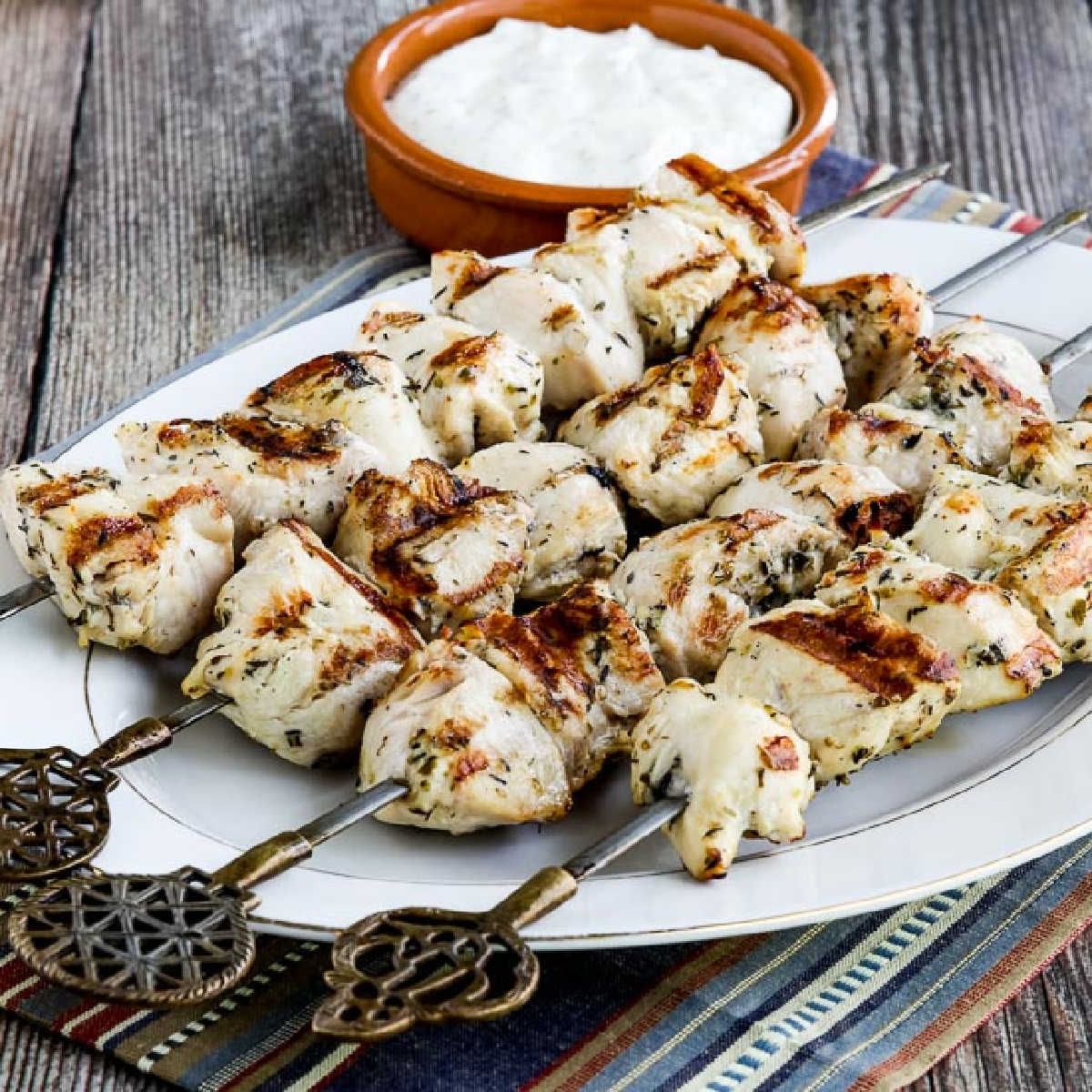 Low-Carb Diet / Low-Glycemic Diet / South Beach Diet Suggestions:
Chicken Souvlaki like this is a perfect main dish for a low-carb meal as well as for any phase of the original South Beach Diet.
Find More Recipes Like This One:
Use Grilling Recipes to find more recipes like this one. Use the Diet Type Index to find more recipes suitable for a specific eating plan. You might also like to follow Kalyn's Kitchen on Pinterest, on Facebook, on Instagram, or on YouTube to see all the good recipes I'm sharing there.
Historical Notes for this Recipe:
This recipe was first posted in 2008. It was updated with greatly improved photos in 2019 and was last updated with more information in 2022.
We are a participant in the Amazon Services LLC Associates Program, an affiliate advertising program designed to provide a means for us to earn fees by linking to Amazon.com and affiliated sites. As an Amazon Associate, I earn from qualifying purchases.