This website may contain affiliate links and advertising so that we can provide recipes to you. Read my privacy policy.
The Best Fried Chicken is literally at your fingertips! Way easier than you think and this fried chicken tastes even better than famous Roscoe's Chicken!
If it has the word "fried" in the recipe, I am all over it! Whether its Air Fryer French Fries, Chicken Fried Steak or Fried Rice, you know it's going to be amazing!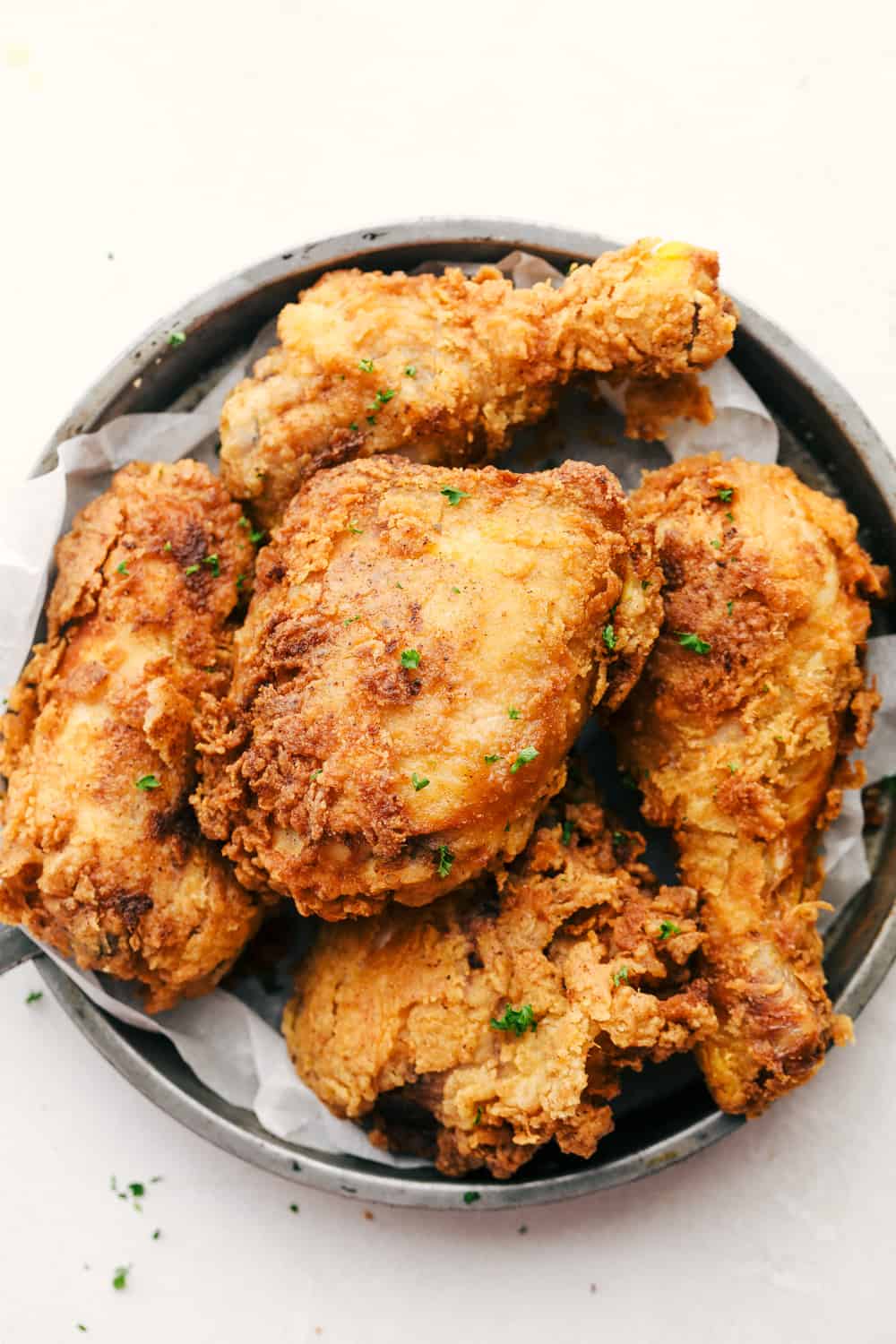 Fried Chicken Recipe
Fried Chicken just like Roscoe's simple and easy. And dare I say it tastes better than Roscoe's! Homemade is always better! This tender juicy chicken is fried to a golden crispy brown and perfect for your next dinner. The wonderful thing about fried chicken is it just as good cold too. Serve it at your next picnic and be prepared to watch it disappear.
Deemed a southern soul food, fried chicken has definitely earned its place in the culinary world. I will admit frying chicken used to intimate me until I actually tried it. Now I get excited to fry chicken. It is actually easier than you think and the fact that you can customize your spices to match your tastes a definite perk. Now you can add fried chicken to repertoire and with this fried chicken recipe it will be taste divine and be perfectly crunchy!
Ingredients for Buttermilk Fried Chicken
Besides picking out what parts of the chicken to fry,(I will cover that later) the only thing out of the ordinary you will need is self rising flour. You can find this with the regular flour at your local grocery store. It is the secret ingredient to indulgent chicken.
Chicken Pieces: You will need about 2 pounds worth. I used thighs and legs.
Buttermilk: This is a magical ingredient that adds flavor and helps the chicken become super tender and juicy. If you do not have buttermilk on hand, make your own.
Salt and Pepper: Add to taste.
Self-rising Flour: This does double duty coating the chicken and because of the baking powder in it helps create that crispy crunchy coating.
Seasoning Salt: Adds not only a hint of salt but lots of spices too.
Salt: Regular salt to make sure the chicken is going to be perfect.
Louisiana Chicken Seasoning: This is optional, if you cannot find it you can leave it out and it will still taste amazing.
Garlic Powder: Flavor, flavor and more flavor. Have to have the garlic.
Onion Powder: Again more flavor without adding bulk.
Oil: For frying your chicken in. Use a high smoke oil such as peanut oil. This will help your food not absorb too much of the actual oil.
How to Make The Best Fried Chicken
If you talk to people about fried chicken you know it's all about the love you put into it. Amazing fried chicken takes a bit of time and planning, but it so worth it. So let's get frying!
Brine: In a large bowl add the chicken, buttermilk and salt and pepper. Marinate for at least an hour and up to overnight.
Flour Mixture: In different bowl combine the flour, seasoning salt, salt, louisiana chicken seasoning, garlic powder and onion powder.
Prep the oil: In a heavy bottomed skillet add 1 inch of oil to the pan. Heat to 350 degrees
Dredge: Take the chicken out of the buttermilk and coat with the flour mixture. Add to the oil to fry.
Frying: Fry for about 4 minutes on each side until golden brown and registers 165 degrees internal temperature.
Tips For Frying Chicken the Right Way
There are horror stories out there of frying chicken fails, we do not want that for you. It is simple and easy, all it takes is a little time and a whole lot of love.
Brine: To get the juiciest and most tender chicken, marinate the chicken in the buttermilk brine for at least 6 hours but no more than 24 hours.  This will take planning but it will be so worth it. Through it together in the morning or the night before and then cook it up.
Chicken: I used legs and thighs in this recipe because they stay tender and moist the best. You can also use chicken breast tenders or wings. I do not recommend using a full breast as they take longer to fry and can dry out easily.
Coat it Well:  Really coat the flour well trying to get it completely covered. This will create that yummy crunchy coating.
Don't Overcrowd: Do not fry too many pieces at once, they won't cook evenly and it will drop your oil temperature down too low to fry properly. Use a frying thermometer if you have one.
Check it:  The worst thing to have happen is to have beautiful golden outside and raw insides. Use a meat thermometer to check the internal temperature. It should be 165 degrees. Stick the thermometer in the thickest and meatiest part of the chicken away from the bone to get an accurate temperature.
Let it Rest: After you have dredged the marinated chicken in the flour set it on a wire rack and let it rest for 15 minutes. This will allow the flour to really set into the nooks and crannies of the chicken. This way the flour coating doesn't fall off as much in the frying process.
Serving and Storing Pan Fried Chicken
There is almost nothing better than sinking your teeth into perfect golden juicy fried chicken. It is just divine and oh so delicious. No wonder it is considered a comfort food.
What to serve it with: When I think fried chicken I think coleslaw, baked beans, fries, mac and cheese, fried pickles and biscuits. Mashed potatoes is another favorite with fried chicken. Take it on a picnic in a cooler and serve it cold with chips, fruit salad,  vegetables and dip, and cookies for dessert.
Leftovers: Fried chicken keeps well and is delicious cold. Keep leftovers in the fridge tightly covered in a container, rather than bag. This will help the crunchy coating from getting too soggy. If you want to reheat them, warm them in the microwave and then crisp them in the oven. Fried Chicken can also be frozen. Keep in a freezer safe bag to lock out air and keep for up to 2 months. Thaw overnight in the fridge and warm as desired or eat cold.
More Fried Foods To Try!
Frying adds a dimension of texture and taste that's impeccable. Also if you fry your food in the right temperature, it doesn't absorb a ton of oil, it cooks it and leaves it not super greasy. I have all the tips and tricks to make your next fried food adventure worth the calories. Here are some incredible recipes to get you started.